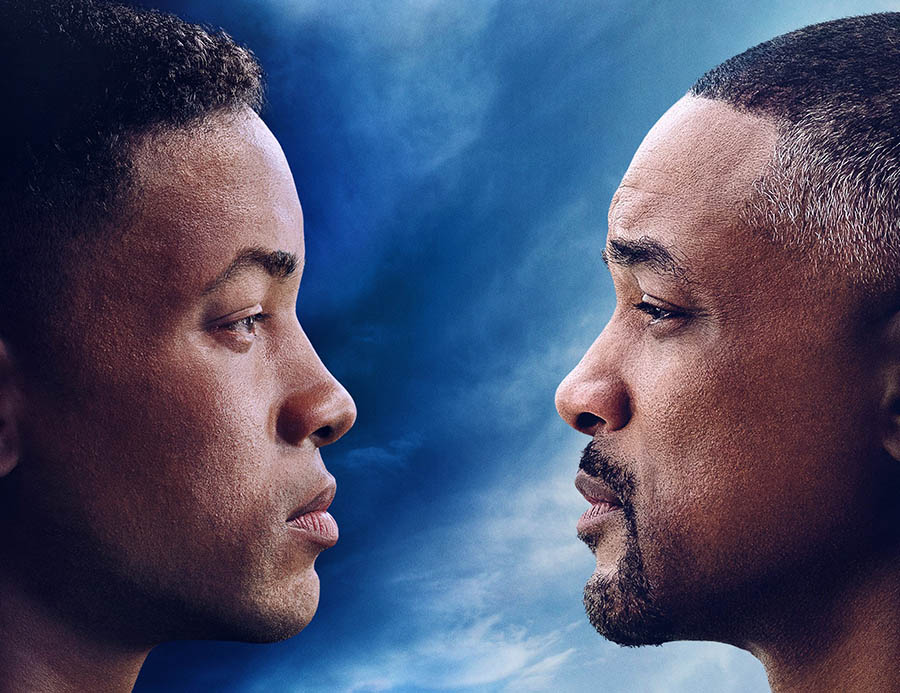 Do you miss the days of young Will Smith, when he was the Fresh Prince of Bel Air and making his mark on the big screen fighting aliens? Or do you prefer the current older version of the iconic movie star, teaming up with fellow baddies for the DCEU and partnering with Orcs on Netflix? What if we told you that you're about to get both at the same time?
The upcoming sci-fi action movie Gemini Man will pit Smith against Smith, old versus young, thanks to the magic of today's best computer-generated effects. It's a project long in the making, but it's finally coming soon, and Paramount has just dropped our first look with a trailer showing off that wizardry as the 50-year-old Smith battles a clone half his age. It's pretty amazing.
Watch the first trailer down below after reading everything we know about Gemini Man here:
How long has this movie been in the works?
Gemini Man was originally conceived as a movie idea in 1997, when Tony Scott was set to direct for Disney. Other directors have come and gone. Numerous writers have worked on the script. Paramount eventually took over the project. And many actors have been in mind for the lead over the years, including Harrison Ford, Nicolas Cage and Sean Connery, but the technology just wasn't ready for the premise - until now.
Why did the effects need to be perfected?
Sure, any studio could have just gone ahead with this with old-fashioned split-screen or compositing techniques as they've done with doubles in the past. These days, with Marvel leading the way, de-aging technology could achieve the task just fine. But for Gemini Man, the main character is cloned, and in a way, so is the actor. Will Smith is not de-aged for his younger role. That's entirely a performance-capture CG character, and we're finally ready to believe in one that's this human.
"This story is not one that could have been told with cinema as we know it," director And Lee says of Gemini Man. "However, thanks to incredible new digital technology…we finally see both younger and older Will Smith embodied together on screen."
What is the plot of Gemini Man?
Smith plays Henry Brogan, an aging assassin who has finally met his match: himself. Or, a cloned version of himself, at least. The younger version is the same man in 23-year-old form (around the age Smith was when he made the leap from TV to movies), cloned from Henry, because Henry is the best there is at what he does. Well, now he's the second best.
Who else stars in the movie?
Smith and Smith are joined by Mary Elizabeth Winstead (10 Cloverfield Lane), Clive Owen (Children of Men), Benedict Wong (Doctor Strange) and Linda Emond (Oldboy).
Who wrote the movie?
Since its first pitch by Darren Lemke (Shazam!), a lot of writers have been involved with the project, but the final screenplay is credited to Lemke, David Benioff (Game of Thrones) and Billy Ray (The Hunger Games).
Where do we know the director from?
Ang Lee, the visionary but also graceful filmmaker behind such movies as Life of Pi, Hulk, Brokeback Mountain and Crouching Tiger, Hidden Dragon, is at the helm of Gemini Man. He's won two Oscars for directing and been nominated a couple times as a producer. One of his most acclaimed movies, Life of Pi, also won the Academy Award for Best Visual Effects.
How does Lee want us to watch it?
In addition to offering incredible visual effects with the younger Smith, Lee has some other tricks he wants to perform with Gemini Man. As with his last two movies, Life of Pi and Billy Lynn's Long Halftime Walk, he's presenting his latest in state of the art 3D, and like Billy Lynn's Long Halftime Walk, Gemini Man will be shown at a frame rate five times higher than most movies.
On Gemini Man being a groundbreaking effort, Lee says: "We can also experience the story in a deeply immersive way. It is my great fortune to be able to experiment and test the limits of what new digital cinema has to offer us…the immense effort and technical skill of the crew in creating a new aesthetic, between the cinematography, art department, visual effects, and technical team, was both inspiring and heartwarming. I truly hope that this movie delivers a completely new theatrical cinematic experience to audiences across the world."
When does Gemini Man come out?
Paramount will release the movie this fall, on October 4, 2019.
Watch the first trailer:
The first trailer for Gemini Man holds nothing back in showing the incredible effects on display in pitting old Will Smith versus young Will Smith. Check it out here: