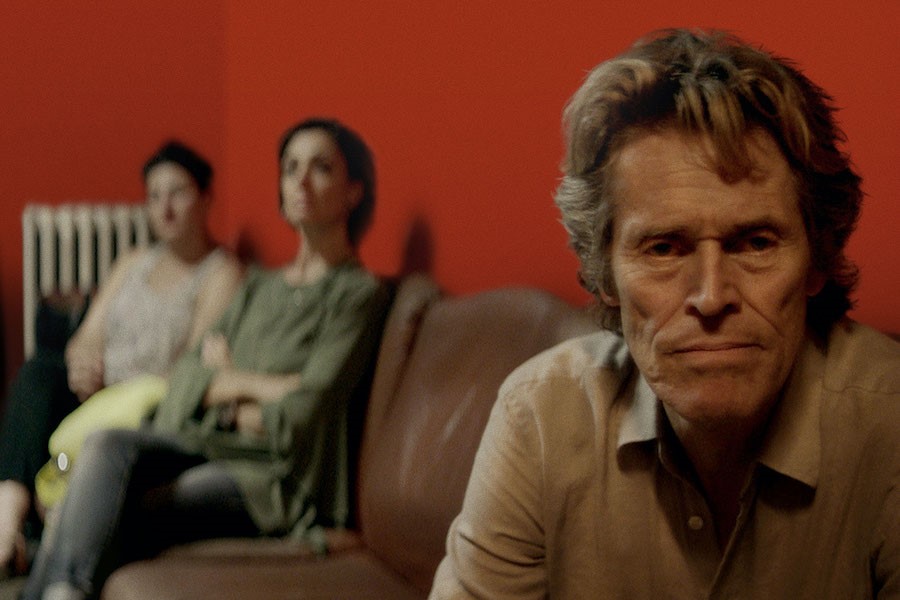 Want to know what's coming soon to digital and what to watch right now on FandangoNOW? Here is your weekly guide to the latest releases:
What are the latest new releases to watch right now?
Willem Dafoe, who is on quite a roll lately with must-see performances (where's his Oscar already?), stars in Abel Ferrara's Tommaso, which is now available to rent or buy digitally. In the semi-autobiographical drama, Dafoe plays an American filmmaker living in Rome with his wife and daughter.
We Are Little Zombies sounds like a children's horror movie, but it's actually a drama about four teenage orphans who come together to form a band. That's available to rent or buy. For purchase only, Ron Howard's Rebuilding Paradise follows the aftermath of a devastating fire that wiped out a California town.
What movies are great to pair with those new releases?
Plan a Ferrara and Dafoe double feature by pairing Tommaso with the filmmaker and actor's previous collaboration, Pasolini, a biopic in which Dafoe portrays Italian filmmaker Pier Paolo Pasolini. You could also check out Dafoe's most recent Oscar-nominated performance, as artist Vincent Van Gogh, in the Julian Schnabel-helmed biopic At Eternity's Gate.
Although very different in tone, August Rush could be paired with We Are Little Zombies given that it's about an orphan (played by a young Freddie Highmore) who is a musical prodigy. Rebuilding Paradise could be paired with another Ron Howard-helmed documentary: the opera singer biography Pavarotti. Or, stick to a similar subject with his 1991 firefighter movie Backdraft.
Are there any other big movies coming out this week?
Tilda Cobham-Hervey portrays singer and activist Helen Reddy in the acclaimed biopic I Am Woman, which arrives on digital this Friday, September 11, and co-stars Evan Peters. The movie's title is named after Reddy's most famous song, which became an anthem for the feminist movement in the 1970s.
What are some great back to school movies to rent now?
Whether their first day was in August or happening in the coming weeks, 'tis the season for kids heading back to school. So, it's time for movies that best depict the start of a new academic year. My first go-to is the 1978 musical Grease, followed by the teen comedy Fast Times at Ridgemont High. But for the younger students, I recommend Finding Nemo and Diary of a Wimpy Kid.
The start of a new school year is tough enough without being the new kid in class, though, and Mean Girls, the original The Karate Kid and the original Footloose all do justice to the new student experience. What about stories of new teachers? For that alternative, there's nothing better than Dead Poets Society.
Can you recommend a great binge bundle to rent?
In honor of the new Helen Reddy biopic, I Am Woman, I'd like to recommend the six-film bundle called Influential Women, which features the documentaries RBG, Toni Morrison: The Pieces I Am, Raise Hell: The Life and Times of Molly Ivins, Kusama: Infinity, Iris, and Venus and Serena. Rent them all for under $20!
Are we celebrating any big anniversaries this week?
This week marks the 20th anniversary of Cameron Crowe's Almost Famous, the Renee Zellweger comedy Nurse Betty and Christopher McQuarrie's directorial debut, The Way of the Gun. And 25 years ago saw the releases of Spike Lee's Clockers and the comedy To Wong Foo, Thanks for Everything! Julie Newmar.
Going back further, Martin Scorsese's comedy After Hours turns 35, Bob Rafelson's Five Easy Pieces, which earned Jack Nicholson his first Oscar nomination for Best Actor in a Leading Role, turns 50, and both the Marilyn Monroe musical Let's Make Love and Alfred Hitchcock's horror masterpiece Psycho turn 60.
Which must-see movies are coming soon to FandangoNOW?
Antebellum, which stars Janelle Monáe in dual roles as a present-day author and as a slave in the American South in the early 19th century, arrives as a Home Premiere rental on September 18. The horror drama is currently available to pre-order, and doing so in advance will get you a discount on more mind-bending thrillers.
What were the 10 most popular new movies on FandangoNOW through the weekend?

1. Bill & Ted Face the Music
2. Fatima
3. The 2nd
4. The King of Staten Island
5. The Tax Collector
6. Guest House
7. Critical Thinking
8. Hard Kill
9. Irresistible
10. Robin's Wish