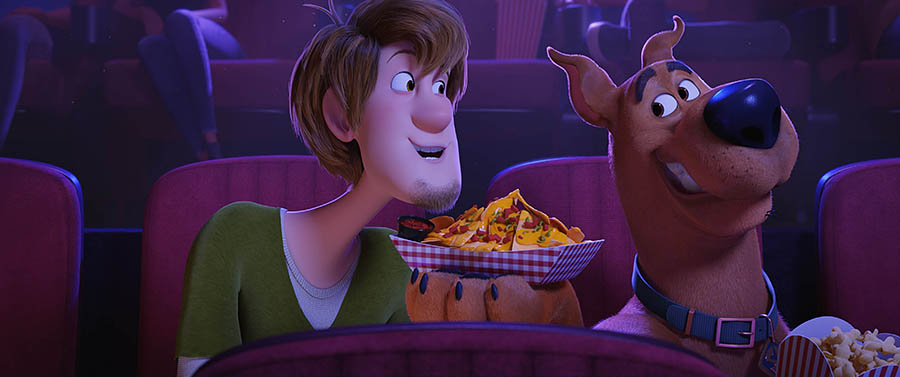 Want to know what's coming soon to digital and what to watch right now on FandangoNOW? Here is your weekly guide to the latest releases:
What are the latest new releases to watch right now?
Scoob!, an animated feature based on the long-running Scooby-Doo franchise, is now available as a premium rental or to own for just $5 more. If you buy the movie, which just made its world premiere on digital, you also get tons of bonus materials, including deleted scenes, bloopers and more.
Grown-ups wanting their own tale of mystery may look to Body Cam, which also just made its world premiere on digital this week — only for purchase at this time. The R-rated supernatural action thriller stars Mary J. Blige as a police officer investigating the strange death of a fellow cop.
Also new this week, to rent or buy, are the comedy Buffaloed, starring Zoey Deutch as a young hustler doing anything she can to get out of Buffalo, New York and the twisty Hitchcockian thriller Last Moment of Clarity, which stars Ready or Not's Samara Weaving as a movie actress who resembles a murdered woman.
What movies are great to pair with those new releases?
Scoob! viewers, go back to the beginning by picking up the original Scooby-Doo! Where Are You! cartoon series, which began airing more than 50 years ago. And mix things up with a five-movie bundle showcasing all of the live-action adaptations of the cartoon, including the recently released Daphne & Velma.
With Last Moment of Clarity, which is obviously inspired by Vertigo, I have to recommend that and other Alfred Hitchcock classics. Fortunately for you, there's a Hitchcock collection set of 14 movies, including Vertigo, for sale for under $70. That's about half the price of buying them all separately!
Are there any other big movies coming out this week?
Bruce Willis leads the action of Survive the Night, a home-invasion thriller in which criminals hold a doctor and his family hostage. That arrives on digital this Friday, May 22, as does the immensely compelling The Painter and the Thief, which I consider to be one of the best documentaries of the year so far.
What movies are newly available as rentals?
In addition to the premium rental Scoob!, you can now rent the Jane Austen adaptation Emma., which stars Anya Taylor-Joy as the titular matchmaker, and the music biopic I Still Believe, in which KJ Apa portrays singer/songwriter Jesse Camp, Also: the animated comic book movie Justice League Dark: Apokolips War.
Can you recommend some great binge bundles to rent?
Do you love Tom Hanks? Rent a double-feature binge bundle of Catch Me If You Can and The Terminal, both directed by Steven Spielberg. How about Ben Stiller? Rent Zoolander and Tropic Thunder together. Fans of Brad Pitt should rent a bundle of his early dramas A River Runs Through It and Legends of the Fall.
Get a double-shot of Will Ferrell with Step Brothers and The Other Guys bundled together. And if you want more Mark Wahlberg after The Other Guys, he's the focus of not one but two double-feature bundles: The Fighter is paired with The Gambler, and Pain & Gain is paired with the remake of The Italian Job.
What are some great movies to watch for Memorial Day?
Next Monday is Memorial Day, so I recommend adding another Tom Hanks and Steven Spielberg collaboration to your watchlist: Saving Private Ryan. You can also remember those fallen on D-Day with The Longest Day. And check out the underrated World War II movie The Big Red One, which turned 40 last weekend.
We mustn't forget about the Pacific conflict during World War II, so I recommend a double-feature of Clint Eastwood's Battle of Iwo Jima pair, Flags of Our Fathers and Letters from Iwo Jima. And remember those who died in the Vietnam War with Platoon, Full Metal Jacket and the under-appreciated Hamburger Hill.
As for rentals honoring losses in other conflicts, there's the Afghanistan War movie Lone Survivor, starring Mark Wahlberg, the extended version of Ridley Scott's intense ensemble film Black Hawk Down and the documentary The Tillman Story, about NFL pro turned Iraq War casualty Pat Tillman.
Are we celebrating any big anniversaries this week?
Two Star Wars movies have notable anniversaries this week, as The Empire Strikes Back turns 40 and Revenge of the Sith turns 15. Other sequels with anniversaries include Mission: Impossible II, which turns 20, Die Hard with a Vengeance, which turns 25, and Rambo: First Blood Part II, which turns 35.
As for non-sequels, the original Father of the Bride turns 70 years old this week, Disney's Pollyanna turns 60, Stanley Kubrick's The Shining and the underrated time-travel movie The Final Countdown both turn 40, the Richard Pryor comedy remake Brewster's Millions turns 35, and Road Trip turns 20.
Which must-see movies are coming soon to FandangoNOW?
Mark your calendar for these two upcoming Home Premiere titles: Nisha Ganatra's The High Note, starring Dakota Johnson as the personal assistant to a music star (Tracee Ellis Ross), comes out digitally on May 29; then on June 12, Judd Apatow's The King of Staten Island, starring Pete Davidson, makes its debut digitally.
What are the 10 most popular new movies on FandangoNOW?

1. Trolls World Tour
2. The Invisible Man
3. Capone
4. Bloodshot
5. Sonic the Hedgehog
6. Fantasy Island
7. Bad Boys for Life
8. Birds of Prey
9. Jumanji: The Next Level
10. The Photograph