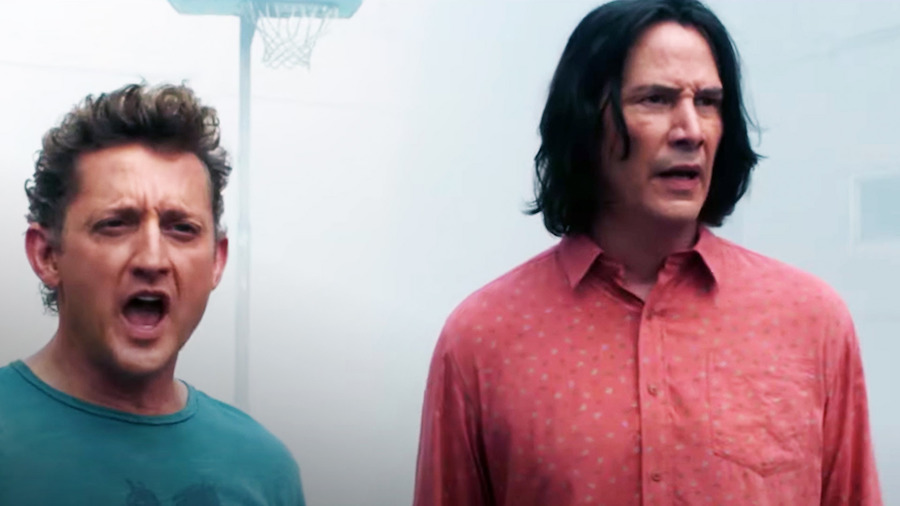 Want to know what's coming soon to digital and what to watch right now on FandangoNOW? Here is your weekly guide to the latest releases:
What are the latest new releases to watch right now?
The Burnt Orange Heresy is new to buy or rent digitally starting today. The art-heist action-drama showcases the talents of rising star Elizabeth Debicki alongside Donald Sutherland and Mick Jagger. The movie follows an art critic tasked with stealing a painting by a reclusive artist at the request of an art dealer.
Find more action with One Night in Bangkok, starring John Wick: Chapter 3 villain and Iron Chef "Chairman" Mark Dacascos as a hitman in the titular Thai city for some after-hours assassinations. The movie pays homage to the Michael Mann thriller Collateral starring Tom Cruise and Jamie Foxx, but it promises a big twist.
What movies are great to pair with those new releases?
As I said, Elizabeth Debicki is on the rise, with her next big appearance being in Christopher Nolan's Tenet. For now, I recommend her most fitting movies to watch with The Burn Orange Heresy: the crime drama Widows, the spy-actioner The Man from U.N.C.L.E., and her breakout, The Great Gatsby.
For One Night in Bangkok, the obvious choice for a pairing is the 2004 movie that inspired the new release: Collateral. You could also go with something starring Damascos, maybe his international breakout, American Samurai, or the Jet Li vehicle Cradle 2 the Grave or the aforementioned John Wick: Chapter 3.
Are there any other big movies coming out this week?
Only one of the most anticipated movies of the millennium. Fans have been waiting almost 30 years for a third Bill & Ted movie, and it finally arrives as a Home Premiere title this Friday, August 28. And if you pre-order Bill & Ted Face the Music now, you can also get a big discount on other titles featuring iconic duos.
Another movie worth checking out this Friday is You Cannot Kill David Arquette, from Price James and Oscar-nominated director David Darg. The documentary feature follows the titular actor, best known for his role in Scream, as he makes a return to his side-career as a professional wrestler.
What movies are newly available as rentals?
Judd Apatow's The King of Staten Island is now available to rent again, as well as still to purchase digitally in 4K. The comedy/drama stars Saturday Night Live's Pete Davidson, who also co-wrote the movie, in a story loosely based on his own life. Marisa Tomei, Bel Powley and Bill Burr all memorably co-star.
What are some great time-travel movies to watch now?
With the release of Bill & Ted Face the Music, fans will recall the original movie, Bill & Ted's Excellent Adventure, as one of the most entertaining time-travel movies ever made. What are some other classics of the sci-fi sub-genre? The Back to the Future movies, of course, which you can pick up as a whole trilogy.
Among my other time-travel favorites are the original 1960 adaptation of H.G. Wells' The Time Machine and Terry Gilliam's 12 Monkeys and Rian Johnson's Looper, both of which star Bruce Willis. Also the first Terminator and the underrated '80s films The Final Countdown and Peggy Sue Got Married.
Can you recommend some great binge bundles to rent?
Also in honor of the return of Bill & Ted, FandangoNOW is celebrating dynamic duos in movies. And some of these pairs can be found in binge bundles, including Bad Boys and Bad Boys II renting together, 21 Jump Street and 22 Jump Street renting together and the Men in Black trilogy renting all together.
Outside of the franchise bundles, you can also get Step Brothers and The Other Guys as a duo of duos — both including Will Ferrell — or the two-movie collection of Paul and Mallrats, both of which also feature iconic actor pairings.
Are we celebrating any big anniversaries this week?
The Kirsten Dunst-led cheerleading comedy Bring It On, which spawned a successful direct-to-video film franchise, turns 20 years old this week. And speaking of film series, Robert Rodriguez's Desperado, which is the second part of his "Mexico Trilogy," celebrates its 25th anniversary.
Nicolas Roeg's adaptation of Roald Dahl's The Witches, Sam Raimi's superhero movie Darkman and Akira Kurosawa's Dreams were all released in the United States during this week 30 years ago. Meanwhile, the Tom Cruise fantasy film Legend first released in France 35 years ago.
Going back further, the Oscar-winning musical State Fair turns 75 and both the Oscar-winning musical Broadway Melody of 1936 and the Greta Garbo-led adaptation of Anna Karenina turn 85.
Which must-see movies are coming soon to FandangoNOW?
This weekend, Game of Thrones star Maisie Williams can be seen on the big screen in the comic book adaptation The New Mutants, but in one week she can also be found on the small screen in the horror film The Owners, which makes its digital debut on Friday, September 4.
What are the 10 most popular new movies on FandangoNOW?

1. The Tax Collector
2. The Silencing
3. The Vanished
4. Emperor
5. The Secret: Dare to Dream
6. The King of Staten Island
7. Trolls World Tour
8. Irresistible
9. Scoob!
10. The 24th