Want to know what's coming soon to digital and what to watch right now on FandangoNOW and Vudu? Here is your weekly guide to the latest releases: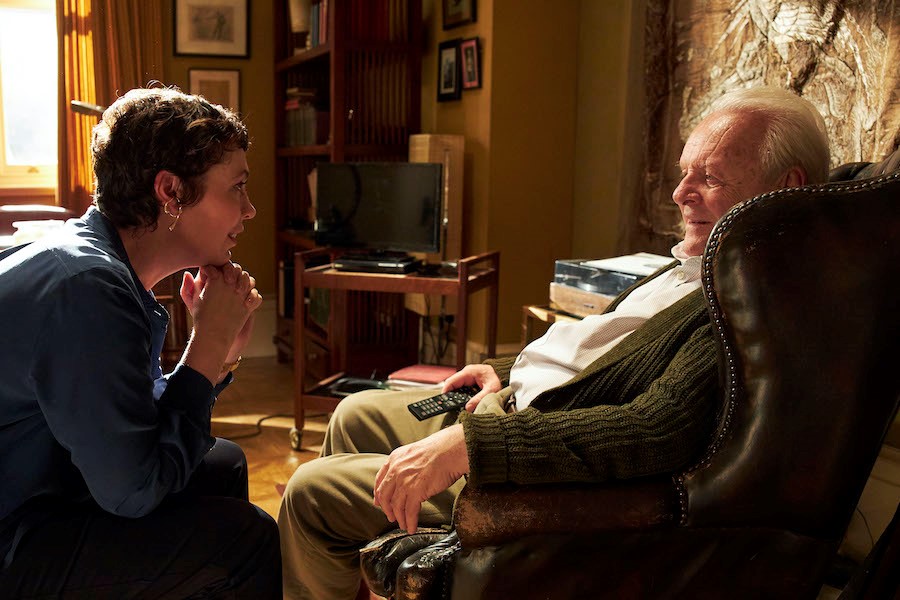 What are the latest new releases to watch right now?
Florian Zeller's The Father, which just won two Academy Awards, is now available to purchase digitally on FandangoNOW and Vudu. Anthony Hopkins received his second Oscar for Best Actor for his performance in the movie as a man suffering from dementia and in denial about his condition and refusing assistance from his daughter (Olivia Colman). He became the oldest Oscar winner ever in the acting categories while the drama also received the award for Best Adapted Screenplay, based on Zeller's own play.
Lee Isaac Chung's Minari is also a recent Oscar winner and also new to purchase digitally on FandangoNOW and Vudu this week. Youn Yuh-jung received the Academy Award for Best Supporting Actress for her performance in the drama as the grandmother character Soon-ja, and she has the honor of being the first Korean actress to achieve this recognition. The semi-autobiographical movie follows an immigrant family settling down on a farm in Arkansas in the 1980s in hopes of living the American Dream.
What movies are great to pair with those new releases?
You could make a double feature out of Anthony Hopkins' two Best Actor performances and pair The Father with The Silence of the Lambs, though they are a very discordant duo. If you're strong enough to pair it with another movie about someone with a neurodegenerative disease, I recommend Still Alice, for which Julianne Moore won the Oscar for Best Actress playing a professor with early-onset familial Alzheimer's disease, or Away from Her, starring Julie Christie in a similar, also Oscar-nominated role.
If you're curious about Youn Yuh-Jung's other work, you can pair Minari with her other 2020 release, the very different Beasts Clawing at Straws, a black comedy in which she plays the ailing mother of a man who finds a bag full of money. Minari also makes an excellent pairing with this year's Best Picture-winner, Nomadland, with regards to their takes on the American Dream, or last year's Best Picture-winner, Parasite, which is about a Korean family attempting to advance their class status.
Are there any other big movies coming out this week?
Can you tell me how we got Sesame Street? Even if the answer is yes, you'll want to check out the new documentary Street Gang: How We Got to Sesame Street, which arrives on digital this Friday, May 7, following its Sundance Film Festival premiere earlier this year. The feature follows the history behind the creation of the iconic children's television program as well as some of the PBS series' early mistakes and milestones. Everyone who grew up on Sesame Street, the Muppets and Jim Henson will enjoy this film.
Also coming out on digital this Friday, April 7, is The Paper Tigers, a martial arts comedy about three former kung fu prodigies (Alain Uy, Mykel Shannon Jenkins and Mulan's Ron Yuan) who were known in their prime as "The Three Tigers." Now they're middle-aged, out of shape and washed up, but they're reunited when their master (Roger Muan, also recently seen in Mulan) is murdered and they decide to avenge his death. The Karate Kid Part II's Yuji Okumoto, recently seen on the series Cobra Kai, co-stars.
What movies are essentials to pick up for Star Wars Day?
On Star Wars Day, which occurs May 4 ("May the Fourth Be With You"), FandangoNOW begins offering the Skywalker Saga collection, bundling the core nine Star Wars movies (A New Hope, The Empire Strikes Back, Return of the Jedi, The Phantom Menace, Attack of the Clones, Revenge of the Sith, The Force Awakens, The Last Jedi and The Rise of Skywalker) for its lowest price yet: $69.00. You can also find all those movies as well as the spin-off titles Rogue One and Solo for purchase or rental individually.
Are we celebrating any big movie or TV anniversaries this week?
This week marks the 20th anniversary of the theatrical release of the popular action-horror movie sequel The Mummy Returns as well as the Cannes Film Festival premiere of Baz Luhrmann's beloved romantic musical Moulin Rouge! Other movies with notable anniversaries include the teen-witch horror movie The Craft, which turns 25, the robot comedy Short Circuit, which turns 35, the slasher classic The Burning, which turns 40, and Frank Capra's Meet John Doe, which was released 80 years ago.
More recent movies with anniversaries this week include the J.J. Abrams-helmed Tom Cruise spy franchise sequel Mission: Impossible III, which turns 15 this Wednesday, plus the Marvel superhero movie Thor and the grindhouse tribute Hobo with a Shotgun, which both turn 10 on Thursday. Also, Luca Guadagnino's A Bigger Splash and another installment of the Marvel Cinematic Universe, the pivotal sequel Captain America: Civil War, are both already turning 5 years old this week.
Can you recommend some great movie deals on Vudu?
This week, Vudu has a sale on movies for Mother's Day, which is coming up this Sunday, May 9. Individual essentials include The Sound of Music, Panic Room, Mermaids and All About My Mother. And here are some double features I also recommend from the titles available: Terms of Endearment and Postcards from the Edge; Little Miss Sunshine and Hereditary; Rosemary's Baby and Mother!; Rabbit Hole and Lion; Mother and Guilt Trip; and Mama Mia!: The Movie and its sequel, Mamma Mia! Here We Go Again.
Vudu's Actor's Spotlight series celebrates Andrew Garfield, Rashida Jones, Rachel Weisz and Keegan-Michael Key. Here are my double feature recommendations for each: Hacksaw Ridge and Silence, for Garfield; Our Idiot Brother and I Love You, Man, for Jones; the Yorgos Lanthimos duo of The Lobster and The Favourite (or the first two Mummy movies, given the sequel's anniversary), for Weisz; and Keanu and Don't Think Twice for Key. And you can find both Garfield and Jones in The Social Network.
What are the 10 most popular new movies on FandangoNOW?

1. The Marksman
2. Nobody
3. Tom & Jerry
4. Raya and the Last Dragon
5. Nomadland
6. Voyagers
7. The Courier
8. The Resort
9. Percy vs. Goliath
10. The Father
What are the 10 most popular movies on Vudu?
1. The Marksman
2. Nobody
3. Justice League: World War II
4. Raya and the Last Dragon
5. Voyagers
6. Tom & Jerry
7. Monster Hunter
8. The Little Things
9. Nomadland
10. The Croods: A New Age