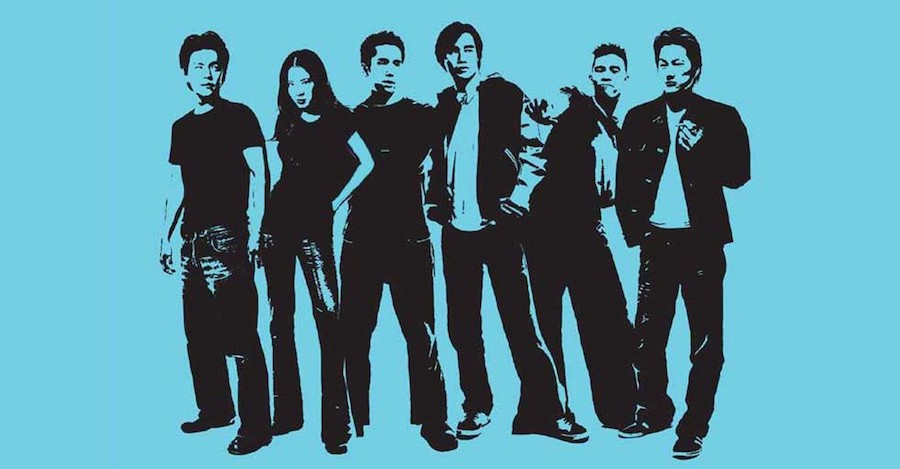 Beginning as an award-winning director of short films, Jon M. Chu has steadily expanded as a cinematic artist, helming a wondrous variety of titles, including two entries in the Step Up dance franchise, action blockbuster G.I. Joe: Retaliation, dramatic adventure Jem and the Holograms, action adventure Now You See Me 2 and the family comedy-drama Crazy Rich Asians. Recently, he completed production on the big-screen musical In the Heights, which is heading to theaters June 11.
In celebration of Asian Pacific American Heritage Month, Chu put together a personal list of influential Asian-American filmmakers and has been kind enough to share both his list and the reasons behind his selections with Fandango. We are happy to feature a corresponding playlist on FandangoNOW where you can watch the titles he mentions below.
A note from Jon M. Chu before we get started....
The selection of the following titles have had profound influence on my view of cinema both past and present. Each has disrupted my life at moments when I needed it most and set me on paths to be a better filmmaker and a more empathetic citizen of this planet. When I see incredible auteurs like Destin Daniel Cretton, Alice Wu and Justin Lin making rule-breaking movies, it allows me to dream bigger and gives me the confidence to know that our unique Asian-American perspectives (even when not making movies about Asian-Americans) not only deserve to contribute to the cinematic language but also many should be more recognized as so. Here are a sampling of the movies that made a difference to me personally, in no particular order.
Directed by: Lee Isaac Chung
Who's in it: Steven Yeun, Yeri Han, Yuh-Jung Youn, Alan S. Kim, Noel Cho
What it's about: A Korean-American family starts a farm in 1980s Arkansas in search of their own American Dream.
"As Asian Americans, we often hear our parents and grandparents gloss over their journey of setting down roots in America - but it's actually the most rockstar thing a person could do. The amount of bravery you need to drop everything in search of a better life for your family is astounding and Lee Isaac Chung captures that incredible endurance and perseverance in Minari. It's intensely moving, so relatable and a true American film. Plus, Steven Yeun is undeniably a movie star. And Yeri Han and Yuh-Jung Youn will move you to tears." - Jon M. Chu
Directed by: Chloé Zhao
Who's in it: Frances McDormand, David Strathairn, Linda May
What it's about: After losing everything in the Great Recession, a woman embarks on a journey through the American West, living as a van-dwelling modern-day nomad.
"Chloé Zhao is a legend. There's a reason why everyone has been in awe of this film. Mesmerizing, vulnerable, inspiring...it's a complicated, beautiful story of life, loss, and the journeys we embark on to find ourselves. And it is all so intricately told by Chloé. The beauty of freedom and of the American West that Chloé so brilliantly captures is breathtaking. I'm sure I'm not just saying this because we've all been indoors for a year but this movie will make you want to go out, explore the world, and find yourself." - Jon M. Chu

Directed by: Justin Lin
Who's in it: Parry Shin, Jason Tobin, Sung Kang, Roger Fan, Karin Anna Cheung, John Cho.
What it's about: A tight group of overachieving high-school friends begin to edge into reckless criminal territory.
"Justin Lin's debut feature is a knockout punch on stereotypes of Asian-Americans in cinema. It literally blew my mind when I saw it as a sophomore in college. I took the long drive from the University of Southern California to Park City, Utah to check out films and stood in line for hours to get into Better Luck Tomorrow. I had no idea what I was in for, and after being in awe of the ferocity, confidence and flat-out rebellion of its depiction of Asian-American youth, I became a Justin Lin fan for life. More young people need to see this movie right now." - Jon M. Chu
Directed by: Destin Daniel Cretton
Who's in it: Brie Larson, John Gallagher Jr., Stephanie Beatriz, Rami Malek, LaKeith Stanfield, Kaitlyn Dever.
What it's about: A dedicated worker at a residential care facility for young people struggles to balance her personal relationships with her challenging professional responsibilities.
"So much honesty in this movie. I have never felt more emotionally present in a movie than Destin Daniel Cretton's feature. This cast is incredible. Each one pouring it all onto the screen as stars are literally born in front of your eyes. Not to mention I am in awe of Destin's ability to paint messy truths in the most beautiful way possible." - Jon M. Chu
Directed by: Wayne Wang
Who's in it: Ming-Na Wen, Tamlyn Tomita, Lauren Tom, Rosalind Chao, Kieu Chinh, Tsai Chin, France Nguyen, Lisa Lu.
What it's about: The moving life stories of four Asian women and their daughters are chronicled as they each deal with generational conflicts and cultural challenges.
"I'll never forget my father gathering my mother, me and my four siblings into a mini van on a Sunday morning and heading to the small movie theater playing this film. I was young, maybe 7th grade, and we had no idea what we were about to watch. But by the end of the film, we were in awe of how much it reflected our family. The complicated relationships, the way they talked to each other, what they were eating … it all felt so familiar to us, yet seeing it on the big screen made us feel incredibly special, like we were the movie stars. We talked about the film and quoted it for years after. Wayne Wang and his team gave us so much life, and for me who at that time was figuring out my own cultural identity crisis it meant everything." - Jon M. Chu
Directed by: Alice Wu
Who's in it: Michelle Krusiec, Joan Chen, Lynn Chen.
What it's about: Writer-director Alice Wu explores a mother-daughter relationship that is coiled in tension, due largely to cultural differences and secret relationships.
"Alice Wu shook me in this movie. How could a movie exist in a movie theater like this? It felt so unique and yet so familiar. A Chinese-American woman and her mother fighting through generations of expectations and traditions as they confront the most basic human yearning for love. It was about such complicated ideas but, like Alice's most recent film The Half Of It [on Netflix], deals with these issues in the most elegantly simple and honest manner. The cast and this film was so ahead of the time … but then again, more likely, it paved the way for this time." - Jon M. Chu
Directed by: Ang Lee
Who's in it: Suraj Sharma, Irrfan Khan, Gerard Depardieu, Rafe Spall, Tabu Tabu.
What it's about: Young Pi Patel finds himself stranded on a lifeboat with the only other survivor of a disastrous shipwreck: a large, hungry Bengal tiger.
"I love this movie and I love Ang Lee. Of course I could recommend The Wedding Banquet or Eat Drink Man Woman or Crouching Tiger, Hidden Dragon but then this list would include JUST Ang Lee movies … and, by the way, you should watch them all. But Life of Pi was special for me because I read the book and had no idea how someone would make a movie out of it. So, in a way, it was a masterclass in filmmaking as I saw how the movie unfolded and how Ang and his team crafted a beautiful, meditative story, but with wonder and spectacle of what it felt like to be on Pi's inner journey. It's an incredible piece of cinema that should be seen on the big screen and the box office numbers reflect that. What an amazing accomplishment. No one could have pulled this off but director Ang Lee." - Jon M. Chu
Directed by: Lulu Wang
Who's in it: Awkwafina, Shuzhen Zhao, Tzi Ma, Diana Lin.
What it's about: A Chinese family decides not to tell their beloved matriarch that she has been diagnosed with a terminal condition.
"I met Lulu Wang at the SNL after party when Awkwafina hosted the show. I didn't know anybody other than Awkwafina and she was busy talking to Lorne [Michaels] but guess who came up to me? Yup, the brilliant and incredibly warm Lulu Wang. She told me about the movie she was in post on with Awkwafina, and while I totally believed her I had NO IDEA that she would be my inspiration for the rest of the year. She has such force in her presence, even at an SNL after party, and I could feel that powerful undertow in The Farewell. This is such an achievement and the beautifully restrained performance of Awkwafina, Shuzhen Zhao, Tzi Ma and the rest of the cast, it brings me to tears thinking about it. Like Lulu making me feel at home at that party that night, this movie will make you feel seen." - Jon M. Chu
Directed by: Jimmy Chin and Elizabeth Chai Vasarhelyi
Who's in it: Conrad Anker, Jimmy Chin, Renan Ozturk.
What it's about: Three climbers attempt to reach the summit of the towering Meru Peak in the Himalayas, which had never been done before.
"I love Free Solo more than the next guy, but Meru will have you on the floor. Emotional, devastating, triumphant … it has all the pieces that make it an incredible and exhausting adventure. Then you add on HOW Jimmy Chin and [codirector] Elizabeth Chai Vasarhelyi shot it and you can't believe it. This team has obviously so many amazing movies ahead of them but Meru, to me, was the sign of things to come." - Jon M. Chu
Directed by: M. Night Shyamalan
Who's in it: Bruce Willis, Hayley Joel Osment, Toni Collette.
What it's about: A young boy who sees dead people seeks the help of a child psychologist in writer/director M. Night Shyamalan's clever mystery thriller.
"You've watched it, I'm sure. But watch it again. M. Night's genius will amaze you again. It's very close to a perfect movie. Every visual choice, every word used and edit cut is a deliberate choice like a master sculpture carving your emotions into a form. I love that he's been prolific because we need more M. Night in our life. He is the epitome of the storyteller and I aspire to have that kind of mastery of the frame." - Jon M. Chu
Directed by: Aneesh Chaganty
Who's in it: John Cho, Debra Messing, Sarah Sohn, Michelle La.
What it's about: Unfolding entirely on electronic device screens, the thriller follows a father as he desperately searches for his missing teenage daughter.
"Aneesh Chaganty went to my alma mater USC and he is the future. I love that he made #StarringJohnCho a reality and I love that his confidence of technology and suspense and, most importantly, community can be felt in each of his creations. Most people make technology the enemy or don't understand it enough to use it in a way of how Hitchcock would have used it, but Aneesh does. And he does it with moxie. Can't wait to see what he brings to the table in the next ten years. I promise you he will be a significant presence." - Jon M. Chu
TIGERTAIL
Directed by: Alan Yang
Who's in it: Tzi Ma, Christine Ko, Hong-Chi Lee, Yo-Hsing Fang, Joan Chen.
What it's about: A factory worker in Taiwan forsakes romance in exchange for a new relationship and the opportunity to seek his fortune in America, where he struggles to balance family duties and business responsibilities.
"Alan Yang has one of the most distinct voices in his writing, and his first feature doesn't disappoint. I am always so moved by his combination of heart/humor/visual prowess/music mastery and yet grounded storytelling. I am not sure I have recommended a movie more to my mom than this one (I just couldn't help with how to make the internet work faster for her #moms). Anyway, Alan Yang bridges a cultural and generational gap that very few filmmakers are able to do and he might be the best of them. Plus, he's just so dang cool and his work is so relevant and accessible -- this will be the movie that people look back on and say it's where it all started." - Jon M. Chu
Directed by: Justin Chon
Who's in it: Justin Chon, David So, Simone Baker, Curtiss Cook Jr, Sang Chon.
What it's about: Two Korean-American brothers run a Los Angeles shoe store in 1992, where a young African-American girl drops by to help out. Then, in the wake of the controversial Rodney King verdict, riots break out.
"Justin Chon is the man. For years, I didn't know him as a director, only as an actor, but he has become one of the most important and exciting voices in the filmmaker community. He doesn't just leave his heart on the screen, but also his guts. This movie explores some of the most important and unexplored moments in Los Angeles history and does it with no apologies." - Jon M. Chu
Watch these films and more right now over at FandangoNOW
---
ABOUT JON M. CHU:
Jon M. Chu is known for his visually stunning blockbuster films, as well as his kinetic work across various genres, from groundbreaking series to commercials and films. Most recently, he directed the worldwide phenomenon "Crazy Rich Asians," which was nominated for numerous awards, including a SAG Award, a Golden Globe, and PGA Award. The film has earned more than $175 million in the United States alone, with a worldwide gross of almost $240 million, making it one of the top 10 highest grossing romantic comedies of all time. It was the first contemporary studio picture in more than 25 years to feature an all-Asian cast, and it represents a new chapter in Chu's 10-year career.
This year, Chu helmed his most ambitious project to date, the highly anticipated adaptation of Lin-Manuel Miranda's Tony Award-winning musical "In the Heights" for Warner Bros. Studios, which is scheduled for release Summer 2021. He also recently served as an executive producer and director on "Home Before Dark," a series for Apple starring Jim Sturgess and Brooklyn Prince, inspired by the true story of 11-year-old investigative reporter Hilde Lysiak.
Chu's previous credits include "Step Up 2: The Streets," "GI. Joe: Retaliation," "Justin Bieber's Never Say Never" and many more representing over 1.3 billion dollars in the worldwide box office. Additionally, his unique storytelling ability has earned him the honor of being on the Hollywood Reporter's Power 100 list as well as Variety's New Hollywood Leaders.