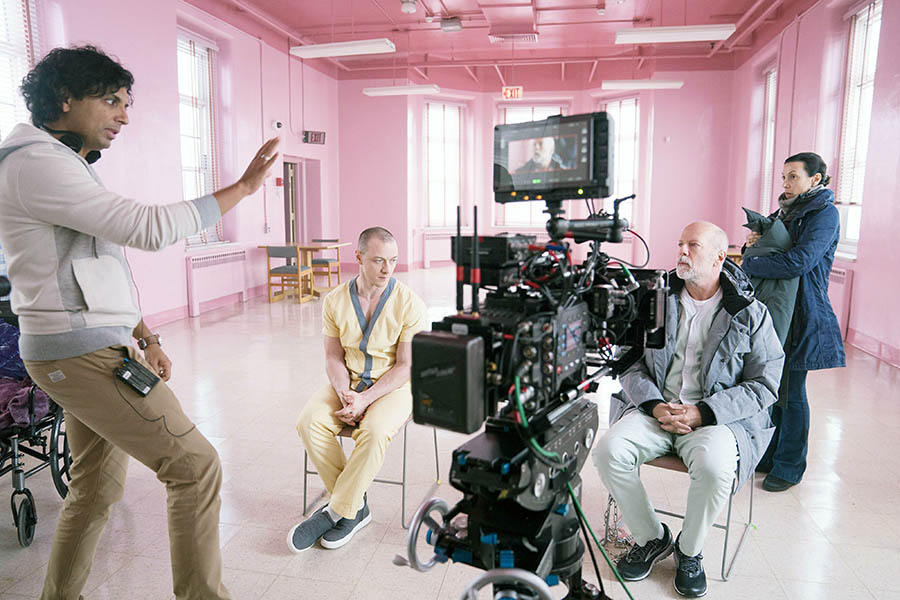 Representing the culmination of a story that began in Unbreakable and continued in Split, director M. Night Shyamalan's Glass shatters any possible preconceptions. The thriller's striking originality is a hallmark of Shyamalan's films, as he explains to actor James McAvoy in a new video.
Really, it's all about an original tone, says Shyamalan: "Why it's so important is that … you have no idea where it's going." McAvoy asks if the filmmaker seeks to do that with all his films. Shyamalan declares that originality is "our weapon" in a world increasingly filled with superpowered characters: "There's nothing like our movie."
Watch the video, which is an extra that comes with the Glass home video release, below. Bruce Willis, Anya Taylor-Joy, Sarah Paulson and Samuel L. Jackson also star. The film will be available on FandangoNow and other digital platforms on Tuesday, April 2; and on DVD and Blu-ray on April 16.
Joining Glass on FandangoNow next Tuesday, is The Kid Who Would Be King a family flick from acclaimed director Joe Cornish (Attack the Blocki.e. the film that launched John Boyega's career) that places a young boy at the center of a modern day Arthurian legend. Replicas, a Keanu Reeves vehicle, will also be available.
In other exciting news, Bumblebee, the Transformers franchise's character-driven prequel starring Hailee Steinfeld and John Cena, Clint Eastwood's The Mule, and awards heavy-hitter Vice, will be available to rent on FandangoNow starting Tuesday.
These films join last week's crop of new releases performing on FandangoNow as follows:
1. Dragged Across Concrete
2. Holmes & Watson
3. Triple Threat
4. A Dog's Way Home
5. On the Basis of Sex
6. Welcome to Marwen
7. Stan & Ollie
8. The Walking Dead (Season 9)
9. Nona
10. Locating Silver Lake