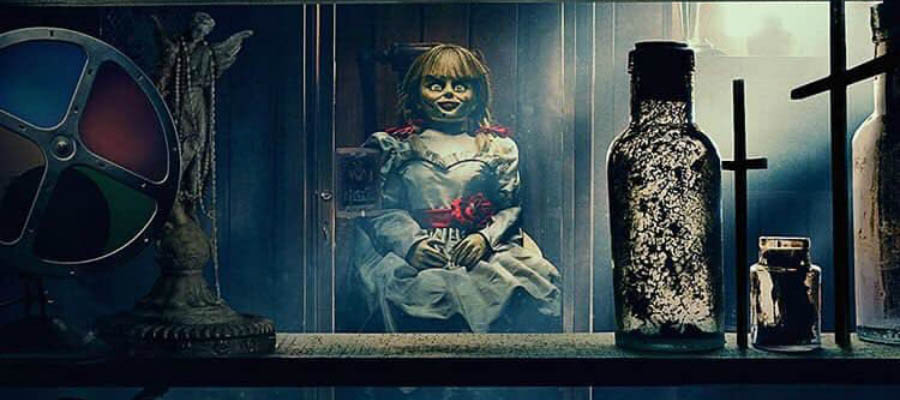 We were first introduced to a diabolical doll named Annabelle in The Conjuring. Patrick Wilson and Vera Farmiga starred as experienced paranormal investigators Ed and Lorraine Warren, who were called upon to help a Rhode Island family in 1971.
The horror thriller was a breakout success, leading to the spin-off feature Annabelle. That film was also quite popular, inspiring a prequel, Annabelle: Creation that explored the doll's origins, as well as Annabelle Comes Home, the newly-titled third installment in the series. Producer James Wan has just dropped a first-look image; here's everything we know about the upcoming movie.
Who will star?
Patrick Wilson and Vera Farming will reprise their roles as Ed and Lorraine Warren (above in The Conjuring 2). Reportedly, their characters will be featured in a "supporting capacity," per Deadline.
Young Mckenna Grace (2015's Frankenstein; Amityville: The Awakening; I, Tonya) will play the lead role, Judy, the 10-year-old daughter of Ed and Lorraine Warren. Madison Iseman (Goosebumps 2: Haunted Honeymoon) will play Judy's teenage cousin, who is babysitting while her parents are away.
What's it about?
The evil doll is locked up in the Warrens' Artifacts Room, but somehow manages to 'awaken the room's evil' and targets young Judy, who must defend herself with the assistance of her cousin and her cousin's friend. "Annabelle basically activates all the other haunted artifacts in that room," says producer James Wan. "So, it's basically A Night at the Museum, with Annabelle!"
How is it tied to the other films in The Conjuring Universe?
The story begins during the time period covered by The Conjuring, so we can expect more classic 70s fashion. Writer Gary Dauberman teases that it takes place in the Warrens' home, perhaps almost entirely. Of course, by this point, we know that Annabelle is quite the storehouse of evil, which makes the possessed doll a very dangerous threat.
Who is writing and directing?
Gary Dauberman. He wrote Annabelle and Annabelle: Creation, as well as The Nun, another spin-off in The Conjuring Universe. He also scripted It and It: Chapter Two. Annabelle Comes Home will mark his directorial debut.
When can we see it in theaters?
Warner Bros. will release Annabelle Comes Home in theaters everywhere on June 28.