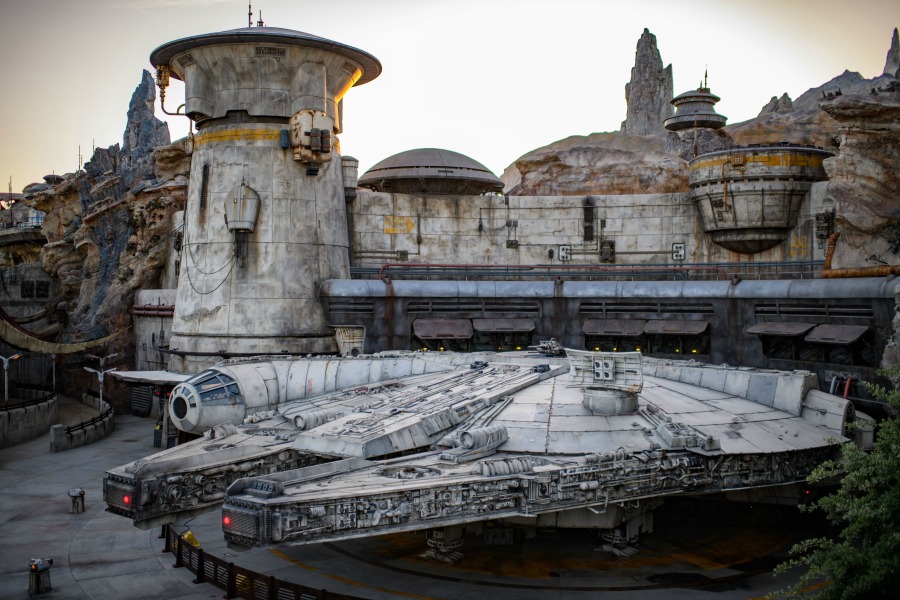 "Bright suns!"
"Rising moons!"
Depending on what time of day you enter Star Wars: Galaxy's Edge in California's Disneyland (Galaxy's Edge will open in Orlando's Disney World in late August), you will no doubt hear one of those two phrases within minutes of stepping foot on the planet Batuu at the edge of the galaxy. If it's daylight, you'll hear "Bright suns!," which is the equivalent of saying, "Good morning." "Rising moons," then, is the equivalent of saying, "Good evening." It's a subtle detail, and it's one that may have you chuckling at first, but by the end of your time inside Galaxy's Edge, you're so hooked that once you leave the park, it's almost depressing that you can't wish anyone a "Rising moons" any longer.
That's when you realize this isn't like any ordinary theme park. This one is different. Star Wars: Galaxy's Edge is without a doubt the next evolution of theme-park experience.
Fandango was lucky enough to enjoy a lengthy preview of Galaxy's Edge, both during the day and at night, and while only one of the land's two main rides is currently open ("Rise of the Resistance" is scheduled to open later this year), there's plenty to see and do and experience that fans can easily spend hours inside this little galactic outpost, interacting with characters and playing out a story that is unique to you. Or, you can just get lost in the many experiences the land has to offer -- from throwing a few back at Oga's Cantina to roaming the gorgeous Middle Eastern-inspired marketplace.
Naturally, it can all feel so overwhelming -- so if you only have a few hours to burn, here is our guide to the best way to experience Star Wars: Galaxy's Edge...
TAKE IT ALL IN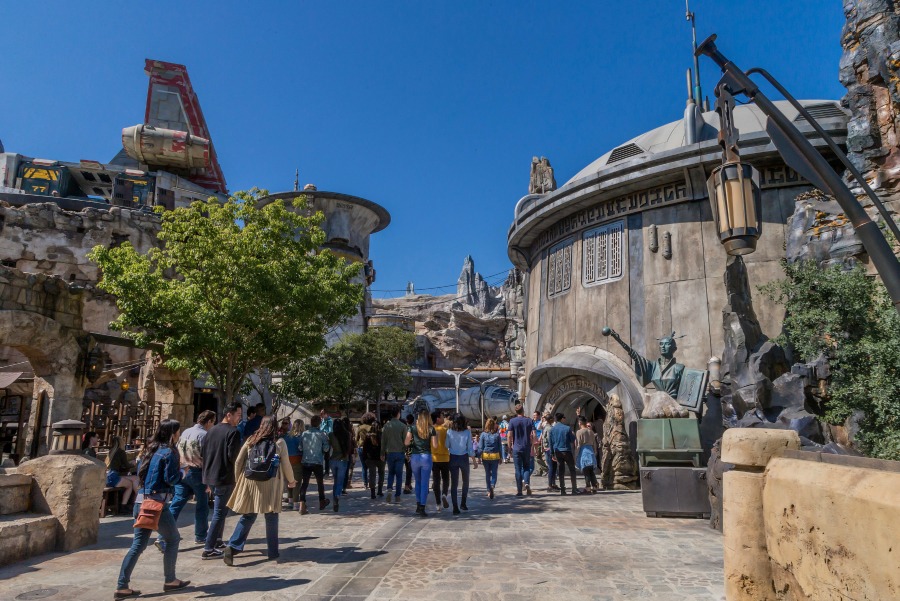 Galaxy's Edge is different from other lands in that you really want to immerse yourself in the environment before you do anything else. Listen to the sounds coming from the surrounding forest. Roam the pathways. Talk to some castmembers and wish someone a "Bright suns." In order to get the most out of your experience on Batuu, you need to remove yourself from anything else you have done that day or during your visit to Disneyland, and mentally and spiritually prepare to put yourself somewhere else.
BEGIN YOUR STORY
Firstly, note that the narrative of Galaxy's Edge is currently set in between Star Wars: The Last Jedi and Star Wars: Rise of Skywalker. That may change once Rise of Skywalker hits theaters this December, but for now you are part of a storyline that takes place between those two movies.
One of the best things about Galaxy's Edge is that everyone who enters can craft their own unique narrative as they move throughout the land. Whether you want to align with the Resistance or the First Order, or just be a rough-around-the-edges scoundrel, you have that choice. And once you've made that choice, your experience inside Black Spire Outpost changes.
For example, if you want to team up with the Resistance, then you may run into a Resistance member who tells you a secret password. As you move throughout Batuu and meet other Resistance fighters, you can toss them the secret password and earn some cool little rewards. You also have the option of using your Disneyland app to access another layer of storytelling where you can either decide to work with the Resistance or with the First Order. But choose wisely, because every decision you make has consequences, and as you move throughout Black Spire Outpost, choices you have made may present themselves in lots of ways. If you're aligned with the Resistance, the bartender at Oga's Cantina may have some choice words for you once you arrive there. Be warned!
RIDE THE MILLENNIUM FALCON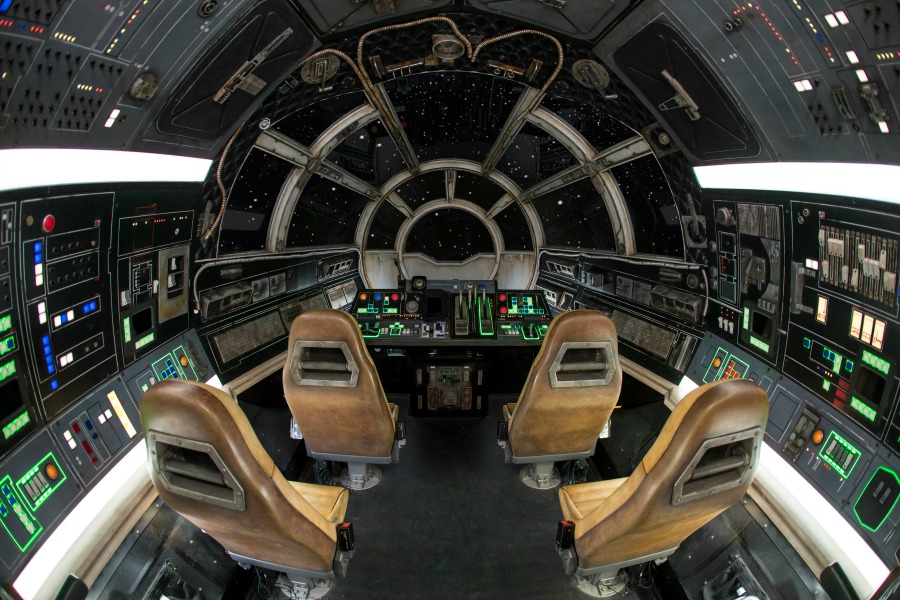 The lone ride currently open in Galaxy's Edge is Millennium Falcon: Smuggler's Run. The queue in itself is an experience, as you circle around the Millennium Falcon, gathering unique looks at the ship from behind. Then you slowly move into a room where the smuggler Hondo Ohnaka (The Clone Wars, Star Wars Rebels) greets you and explains that he is in search of crews to help gather cargo utilizing the Falcon, which Chewbacca loaned to him as part of a deal to assist the Resistance.
What the Resistance is after is revealed once you board the cockpit of the Falcon. But before you get to do that, you'll be able to hang out in a very familiar-looking part of the ship, where you get snap photos and explore one of the most iconic ships ever put to film.
Once you enter the cockpit, you will be placed in one of three positions: pilot, gunner or engineer. The two best positions, in our opinion (we played all three), were pilot and engineer. Pilot gives you a lot more to do since you're steering the ship (left and right or up and down, depending on which position you're in), and engineer is the position with the least amount of responsibility, and so you can really sit back and watch all of the action.
Here is a taste of what it looks like once you've taken off on a mission to gather Coaxium, which will play out as a familiar mission for those who have seen Solo: A Star Wars Story. In that film, Han and friends are tasked with stealing coaxium, too. Coaxium, for those not familiar, is a key ingredient for those who want to travel to hyperspace, and the Resistance is in dire need of some after draining their hyperspace runs in The Last Jedi.
Speaking of Smuggler's Run, I experienced all three positions - pilot, gunner and engineer. Pilot was my favorite, but engineer is next best because you have less to do and can sit back and watch all the action. Here is a taste of what you will experience#StarWarsGalaxysEdge pic.twitter.com/0EyyRQVSMW

— Erik Davis (@ErikDavis) May 30, 2019
MINGLE INSIDE OGA'S CANTINA
Once you finish Smuggler's Run, you'll want to head next door to Oga's Cantina for a refreshing cocktail. Both alcoholic and non-alcoholic drinks are available in this space that feels like it was ripped right from one of the films. With DJ Rex spinning familiar tunes, you'll be transported to one of the more unique bars you've ever been to. Be warned, though, that your experiences in the land prior to arriving at Oga's may come back to you. For example, if you crashed the Millennium Falcon during your run, a bartender at Oga's may bring it up when you're ordering your drink.
That is what truly separates Galaxy's Edge from any other theme park experience. Everything you do within the land is connected and the things that you do are not separate from one another. An experience you had in one part of the land will come back to you in another, and so on.
Oga's Cantina is also very cool - lots of drinks, both alcoholic and non-alcoholic, with DJ Rex spinning some familiar tunes. #StarWarsGalaxysEdge pic.twitter.com/yAHuzQoRNr

— Erik Davis (@ErikDavis) May 30, 2019
ROAM THE MARKETPLACE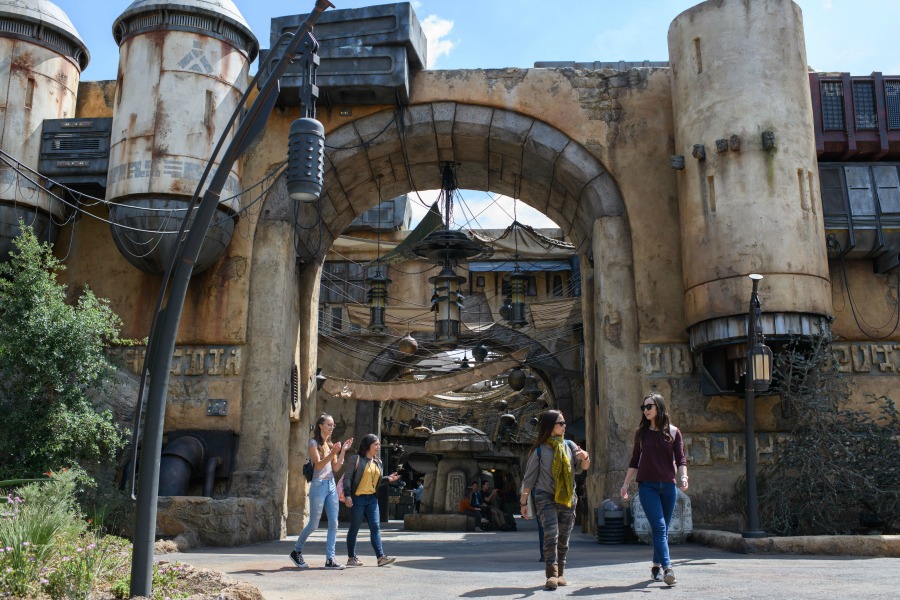 Inspired by Middle Eastern marketplaces, the marketplace inside Galaxy's Edge is unlike any shopping area you have ever seen inside a theme park. Yes, they have stuffed animals and shirts to purchase, but the items are unique to Galaxy's Edge, and in some cases have a hand-crafted feel to them, as if a local Batuu artist just carved it from scratch. Hungry? Next door to the marketplace is Ronto Roasters, featuring innovative, other-wordly creations. Tip: Try the popcorn.
EXPLORE DOK-ONDAR'S DEN OF ANTIQUITIES
This was our favorite shopping location because it's both an artifact room and a store. Featuring ancient artifacts from the films, shows, books and even other films (there's a choice Indiana Jones Easter egg hidden inside -- see if you can spot it), this is the spot where you can pick up a rare Star Wars item, like a legacy lightsaber, a gorgeous Luke Skywalker bust or an actual kyber crystal.
Here's more of the cool stuff inside the Den of Antiquities, including costumes, legacy lightsabers, kyber crystals, and so much more #StarWarsGalaxysEdge pic.twitter.com/iceYjDBJaq

— Erik Davis (@ErikDavis) May 30, 2019
SNAG A LIGHTSABER
You have options when it comes to buying a new lightsaber inside Galaxy's Edge. You can buy a legacy lightsaber from the Den of Antiquities or build a lightsaber insie Savi's Workshop, but no matter where you collect your new lightsaber, the ramifications of your purchase will be felt almost immediately as you walk around the park. Expect characters to approach you and ask about your Jedi adventures, but also beware of the First Order. If a bad guy sees that you have a lightsaber, you may find yourself in a sticky situation.
COMPLETE YOUR EXPERIENCE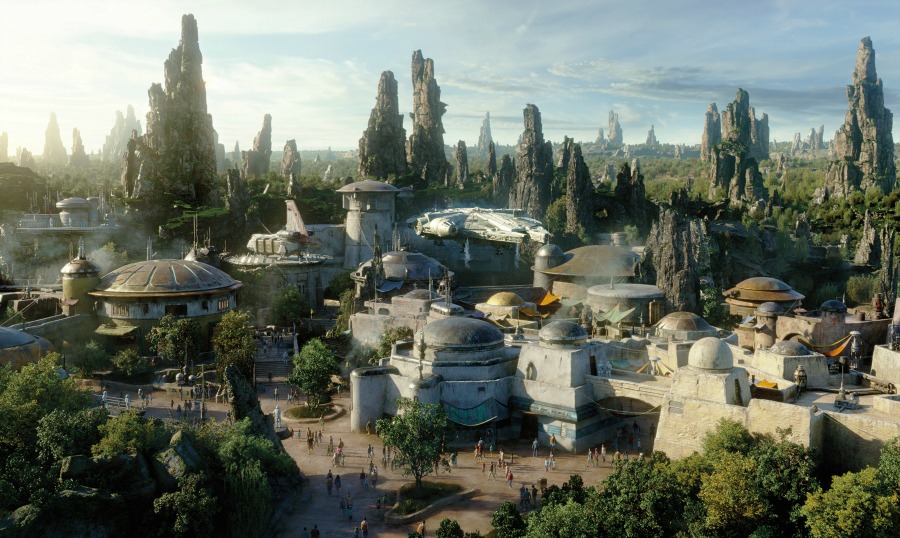 Once you have gathered your new items and piloted the Millennium Falcon, you'll definitely want to roam the grounds and see how your different experiences have advanced your own unique narrative within Black Spire Outpost. Remember, everything you do has a consequence, and everything you experience can and most likely will come back to you through the characters who are around you.
That right there is what makes this place so special. No matter what age you are, Galaxy's Edge does a tremendous job of utilizing imagination. From wishing someone a "Rising moons" to conspiring with Resistance fighters to take down the First Order, this place connects you to your Star Wars fandom in a way that is so personalized and customized. It's a theme park attraction that celebrates Star Wars by making you feel like you are a part of Star Wars, and it's that kind of experience that makes you realize why you fell in love with these stories in the first place.
Star Wars: Galaxy's Edge isn't just something to do -- more importantly, it's something to feel. At a time when there are positives and negatives associated with fandom, Galaxy's Edge exists to remind us that fandom is a shared experience that should fulfill us and complete us, and never tear us apart.