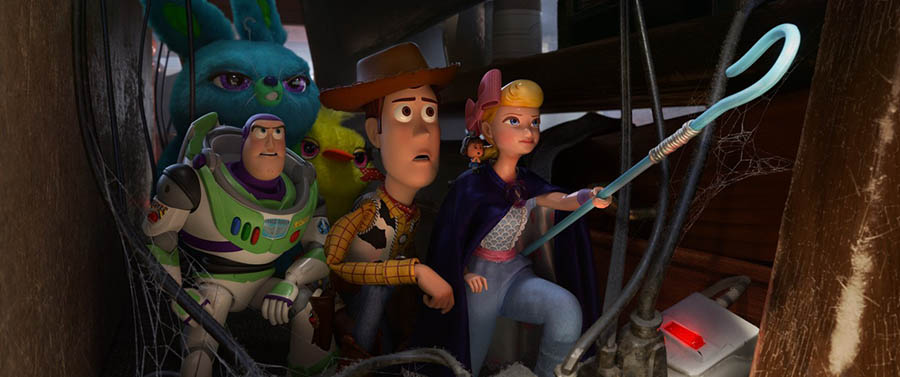 In Toy Story 4, we are invited once more into the toy box with Woody, Buzz, Bo Peep and so many other friends: the old, the new, and those we thought lost along the way. Now a generation after the original Toy Story film launched Pixar into infinity (and beyond!), the characters are faced with new challenges that may change the very fabric of what it means to be a child's plaything.
To celebrate tickets being officially on sale for Toy Story 4 here at Fandango, we spoke exclusively with director Josh Cooley, who is honored to take the helm of Pixar's first franchise. In Toy Story 4, we continue a journey of emotional investment by exploring a different worldview, experiencing new things and defining exactly what it means to be a toy...and a friend.
But first, watch the trailer below!
Fandango: You've done a lot at Pixar, from storyboard artist to editor to writer to voice talent. How did those experiences help shape your lens as a director?
Josh Cooley: I would say that the biggest one, it always goes back to the story. Having come up in the story department and working on creating stories, that's the thing that helps tremendously as a director...every single decision, I could always lean on that.
They'd ask, "What color should Dad's shorts be?" and I'm like, "I don't know." But I go, "What's the story point here? Is that important or not important?" I would always lean on that as my go to, just what's important to tell the story.
Fandango: What kind of pressure is there in directing a Toy Story film?
Josh Cooley: The pressure is immense...when I was asked to direct it, I was extremely honored, and I'm so glad that it happened - but it was terrifying, to be honest. There were lots of sleepless nights. You know Toy Story is so important to Pixar specifically, because it was our first film and kind of the foundation - all of our films are kind of built on that. Those characters are very precious to us, as well as to the rest of the world, and so taking on another adventure with them, especially after three incredible films and the third one ending so perfectly, was huge. The last thing I wanted to do is make a movie that didn't feel like it needed to be made. We worked really hard at creating a story and a film that when you watch it you go, "Oh, this is more of Woody's story. This is the next chapter in his life."
Fandango: When you were going through the previous three films, was there anything about the Toy Story world that surprised you?
Josh Cooley: Great question! Yes, because we would watch the three constantly, just to remind ourselves of the world and the flavor, but there were things that I did not pick up on that I only learned from working with Andrew Stanton and Lee Unkrich, some of the original creators of Toy Story. They would remind me that the movie needs to be told from a toy's perspective, which of course seems obvious as you say it, but that goes into every single aspect of the filmmaking. Even stuff that is in the background of the characters was intentionally put there to constantly remind us that they're toys. For example, electrical sockets or a tennis shoe, anything that's on the ground that can give you a scale reference, is just a constant reminder that you're telling a toy story and not a tiny human story. That was something that was eye-opening to me. It's there, you just don't consciously see it, but you get to be aware of it as you're making the film.
Fandango: You're aware of it so we don't have to be.
Josh Cooley: Exactly.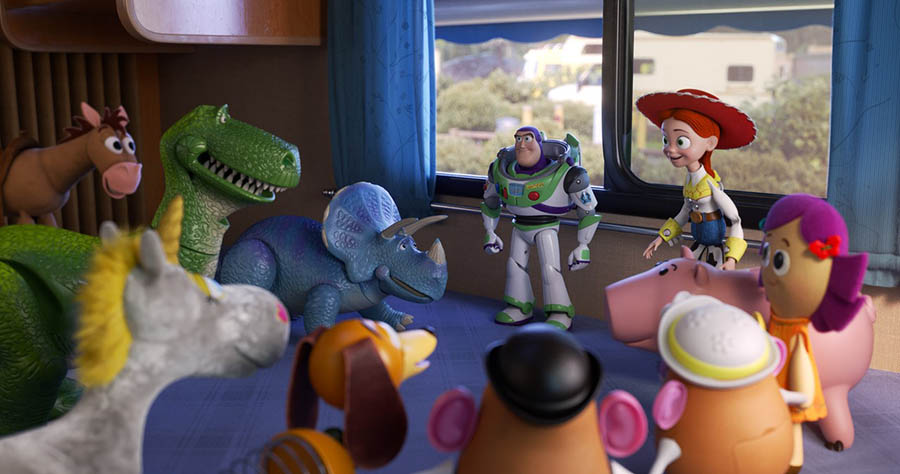 Fandango: The cast is impressive, as always. What kind of response did you get when you went to the actors and told them that there was going to be a Toy Story 4?
Josh Cooley: The great thing is that everybody was onboard immediately. I will say, one of the most nervous days on the show, for me, was pitching the story to Tom Hanks and Tim Allen, because those guys have done these characters for over 25 years now, and they know them so well. I just wanted to have them onboard and make them feel like this is something worth telling. It was really kind of a weight lifted off me . . . I could see them light up and get what we're doing here. That was really exciting.
Fandango: What does this Toy Story do that we haven't seen before from the other Toy Story films?
Josh Cooley: That was something that was really important to me. I didn't want the film to feel like we were retreading anything at all. It needs to feel like it's a whole new adventure, and so one of the big things was having the toys leave the bedroom. I know in the other films they've . . . stayed within the area, going to other locations, but we said, 'Let's really take them out there to someplace completely new we've never seen before,' and that's where the idea of this RV trip vacation came from. It's the first time we're going to see toys out in the middle of nowhere with nothing around them, and we have a scene where Woody is out in the middle of nowhere and it's the first time we've ever seen something like that and it's actually kind of shocking to see.
But the big thing that is new, the thing that got me interested in this story, was the idea of putting Woody in a new location, not just a location in terms of outside the tri-county area, but with Bonnie, who is a new kid - she has a new bedroom. It's a new bedroom for him. It'a all new toys. It's a whole new situation for him that we've never seen him in before. The question became, "How would he react to all this?" You know, he's been through it all with Andy already. How would he be with this new kid who's not going to play the exact same way that Andy did? She can't. All kids are different. That was what was really exciting, seeing how we could really throw his world on its ear and wondering how he's going to deal with that.
Fandango: That's a great point, because it would challenge his whole concept and understanding of the relationship.
Josh Cooley: Exactly.

Fandango: I must say, it's exciting to see Bo Peep back in action. Keyword: Action. What can you tell us about the role she plays in Toy Story 4?
Josh Cooley: She was there from day one, Bo Peep and her return. In fact, our codename for the movie, internally, was Peep. So even from day one, it was always about Bo Peep. Her key role is that she's been - she wasn't in Toy Story 3 - and she's been off doing something else, and living a different life than Woody has ever been a part of before. To have her come back into the picture, and to have her worldview be completely different than Woody's, just automatically gives you great worldview conflicts that can kick these characters off in a great way.
The thing that's great about this "new" Bo, it's not like we reinvented her where she's now an action hero. We went back and watched the previous movies with Bo's screen time, which only added up to about seven minutes, it wasn't very much, but what we noticed in those scenes is that she is the smartest toy in the room. She is the most mature toy out of everybody. Even when Woody is freaking out about something he would go to her and she'd say, "Look under your boot. Look whose name is written under there. Andy cares about you." She was always very caring and smart, so what we did was bring her more to the surface and elevated her leadership and her wisdom, based on what she was before and this new life she's having here. I think people will see, that it's not just now she's a ninja, it's that she is a smarter character...she's on the same level as Woody, if not past him. They fit really good together. And Annie Potts, she just killed it. Her performance is just so beautiful. I absolutely adore it.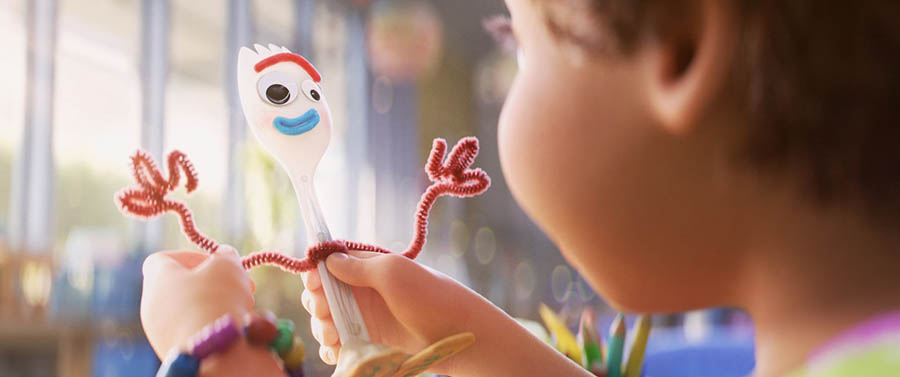 Fandango: You mentioned the new characters. One that seems to be getting a lot of screen time in the trailers is Forky. What is his relation to Bonnie, and also to the toys?
Josh Cooley: We looked at our own kids for inspiration, for all our films actually, working on Inside Out and this film as well, and we always joked about how there are times you get your kid a Christmas present and they'll play with the box that it came in more than the actual toy.
So we're sitting in story one day, just joking, what if Bonnie picked up a rock and started playing with it? Would that mean it's alive? And this was all just brainstorming fun, but then we thought, well, what if Bonnie did make a toy and it came to life? What would that be like? That's something we've never seen before and never really explored, and we just couldn't stop laughing. It was so funny to think of a character that just comes to life and had never seen Toy Story 1, 2 or 3, doesn't understand any of the rules, and this is new to the audience, also new to Woody and new to the other toys, and new to this character.
And so we drew a spork with googly eyes and it just kept going. It was so funny. But what we realized, it's not just the comedy of this character that doesn't understand anything, but he became important because Woody saw this character and was trying to explain to him what it means to be a toy. And in that he actually pulls out what it means to him to be a toy as well, so the innocence of this character forces Woody to look even deeper within himself. Once we hit upon that it was, "Oh." This is why this character exists story-wise. He's actually forcing things to happen.
Fandango: And casting Tony Hale seems spot on.
Josh Cooley: [laughs] I'm so happy he said yes, because I can't imagine any other person doing it. He has the innocence and the comedy and the heart as well. He can balance all those perfectly.
Fandango: So the questions I get asked the most by people who know I'm speaking with you and covering Toy Story 4, and that is, "How many tissues do I need to bring with me to the theater?"
Josh Cooley: Oh, geez. Yeah, I really don't know how to answer it. I will say, the goal is not to try to make people cry. The goal is always to make the audience emotionally connect to the characters. There's stuff that, in my opinion, is emotional, there's other stuff that's really funny, other stuff that's scary and stuff that's just joyful, so I'm hoping people don't just come expecting to bawl their eyes out, but they come in just to have a great time and to really be with these characters that we all really love.
Toy Story 4 plays into theaters on June 21. Get your tickets right now, here at Fandango.