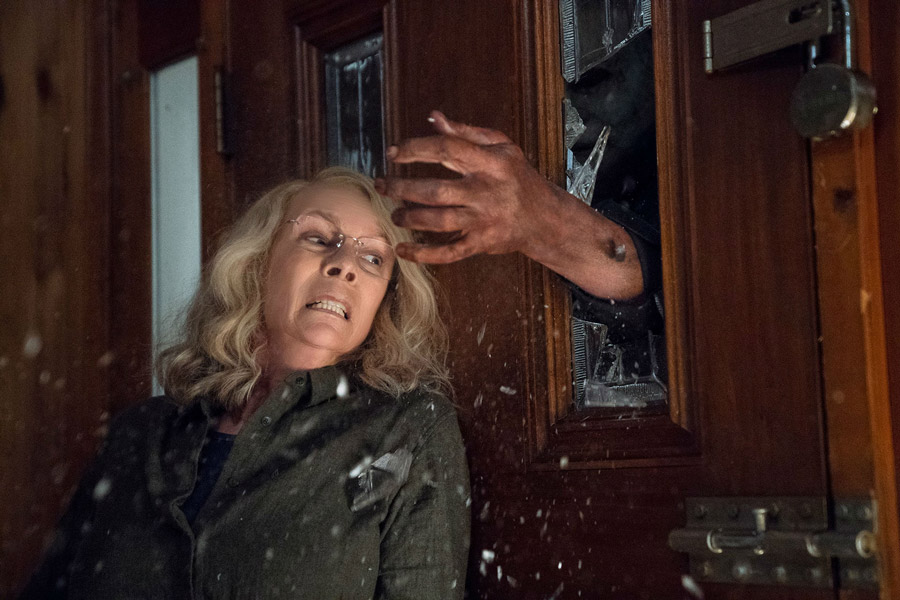 The "Scream Queen" moniker is as old as horror movies with sound that let screams fill a theater. But the very first woman given that title, King Kong's Fay Wray, noted that it damped her career prospects because it reduced her acting capabilities to a scream and thus she wasn't taken seriously for more dramatic roles. Horror films started to become mainstream in the 1960s, evolving into slasher films in the 1970s. The label came back at full force in the 1980s. Again, many of the actresses who were labeled "Scream Queens" had difficulty breaking out of the genre. Horror has changed a lot over the last few decades, and with that has come more film theory applied to horror films, perhaps becoming most popular via Scream in 1996, which educated a whole new generation of movie fans on horror tropes and "final girls" (i.e. the woman who survives until the end of a high body count movie). When we came up with a list of some of our favorite female characters in horror, we dubbed it Horror Heroines because it encapsulates all our favorite horror femmes, whether they screamed in peril or hacked their way to survival. Some actresses have made a full career out of both!
So check out our full list of our favorite horror heroines available on FandangoNOW. But also, this being Halloween week, we are full of bonus content around this theme, with horror icon Barbara Crampton on this week's episode of Weekly Ticket, and a highlight of some favorites on MovieClips.
The Originals
As mentioned in the intro, we have to start with Fay Wray in King Kong. While Hollywood certainly made horror films prior to 1933, it was the giant ape's infatuation with Wray that created a whole template for women in horror movies for better or worse. Though Ann Darrow (Wray) is often rescued in Kong, it is Wray's terror in his clutches that captivated audiences and moved the horror genre in a different direction thereafter.
Other notable old school horror heroines: Miriam Hopkins, Dr. Jekyll & Mr. Hyde; Gloria Holden, Dracula's Daughter; Simone Simon, Cat People; Frances Dee, I Walked with a Zombie; Tippi Hedron, The Birds
Career Horror Heroines
Though the title of "Scream Queen" was hard to shake, a few actresses, such as Barbara Crampton have made an entire career out of horror films. Though Crampton is best known for her iconic collaborations with cult director Stuart Gordon (2020 R.I.P.) in Re-Animator and From Beyond, Crampton has carved out a very interesting career as a horror surrogate to emerging horror filmmakers in the 21st century. There's no better example than Adam Wingard's You're Next, which is not just a fantastic home invasion movie, but also is a loving valentine to Crampton. Even if the final girl honors land elsewhere, Wingard makes sure you feel the tragedy in Crampton's scenes.
Other notable career horror heroines: Heather Langenkamp in the Nightmare on Elm Street series, including the meta Wes Craven's New Nightmare; Ashley Laurence and Clare Higgins in the Hellraiser series; Milla Jovovich in the Resident Evil series and the upcoming Monster Hunter
Iconic Final Girls (Singular Appearances)
While horror actresses were long measured by their capacity to scream, a new trend of survival instincts that led them to a solo escape emerged as horror films became gnarlier and gnarlier. This trope has even led to a Final Girls movie of its own, though we'd wager that the most indelible image of a final girl is Marilyn Burns in the original Texas Chain Saw Massacre, her entire body covered in blood, a fitting look of exasperation, elation, and pure terror in an iconic final shot summing up what the audience and Burns had endured. Burns' Sally exists at the exact cross-section of an old school damsel in distress and the new school plucky survivor that would birth the final girl phenomenon.
Other notable final girls in singular films: Black Christmas, Ready or Not, Split, Evil Dead (remake); The Witch; Cabin in the Woods; 10 Cloverfield Lane; The Craft and so many more
Iconic Repeat Characters
Where to end but with Laurie Strode (Jamie Lee Curtis)? Curtis was erroneously labeled a "Scream Queen" when she actually does all her fighting back on her own as Strode, and she keeps facing off against the masked Michael Myers to this very day, with an acclaimed 2018 sequel that picks up right after the original 1978 classic and two more films to come: Halloween Kills, due in 2021, and Halloween Ends in 2022. If the story truly ends, Strode has more than earned that closure after over forty years of trauma.
Other noted final girl repeat characters: Sigourney Weaver's Ripley in the Alien series; Neve Campbell's Sidney in the Scream series; Jessica Rothe's Tree in the Happy Death Day series; Vera Farmiga's Lorraine in The Conjuring series.