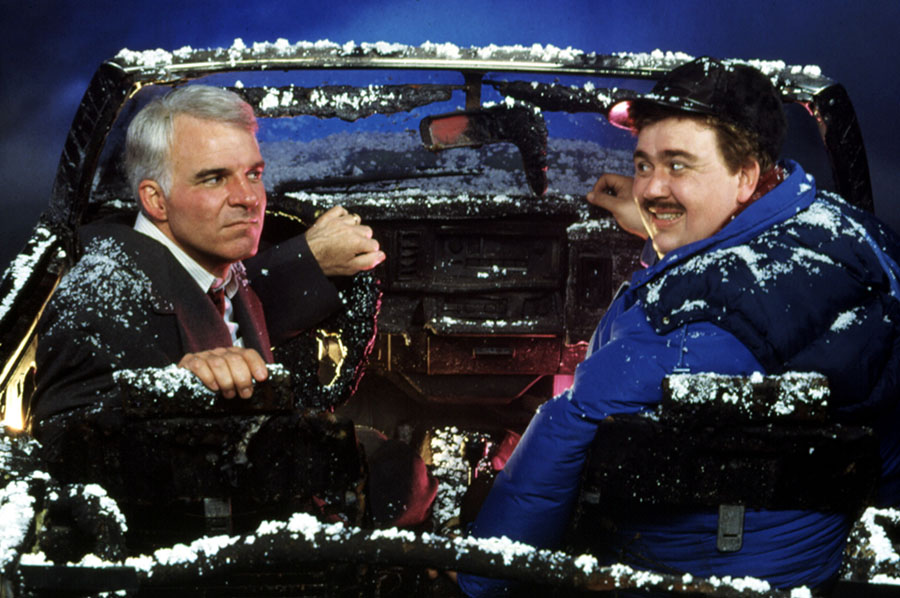 With the winter holidays fast approaching, the Fandango staff combed through FandangoNOW's catalog for movies that remind us of being home with family for the holidays…. warts and all. Some are classics, while some are little-known – and they're all available on the Home for the Holidays list on FandangoNOW.
Planes, Trains and Automobiles
Kick off the holiday season with a story about the journey home. Planes, Trains and Automobiles follows two mismatched strangers (John Candy and Steve Martin) trying to get to their respective homes for Thanksgiving, who forge an unexpected bond over the course of their journey.
More Thanksgiving tales: You've Got Mail, Home for the Holidays, Scent of a Woman, One True Thing, Lez Bomb, The Last Waltz
You've seen the heartwarming classics about the true meaning of the season, but have you had a Christmas in Connecticut? Barbara Stanwyck stars as a single, city-dwelling food writer whose on-page persona is a happy housewife with a perfect family and an idyllic farm. When she actually needs to produce the family and setting, she enlists family and friends to make it happen. It's a screwball romcom about creating identities and finding love in unexpected places, and it's every bit as fresh now as it was in 1945.
More holiday romance: Carol, Last Christmas, Hollidaysburg
National Lampoon's Christmas Vacation
The Griswolds really do love each other. They're just… a lot, in every sense of the word. After two vacations that didn't go quite as planned, Clark Griswold (Chevy Chase) is determined to have a fun-filled family Christmas this year – and he's not going to let a constant stream of relatives – or fire, electrocution or the arrival of a SWAT team – get in his way.
More holiday comedies: Trading Places, Grumpy Old Men, Last Holiday, The Ref, Son-In-Law
If the thought of watching a family movie has you steeling for 90 minutes of action that only a kid could love, it's time for Elf – one of those rare movies that the entire family can genuinely enjoy. Will Ferrell is Buddy, a pure soul adopted by Santa's elves. When he sets out from the only home he's ever known to seek out his biological family, he brings along earnest cheer and a heaping helping of Christmas spirit. It's funny, it's touching and it's sparked so many memes that some of your younger relatives might just be drawn in.
More family movies that are actually for the whole family: Beetlejuice, Addams Family Values, Tokyo Godfathers, Dr. Seuss' How the Grinch Stole Christmas, Illumination Presents: Dr. Seuss' The Grinch
Of course, some holiday movies aren't so much for the little ones. If you find yourself needing a little grown-up TV time, wait until the kiddos are dreaming of sugarplums and fire up The War of the Roses. Michael Douglas and Kathleen Turner are a couple in the midst of a bitter divorce, and they're both willing to weaponize their house to get what they want.
Also not for the children: A Very Harold & Kumar Christmas, Office Christmas Party, A Bad Moms Christmas, The Night Before; The Oath
Years after her wedding, Mia (Monica Calhoun) decides to reunite her old friends for Christmas. It doesn't take long for the gang's old ties, rivalries and secrets to emerge. The Best Man's Holiday is a reminder that family isn't limited to the people you happen to be related to: It can also include the people who've seen you through thick and thin and still like hanging out with you.
More movies about the families we choose: Friendsgiving, The Blind Side, Mixed Nuts
Christmas-related sci fi and horror movies are venerable holiday traditions. As far as we can tell, Anna and the Apocalypse is the first holiday movie to combine zombies, musical numbers and the possible end of the world.
Other holiday sci-fi and horror: Gremlins, Krampus, Santa Claus Conquers the Martians
Is Die Hard a Christmas movie, or a movie that happens to take place at Christmas? We're not taking sides on this one. The fact that's part of many people's family traditions is good enough for us.
Start a family tradition: The Nightmare Before Christmas, It's a Wonderful LIfe, A Christmas Story, Eight Crazy Nights, Little Women (1994), Little Women (2019), Tower Heist, Home Alone