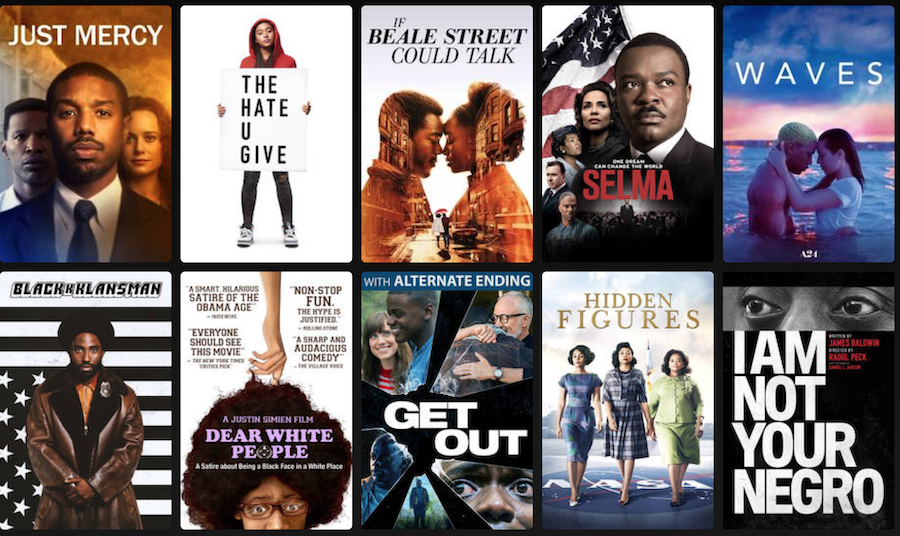 Cinema can be a powerful tool for education. Back in February for Black History Month, Fandango reached out to members of the African American Film Critics Association (AAFCA) to curate a list of 100 important films about the Black experience, many of which you can find on Fandango's streaming service, FandangoNOW.
In the spirit of creating a dialogue, Fandango is republishing the list, which has been updated by members of the AAFCA with an additional ten titles like George Tillman Jr.'s The Hate U Give and Barry Jenkins' If Beale Street Could Talk. We also arranged the movies in descending chronological order, starting with newer films like 2019's Just Mercy with Jamie Foxx and Michael B. Jordan and finishing with Oscar Micheaux's ground-breaking 1919 movie, The Homesteader.
This list was designed by AAFCA members as a resource guide to connect movie watchers with more-relevant-than-ever classics like Spike Lee's Do the Right Thing or powerful documentaries like the Oscar-nominated James Baldwin doc, I Am Not Your Negro. To find out more about the African American Film Critics Association, visit www.aafca.com and follow @theaafca on Twitter.
Just Mercy (2019; Directed by Destin Daniel Cretton; Jamie Foxx, Michael B. Jordan)
Queen & Slim (2019; Directed by Melina Matsoukas; Daniel Kaluuya, Jodie Turner-Smith)
Toni Morrison: The Pieces I Am (2019; Directed by Timothy Greenfield-Sanders)
Waves (2019; Directed by Trey Edward Shults; Sterling K. Brown, Kelvin Harrison Jr.)
Black Panther (2018; Directed by Ryan Coogler; Chadwick Boseman, Michael B. Jordan)
BlackKklansman (2018; Directed by Spike Lee; John David Washington, Adam Driver)
The Hate U Give (2018; Directed by George Tillman Jr.; Amandla Stenberg, Regina Hall)
If Beale Street Could Talk (2018; Directed by Barry Jenkins; KiKi Layne, Stephan James)
Get Out (2017; Directed by Jordan Peele; Daniel Kaluuya, Allison Williams)
13th (2016; Directed by Ava DuVernay; documentary)
Hidden Figures (2016; Directed by Theodore Melfi; Taraji P. Henson, Octavia Spencer)
I Am Not Your Negro (2016; Directed by Raoul Peck, documentary)
Moonlight (2016; Directed by Barry Jenkins; Naomie Harris, Mahershala Ali)
O.J.: Made in America (2016; Directed by Ezra Edelman, documentary)
Straight Outta Compton (2015; Directed by F. Gary Gray; O'Shea Jackson Jr., Corey Hawkins)
Selma (2014; Directed by Ava DuVernay; David Oyelowo)
Dear White People (2014; Directed by Justin Simien; Tessa Thompson, Tyler James Williams)
12 Years a Slave (2013; Directed by Steve McQueen; Chiwetel Ejiofor, Lupita Nyong'o)
Fruitvale Station (2013; Directed by Ryan Coogler; Michael B. Jordan, Melonie Diaz)
Precious (2009; Directed by Lee Daniels; Mo'Nique, Gabourey Sidibe)
The Princess and the Frog (2009; Directed by Ron Clements and John Musker; Anika Noni Rose, Keith David)
Dreamgirls (2006; Directed by Bill Condon; Jamie Foxx, Beyoncé Knowles)
When the Levees Broke: A Requiem in Four Parts (2006; Directed by Spike Lee, documentary)
Tsotsi (2005; Directed by Gavin Hood; Presley Chweneyagae, Terry Pheto)
Hotel Rwanda (2004; Directed by Terry George; Don Cheadle, Sophie Okonedo)
Ray (2004; Directed by Taylor Hackford; Jamie Foxx, Regina King)
City of God (2002; Directed by Fernando Meirelles and Kátia Lund; Alexandre Rodrigues)
Bamboozled (2000; Directed by Spike Lee; Damon Wayans, Savion Glover)
Love & Basketball (2000; Directed by Gina Prince-Bythewood; Omar Epps, Sanaa Lathan)
Introducing Dorothy Dandridge (1999; Directed by Martha Coolidge; Halle Berry)
Blade (1998; Directed by Stephen Norrington; Wesley Snipes, N'Bushe Wright)
Eve's Bayou (1997; Directed by Kasi Lemmons; Samuel L. Jackson, Debbi Morgan)
Love Jones (1997; Directed by Theodore Witcher; Nia Long, Larenz Tate)
Rosewood (1997; Directed by John Singleton; Ving Rhames, Don Cheadle)
Soul Food (1997; Directed by George Tillman Jr.; Vanessa Williams, Vivica A. Fox)
Set It Off (1996; Directed by F. Gary Gray; Jada Pinkett Smith, Queen Latifah)
When We Were Kings (1996; Directed by Leon Gast, documentary)
Devil in a Blue Dress (1995; Directed by Carl Franklin; Denzel Washington, Don Cheadle)
Friday (1995; Directed by F. Gary Gray; Ice Cube, Chris Tucker)
La Haine (1995; Directed by Mathieu Kassovitz; Vincent Cassel)
Waiting to Exhale (1995; Directed by Forest Whitaker; Whitney Houston, Angela Bassett)
Hoop Dreams (1994; Directed by Steve James, documentary)
Menace II Society (1993; Directed by Allen and Albert Hughes; Tyrin Turner, Larenz Tate)
Sankofa (1993; Directed by Haile Gerima; Kofi Ghanaba)
What's Love Got to Do With It (1993; Directed by Brian Gibson; Angela Bassett, Laurence Fishburne)
Juice (1992; Directed by Ernest R. Dickerson; Tupac Shakur, Omar Epps)
Malcolm X (1992; Directed by Spike Lee; Denzel Washington, Angela Bassett)
A Rage in Harlem (1991; Directed by Bill Duke; Forest Whitaker, Gregory Hines)
Boyz N' the Hood (1991; Directed by John Singleton; Laurence Fishburne, Cuba Gooding Jr.)
Daughters of the Dust (1991; Directed by Julie Dash; Cora Lee Day, Alva Rogers)
The Five Heartbeats (1991; Directed by Robert Townsend; Robert Townsend, Michael Wright)
Jungle Fever (1991; Directed by Spike Lee; Samuel L. Jackson, Wesley Snipes)
New Jack City (1991; Directed by Mario Van Peebles: Wesley Snipes, Ice-T)
House Party (1990; Directed by Reginald Hudlin; Christopher Reid, Christopher Martin)
Paris is Burning (1990; Directed by Jennie Livingston; Paris Duprée)
To Sleep With Anger (1990; Directed by Charles Burnett; Danny Glover, Sheryl Lee Ralph)
A Dry White Season (1989; Directed by Euzhan Palcy; Marlon Brando, Janet Suzman)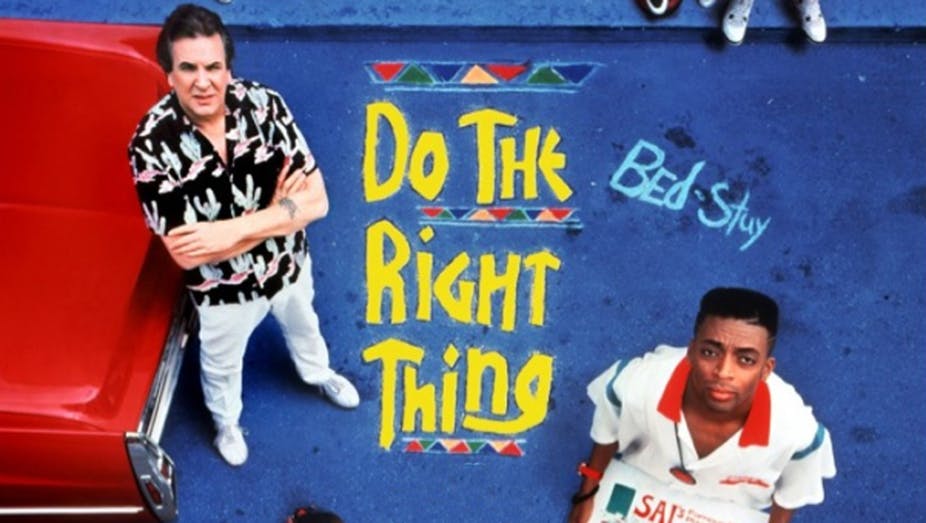 Do the Right Thing (1989; Directed by Spike Lee; Ossie Davis, Ruby Dee)
Glory (1989; Directed by Edward Zwick; Denzel Washington, Morgan Freeman)
Coming to America (1988; Directed by John Landis; Eddie Murphy, Arsenio Hall)
I'm Gonna Git You Sucka (1988; Directed by Keenen Ivory Wayans; Keenen Ivory Wayans, Jim Brown)
Hollywood Shuffle (1987; Directed by Robert Townsend; Robert Townsend, Anne-Marie Johnson)
She's Gotta Have It (1986; Directed by Spike Lee; Tracy Camilla Johns, Spike Lee)
The Color Purple (1985; Directed by Steven Spielberg; Whoopi Goldberg, Danny Glover, Oprah Winfrey)
Krush Groove (1985; Directed by Michael Schultz; Blair Underwood, Sheila E.)
Purple Rain (1984; Directed by Albert Magnoli; Prince, Morris Day)
A Soldier's Story (1984; Directed by Norman Jewison; Howard E. Rollins Jr., Denzel Washington)
Sugar Cane Alley (1983; Directed by Euzhan Palcy; Garry Cadenat)
Wild Style (1983; Directed by Charlie Ahearn; Fab 5 Freddy, Grandmaster Flash)
Burning an Illusion (1981; Directed by Menelik Shabazz; Cassie McFarlane, Victor Romero Evans)
Richard Pryor: Live in Concert (1979; Directed by Jeff Margolis, Richard Pryor)
Killer of Sheep (1978; Directed by Charles Burnett; Henry G. Sanders)
The River Niger (1976; Directed by Krishna Shah; Cicely Tyson, James Earl Jones)
Cooley High (1975; Directed by Michael Schultz; Glynn Turman, Lawrence Hilton-Jacobs)
The Autobiography of Miss Jane Pittman TV (1974; Directed by John Korty; Cicely Tyson, Eric Brown)
Claudine (1974; Directed by John Berry; Diahann Carroll, James Earl Jones)
Uptown Saturday Night (1974; Directed by Sidney Poitier; Sidney Poitier, Harry Belafonte)
Black Caesar (1973; Directed by Larry Cohen; Fred Williamson, Gloria Hendry)
The Mack (1973; Directed by Michael Campus; Max Julien, Don Gordon)
The Spook Who Sat by the Door (1973; Directed by Ivan Dixon; Lawrence Cook)
Touki Bouki (Journey of the Hyena) (1973; Directed by Djibril Diop Mambéty; Magaye Niang and Mryiam Niang)
Wattstax (1973; Directed by Mel Stuart, documentary)
Lady Sings the Blues (1972; Directed by Sidney J. Furie; Diana Ross, Billy Dee Williams)
Sounder (1972; Directed by Martin Ritt; Cicely Tyson, Paul Winfield)
Super Fly (1972; Directed by Gordon Parks Jr.; Ron O'Neal, Carl Lee)
Shaft (1971; Directed by Gordon Parks; Richard Roundtree, Moses Gunn)
Sweet Sweetback's Baadasssss Song (1971; Directed by Melvin Van Peebles; Melvin Van Peebles, Mario Van Peebles)
Cotton Comes to Harlem (1970; Directed by Ossie Davis; Godfrey Cambridge, Raymond St. Jacques)
Watermelon Man (1970; Directed by Melvin Van Peebles; Godfrey Cambridge)
The Learning Tree (1969; Directed by Gordon Parks; Kyle Johnson, Alex Clarke)
Guess Who's Coming to Dinner (1967; Directed by Stanley Kramer; Sidney Poitier, Beah Richards)
In the Heat of the Night (1967; Directed by Norman Jewison; Sidney Poitier)
To Sir, With Love (1967; Directed by James Clavell; Sidney Poitier)
Battle of Algiers (1966; Directed by Gillo Pontecorvo; Brahim Hadjadj)
Black Girl (1966; Directed by Ousmane Sembene; Mbissine Thérèse Diop and Anne-Marie Jelinek)
Nothing But a Man (1964; Directed by Michael Roemer; Ivan Dixon, Abbey Lincoln)
Lilies of the Field (1963; Directed by Ralph Nelson; Sidney Poitier)
A Raisin in the Sun (1961; Directed by Daniel Petrie; Sidney Poitier, Claudia McNeil)
Black Orpheus (1959; Directed by Marcel Camus; Marpessa Dawn and Breno Mello)
Island in the Sun (1957; Directed by Robert Rossen; Harry Belafonte, Dorothy Dandridge)
Carmen Jones (1954; Directed by Otto Preminger; Dorothy Dandridge, Harry Belafonte)
Home of the Brave (1949; Directed by Mark Robson; James Edwards)
Miracle in Harlem (1948; Directed by Jack Kemp: Stepin Fetchit, Sheila Guyse)
Cabin in the Sky (1943; Directed by Vincente Minnelli; Lena Horne, Louis Armstrong)
Stormy Weather (1943; Directed by Andrew L. Stone; Bill Robinson, Lena Horne)
The Green Pastures (1936; Directed by Marc Connelly and William Keighley; Eddie "Rochester " Anderson, Rex Ingram)
The Emperor Jones (1933; Directed by Dudley Murphy; Paul Robeson)
Hallelujah (1929; Directed by King Vidor; Daniel L. Haynes, Nina Mae McKinney)
Within Our Gates (1920; Directed by Oscar Micheaux; Evelyn Preer, James D. Ruffin)
The Homesteader (1919; Directed by Oscar Micheaux; Charles D. Lucas, Evelyn Preer)
---
Shawn Edwards is Co-Founder of the African American Film Critics Association