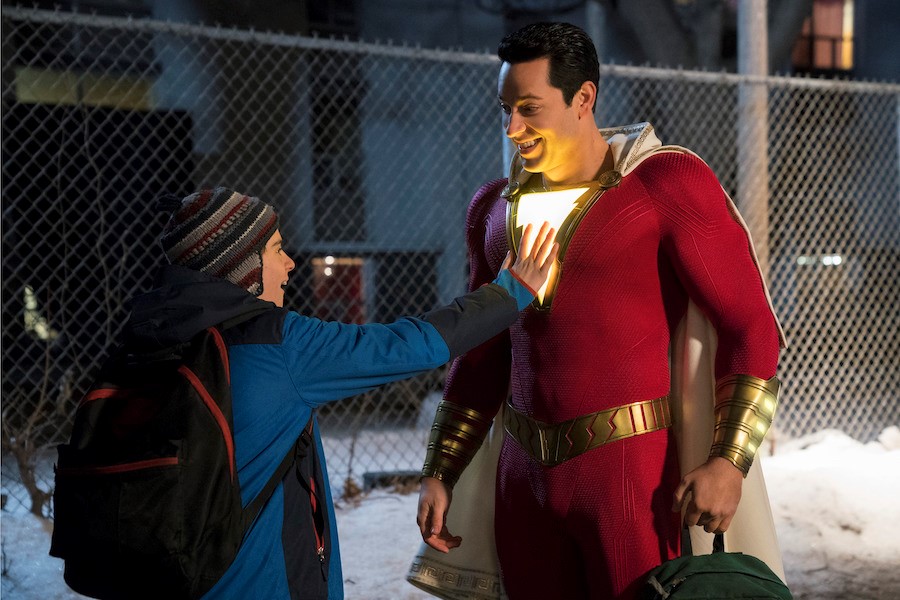 Superhero movies are experiencing a minor trend at the moment - the idea that anyone could or might be a super-powered hero is at the heart of Spider-Man: Into the Spider-Verse and Glass, and there's even a bit of that in Aquaman, despite Arthur Curry's birthright. DC will continue the trend this year with Shazam!, a comedic superhero movie that deals with wish fulfillment.
Hitting theaters on April 5, Shazam! is about Billy Batson, a foster kid who is granted superpowers by a magical wizard. By saying "Shazam," Batson transforms into a jacked grown-up man with super strength and the ability to fly, among other endowments. With help from his superhero-obsessed pal, Freddy, he learns to use his powers to save his world.
Last year, we visited the set of Shazam! and learned from director David F. Sandberg, stars Zachary Levi and Mark Strong and others about how this is a superhero movie that everyone can identify with.
The Everykid Transformed
Even before he's granted the powers of Shazam, Billy shows courage and confidence by confronting some school bullies and standing up for his new friend and foster brother, Freddy. But just as any kid might, he has trouble believing he's any kind of hero, and when he meets a wizard who deems him such and worthy of abilities to go with his heroism, he's skeptical.
"You know, he's had a hard life," explained Asher Angel, who plays the young Billy, during a break from filming. "He lost his mom when he was really, really young, and he's basically just been searching for her his entire life. And once he meets this wizard [laughs] he's like, 'Who's this crazy guy? This guy's crazy.' I think deeper into the conversation with the wizard he finally realizes, 'Whoa! I actually mean something.'"
At first, the transformation goes as you'd expect it to for any 14-year-old. It's just a lot of fun and trying it all out and goofing off, especially after Billy shares news of his special gifts with Freddy. "It's basically two kids having fun with superpowers," Sandberg said on the set, "but one of them is like an adult, which just already, just visually, it's like funny with this little kid and this big guy, and they're like, 'Oh, awesome,' and doing all these things."
Shazam's red outfit with the lightning bolt on the chest is part of the whole idea of a superhero story from a kid's perspective. "It's so funny, because it really is sort of the little boy who becomes a superhero," said costume designer Leah Butler about the classic spandex look. Strong, who plays villain Dr. Sivana, added, "The Shazam suit is really an incarnation of a superhero suit as seen by a 13/14-year-old boy. That's the idea. It's a little bit garish, it's a little bit bright, but that's how he imagines it."
Shazam! is the Big-est Superhero Movie
Shazam! isn't as epic in scale as previous DC Extended Universe movies, but it dreams big and also specifically pays some homage to Big, the 1988 Tom Hanks comedy in which a kid is granted his wish of being an adult. Here, a kid turns into an adult-size superhero. There are even a few visual nods to that classic to look out for (think "Chopsticks").
That's why Levi was the perfect actor for the title role of Shazam, and vice versa. "I always felt like I was more of an every-guy," he admitted on set. "I felt like I was following in a Tom Hanks kind of trajectory. But then when I realized that we genuinely were making something between Superman and Big, I was like, 'Damn, this is a dream job.'"
That movie's influence also drew Sandberg to Shazam! "They told me, 'It's like Big with superpowers.' That sounds awesome," he acknowledged. "There's so much you can [do] with that wish fulfillment of this kid who gets to become a superhero and try out all these things. It just felt very unique." But Big isn't the only movie from that era Sandberg thought about while making Shazam! "I like to compare it to '80s movies like Goonies and Ghostbusters and Back To the Future."
Levi Initially Didn't Feel Worthy
Before Levi realized Shazam! was his dream job, the actor actually passed on the movie. He had already been through the experience of losing the role of Star-Lord in Guardians of the Galaxy and figured he just wasn't as much of a "big star or big guy" as was needed to now play the iconic DC Comics character. So he declined to audition, believing it a waste of time.
"There was definitely a part of me that felt like, 'Oh, maybe I'm never really going to have my shot at something like this because you need to be, I don't know, one of the Chrises, either starting super-ripped or super-moody or super-sexy, whatever that is,'" he said.
It's that hesitation and initial feeling of unworthiness that actually makes him well-suited for the part of an ordinary kid given extraordinary powers and shape, and fortunately Warner Bros. kept him in mind. "They knew they needed to cast someone that could be as exuberant or optimistic or sassy as a 14-year-old boy, and dammit, that's me in a nutshell."
And just like Billy Batson, by not trying too hard to be something he's not, Levi was deemed worthy and chosen for greatness. "When you are not holding on to something so tightly, if it's not something you're dying for but you can have an unbiased, somewhat clear idea of what you are trying to go after and know that you are just being you, you are bringing your essence — ultimately, that's what I think got me this job."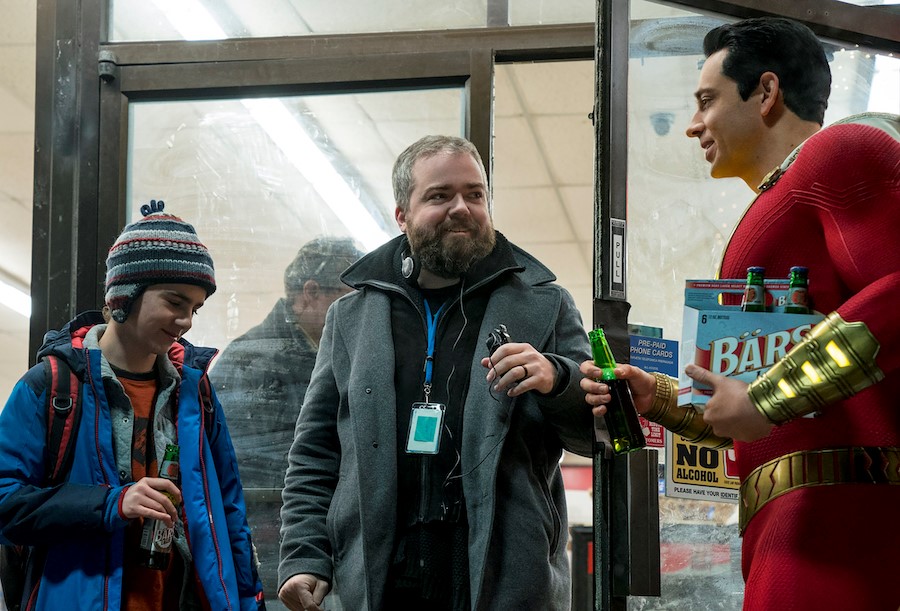 With Great Power Comes Great Fun
The fact that Levi isn't a child allows audiences of all ages to appreciate the premise of Shazam! Obviously, the younger viewers have their own wish fulfillment on display with Billy's transformation, but the 38-year-old actor, in playing the big version of the character, serves as a stand-in for adults in the crowd. His excitement is our excitement, and his tapping into the kid inside himself reminds us of our own childhood fantasy of becoming a superhero and why it's more fun to be one when you're young at heart.
"There are two characters that I can think of in all of comic-dom, including DC and Marvel: Billy Batson and Peter Parker," Levi said, comparing his character to Spider-Man's alter-ego. "[With] those two, you get to go on this journey of like, instead of it being, [begrudging voice] 'Oh, I have to save the world again,' it's like, [hyper-enthusiastic voice] "I get to save the world again!" As a nerd who loved and lived this world for so long, and still do to some level, that I don't have to restrain myself is so great. I have to act so little. I just get to be me on so many levels. It's great. It's really, really fun."
With Great Fun Comes Tough Problems
Even becoming a superhero has its ups and downs, however. While certain problems won't be depicted in Shazam!, Levi did share a specific issue when it comes to suiting up for such a role, whether for a movie or for the dream becoming real. It's just one more thing to consider with the idea of a regular person fulfilling this fantasy of transforming into a superhero.
"It's a pain in the ass doing some of this sh*t," Levi admitted, jokingly. "The suit is very, very tight. To be perfectly honest, I can only do number one in it. They have to take the whole thing off to drop a deuce, and that's a pain in the ass. But these are the prices you pay to be a superhero? F**king sign me up. It's great."
There's a Certain Balance to Shazam
Two conflicting concepts are joined for the essence of Shazam. First, you've got a superhero who looks like a man of steel but he's got the soul and personality of an average, yet pure of heart kid inside. Then you've also got a hero with the powers of the gods, as represented in his acronym name: Solomon, Hercules, Atlas, Zeus, Achilles and Mercury. And at least one of those godly powers is at odds with him being a young boy.
"While some of these namesakes and powers – be it Hercules or Atlas or what have you – are a little more evident as Billy is becoming Shazam, with the wisdom, it's not quite as evident," Levi explained when asked of the paradox of the character having a 14-year-old's brain but also the wisdom of Solomon. "He's growing into that, I think, a little bit. It's magic. But he does show his wisdom, I think, in certain areas throughout the movie where you see him make a decisive move or he does something where you go, 'Oh, that would be a more wisdom of Solomon-type of thing.'"
The Setting Fits the Theme
Unlike other DC movies, Shazam! isn't set in a fictional city like Metropolis or Gotham, let alone a mythical place like Themyscira or Atlantis. The entirety of this installment takes place in the real location of Philadelphia (with Toronto standing in for some of the filming). That's faithful to the comics, but it also works with the idea of the everyman — or everykid — superhero movie. He can be from anywhere.
"We went with Geoff Johns' idea," Sandberg said of Shazam's altered origin from DC's "New 52" comics. "I think he picked Philly because of Benjamin Franklin and all of that stuff. And the thing about Shazam, is it's been different. It was [the fictional] Fawcett City at some point, but I think originally, it was New York. So it's not like, 'Oh, it has to be Metropolis or something.' It can be anything really."
The time in which the movie is set is also perfect for keeping the story and themes grounded and relatable to much of the audience. At the core of Shazam! is a tale of a boy in need of a family, and there's no better time to just be a kid and to be thinking about family than the holiday season.
"It's a lot about family and Christmastime and this family holiday," Sandberg stated. "And it's about finding your family with these foster kids and everything. It was just very appropriate for the story. It just meant that we had to shoot it here in winter, which has been pretty brutal."
Shazam Isn't the Only Hero
At the end of the day, only Billy Batson is the chosen one. He is the kid who gets to transform into Shazam. But that doesn't conflict with the theme that anyone could have a superhero inside of them. Freddy is a hero in his own right, for instance, as was pointed out by Jack Dylan Grazer, who plays the character.
"Freddy, as you all know, has a disability with his foot and his spine," Grazer said, "and he, in my eyes, is kind of a hero due to the fact that he doesn't really let the hate get to him. He kind of uses that disability, I guess you could say, to his advantage. He laughs about his disability rather than feel sorry for himself, which I think is a really cool, strong move, and he kind of teaches Billy that, like, 'This is the most f**kin' cool thing that you could ever have! Dude, embrace the sh*t out of this!'"