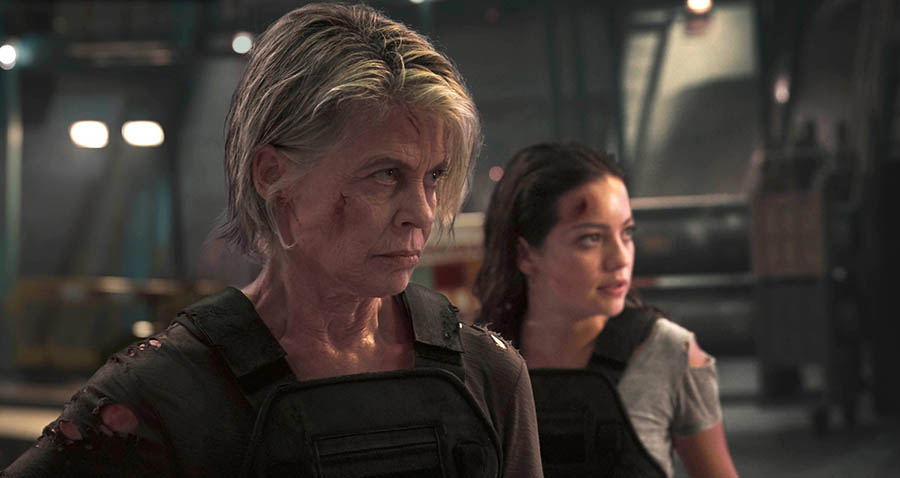 As Terminator: Dark Fate begins, things have changed for the better. Yet, that doesn't stop a deadly new Terminator (Gabriel Luna) from traveling through time with the intention of killing Dani Ramos (Natalia Reyes). Only with the assistance of super-soldier Grace (Mackenzie Davis) and battle-hardened warrior Sarah Connor (Linda Hamilton) does Dani stand a chance at survival. Will an apparently retired T-800 (Arnold Schwarzenegger) help or hurt those prospects?
Now in theaters, Terminator: Dark Fate, presents an action-packed view of the future. Here are three more action movies that promise to enliven the theatrical experience with dazzling, sci-fi visions.
Star Wars: The Rise of Skywalker
Now that the final trailer for the concluding chapter of the Skywalker saga has been released, we can anticipate even more dazzling action than before. Surely we'll learn more than ever before about Rey (Daisy Ridley), Finn (John Boyega), Poe (Oscar Isaac) and Kylo Ren (Adam Driver) as the Resistance faces off against the First Order. Perhaps we'll also get answers to questions that have long been left unanswered about the Skywalkers themselves.
Release date: December 20. Get your tickets now!
Vin Diesel takes center stage in this adaptation, drawn from a character appearing in Valiant Comics. The future here features technology that makes resurrection of dead people possible, but without their consent. Thus, Bloodshot (Diesel) is made into a super-soldier, supposedly without memories of his past life. When his memories come back, he becomes a vengeful killing machine. Surely, this is not a future that anyone wants, which only makes it all the more disturbing.
Release date: February 21, 2020. Sign up for a FANALERT® and be the first to know when tickets and other exclusives are available in your area.
Known for writing the original Saw with James Wan, Leigh Whannell has penned a number of horror thrillers since then, including Upgrade (above), an intense thriller that he also directed. Reimagining both H.G. Wells' original novel and the classic 1933 film version, Whannell's all new version will reportedly center on a woman (Elisabeth Moss) who is haunted by her abusive ex-boyfriend, who may not be dead, as she was led to believe. The future here sounds frightening, possibly including technology put to deadly use, as in Upgrade.
Release date: February 28, 2020. Sign up for a FANALERT® and be the first to know when tickets and other exclusives are available in your area.