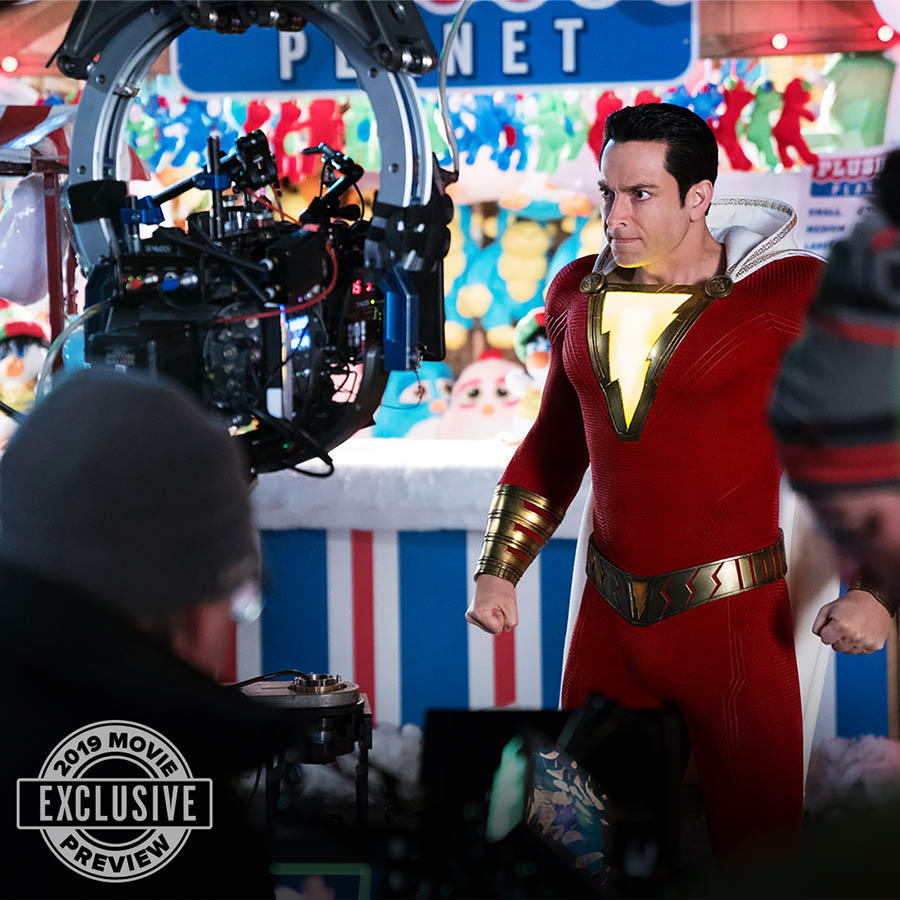 Like many comic book adaptations, Shazam has traveled a long road to the big screen. Created in 1939, the character is the alter ego of an ordinary boy named Billy Batson. By uttering a single magical word, the boy can transform into a costumed, superpowered adult. What boy has never dreamed of instantly leaping into adulthood as an adult with special powers?
Heading to the big screen next month, Shazam! is an all-new adventure. A new trailer is, frankly, electrifying. Here's everything we know.
Who stars?
Zachary Levi, best known for TV's Chuck, will star as the superhero, alongside Mark Strong (as the villainous Dr. Thaddeus Sivana) and Asher Angel (as young Billy Batson).
Jack Dylan Grazer (as Freddy, young Billy's best friend) and Djimon Hounsou (as the Wizard, who bestows powers on Billy) also star. The cast includes Faithe Herman, Grace Fulton, Ian Chen, Jovan Armand, Marta Milans and Cooper Andrews.
What's the story?
Per the official site: "We all have a superhero inside us, it just takes a bit of magic to bring it out. In Billy Batson's (Angel) case, by shouting out one word—SHAZAM!—this streetwise 14-year-old foster kid can turn into the adult Super Hero Shazam (Levi), courtesy of an ancient wizard. Still a kid at heart—inside a ripped, godlike body—Shazam revels in this adult version of himself by doing what any teen would do with superpowers: have fun with them! Can he fly? Does he have X-ray vision? Can he shoot lightning out of his hands? Can he skip his social studies test?
"Shazam sets out to test the limits of his abilities with the joyful recklessness of a child. But he'll need to master these powers quickly in order to fight the deadly forces of evil controlled by Dr. Thaddeus Sivana (Strong)."
Who wrote the screenplay?
Henry Gayden (Earth to Echo); story by Gayden and Darren Lemke (Goosebumps), based on characters from DC.
Who directed?
David F. Sandberg. He made his feature debut with the clever and creepy Lights Out and followed that with the unsettling Annabelle: Creation.
When can we see it?
Shazam! will open in theaters everywhere on April 5. Sign up now for a FanAlert and be the first to know when tickets and other exclusives are available in your area.
Watch the new trailer below.
Watch the previous videos below.