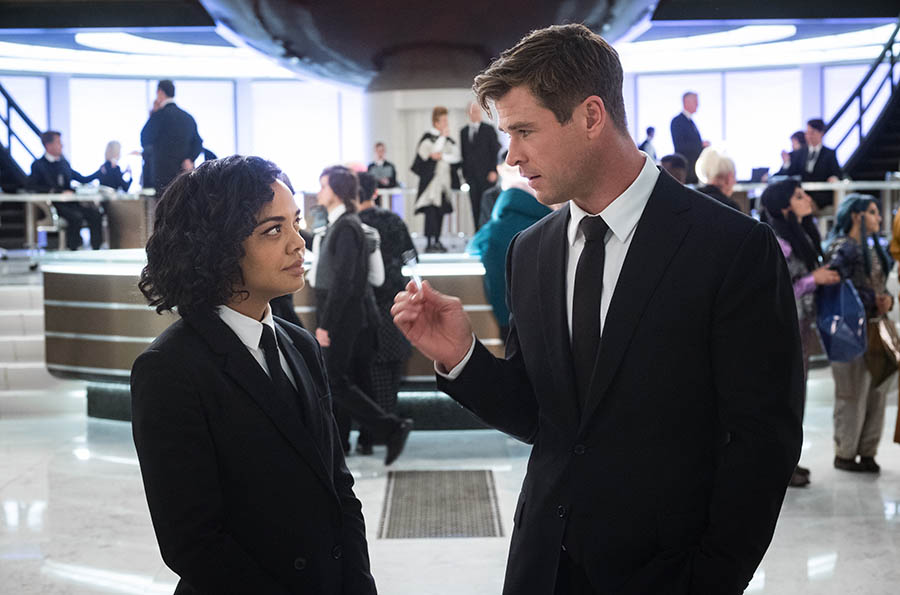 Ahead of the Men in Black: International premiere on June 14, loyal MIB audiences may have lots of questions about what the reboot will have in store. Will Tommy Lee Jones and Will Smith make cameos? Will there be Thor references? Who will sing the theme song? We don't have all the answers, but after visiting the MIB set outside of London last September, Fandango has tons of behind-the-scenes intel about what went into the making of MIB: International (and what could still unfold).
While Chris Hemsworth and Tessa Thompson take over the lead agent roles from MIB London, the film will expand beyond NYC and take a worldwide approach to show just how valuable the secret agency is. But because the original Men in Black premiered over 20 years ago, times have changed, and new agents are in town, so it's natural that fans are curious about what the next installment holds. From black suits to blooper moments, here are some behind-the-scenes fun facts straight from the set of MIB.
MARVEL CROSSOVERS (Both On Screen and Off)
Because Thompson and Hemsworth recently worked together in Marvel's Thor: Ragnarok, fans may be wondering if they can expect some Easter eggs in MIB. "Not consciously," producer Walter Parkes said at the time about incorporating Thor references. "In fact, we had a moment with a line of dialogue saying, 'They really hammered him,' and Chris said, 'I don't know about that.'" Still, Hemsworth joked he would be open to having "all" Thor characters make a cameo, and one in particular. "I'd love to see Korg roll in," the actor says. "Could you imagine? The movie would just do a complete turn in his direction."
Coincidentally, a Spider-Man film was being shot nearby on the studio lot at the same time as MIB, leading to visits from Marvel President Kevin Feige. "Kevin Feige came by our set and he was just gushing because he loved Men in Black and he loved seeing what we were doing with the headquarters," says line producer E. Bennett Walsh. And both Hemsworth and Thompson agreed that working together previously helped make this round a walk in the park. "Not having to [get to know each other] was a huge relief," Hemsworth says. "We picked up where we left off from Thor." Thompson jokes, "We have a healthy disrespect for each other, we're not trying to impress each other any more." The two would goof off and curse when messing up between takes, leading Thompson to say, "Trailer moment."
A STAR WARS DUO
Will Agent M (Thompson) and Agent H (Hemsworth) become love interests? When asked, they both play coy and Hemsworth replied, "We can't tell you." Teasing what's in store, Thompson compares the agents' relationship to another very famous duo in pop culture. "I feel like we're always in our sweet spot — [with] these characters — there's some Princess Leia, Han Solo in there." She adds, "There's real texture, to me, that reminds me of some of those iconic duos. With a lot of those, there's this undercurrent of emotions, but there are so many directions in which the relationship can go. The thing that's most exciting is the meeting of mind and of wit, and a back and forth that creates tension."
In fairness, Hemsworth revealed that they "didn't really know" what was in store since the script had various versions. "We're sort of playing around with the ending at the moment… My concern would be — it's like any origin story. That's the perfect way to end the movie, they get together and live happily ever after," he says. "Where do you go for the second one? Being greedy and looking at it long-term if we got to do another one, I'd say to stretch it out." The two also reminisced about how they had a kissing scene in Thor that was ultimately cut, so it's really anyone's guess.
ORIGINAL WEAPONS
While the technology is updated in MIB: International, props supervisor Pierre Bohanna assured us that the original films definitely "have an influence" on the latest gadgets. For example, the neuralyzers were updated (as was the car to a Jaguar) and the iconic Noisy Cricket from first film does appear. "I don't think they want to play the gag again, but it does make a very, very brief appearance," Bohanna says of the latter. In fact, due to flashback scenes, the original neuralyzer had to be reconstructed. "It's great to be able to freshen that up, really taking an iconic piece like that and having to remake it and put it in a different world," Bohanna explains of the iconic gadget. "It was an enormous amount of work and lots and lots of different opinions… there was a lot of debate about what it could be."
Overall, the props won't lose their signature aesthetic. "You can straight away tell it's from this series of films, the finishes and slightly quirky shapes and disproportion," he explains. And by the way, they are heavy. "We try to make them as light as we can," he advises. "You gotta lean into it."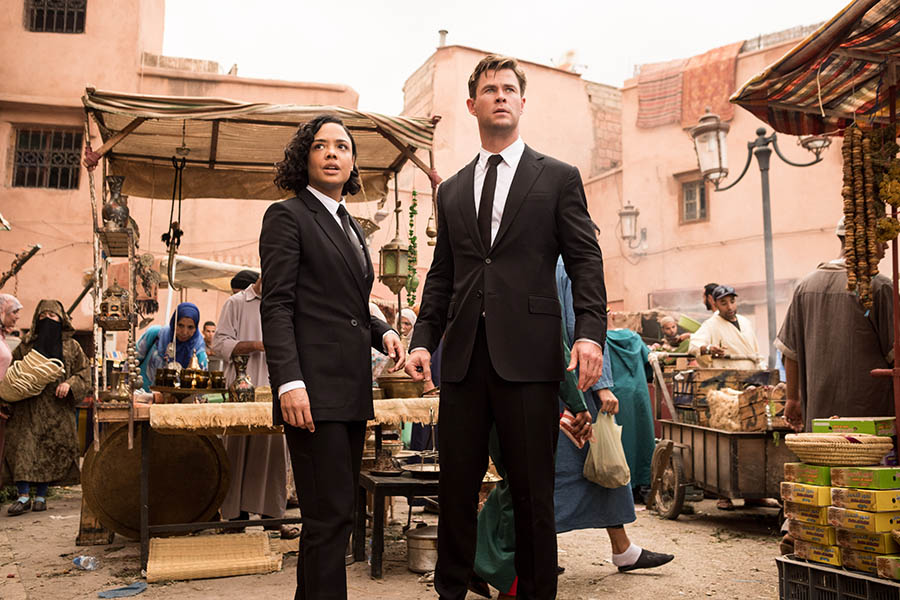 HANDS-ON STUNTS
Be on the lookout while watching the film: Hemsworth and Thompson got down and dirty to perform a ton of their own stunt work. "We trained [Tessa] really hard in this movie. A lot of Tessa's blood and sweat is on those mats over there. We pushed her really, really hard," says stunt coordinator Wade Eastwood. Even Hemsworth was challenged when it came to the action. "We definitely pushed him with wire rigs and stuff, strapping a harness to him. We put him all over the place." In a hover bike scene, Hemsworth and Thompson actually drove in real streets, with real wind and no helmets. How fast? Eastwood jokes, "Fast enough."
When it comes to using the weapons, Hemsworth has had practice for years — well, kind of. Admitting his favorite was the "Tommygun-esque thing," he explains, "Pretending to shoot stuff, I don't think I've ever fired a real gun in my life, but had a lot of sticks and things I fired as guns as a kid playing in the forrest, pretending to be an action hero." Thompson adds, "Chris is so good at gun stuff. He's amazing at it."
ORIGINAL MIB CAMEOS
While neither Will Smith nor Tommy Lee Jones will appear in the film (we don't think), there will still be proper nods to them in certain ways. "I think they'd be pleased," says producer Walter Parkes. "I think we all felt we told that story in a very full way." As far as cameos? "In the European branch, the commission paintings… there are certain battles that have been painted that can commemorate great moments of Men in Black history. You might see a shoutout to Will or Tommy there," he teases. Production designer Charles Wood adds of the photos, "[It's] backstory. There's a lot that happens in this film that tie into other things."
Not only was Will Smith the original film's lead, but singer of the iconic theme song "Men in Black." At the time, Parkes was uncertain about who'd be performing the film's theme song this time around but was hoping it would come about in an organic way like last time. "[Will] just did it!" Parkes recalled. "In a similar way, we have not yet planned for such a thing but we hope something like that will open up… there will be certainly some music component."
Neither Hemsworth nor Thompson said they'd gotten advice from either Smith or Jones. "I run lines with [Will] most nights," Hemsworth jokes. "I'd like to [talk to them], though. Maybe we should've reached out."
22 JUMP STREET CROSSOVER
For a while, there was talk of an MIB and 22 Jump Street crossover film. Parkes explains why it never happened. "At first I said, yeah that's interesting. It was more of a Jump Street movie with those guys going to Men in Black," he reveals. "I wasn't surprised that we couldn't really get there in the script because the two franchises have such utterly different tones. But the theory of it was great."
The producers did, however, aim to capture the spirit of the first Men in Black films. "You're not trying to imitate the first one, you're trying to have fun with tropes we usually associate with cop buddy action comedies but expand into a science-fiction universe," Parkes says.
CELEBRITY CAMEOS
An MIB staple is its celebrity cameos, and MIB: International plans to deliver on that front. "We do [have some]," says Parkes. "Luckily, they all tend to be in post-production, it's who you put up on the screen. So we're doing our questionnaire of: Who are our aliens among us that will resonate the way those [celeb cameos] did then?" Thompson is all for getting A-listers on the MIB roster. "It's fun to come in everyday and pitch new people. My pitch was Cardi B," she says.
ORIGINAL INFLUENCES
An obvious question fans may have is: How similar will this film be to the originals? Parkes explains the process. "You have to ask yourself the question: What things are essential to the franchise? And what are the things, given the way movies have evolved, are no longer as relevant?" he says. "The original had more of an old-school [feel], we're certainly holding onto that… To me, the essential thing is that these are good, old fashioned existential heroes, you go and do a job, save the world, you don't get thanks, you get up the next day and you do it again. The other thing is the deadpan comedy."
While this film essentially takes place where the others left off, Thompson explains how she sees a parallel in Agent H and M and Agent K (Jones) and J (Smith). "Something so touching about Will and Tommy's dynamic is you felt like they really offered each other something," she says. "They were able to be better men from being in the company of each other, they made each other stretch and grow in a way… There's also some other layers of dynamics between it because [Chris] is a guy and I'm a girl, and, you know," she says with a laugh.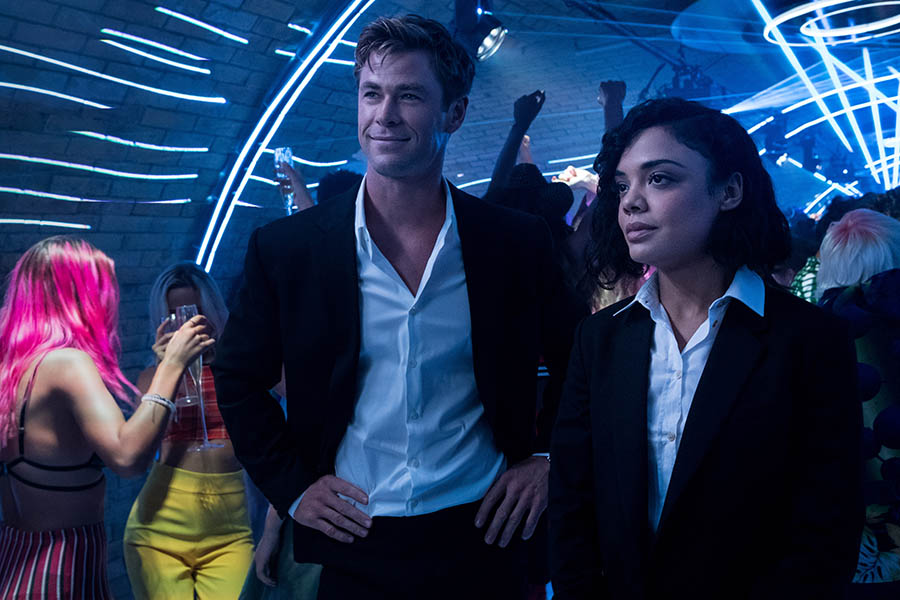 SUITS BY THE NUMBERS (AND FEEL)
Perhaps the most iconic element in MIB is, well, the black suits. And according to costume designer Penny Rose, there's a lot where that came from. Rose estimates that the film process will go through approximately 250 Paul Smith black suits. Hemsworth and Thompon have eight suits each. Because of Thompson and Hemsworth's height difference, Rose had to choose Thompson's shoes very carefully. "[They are] the most naturally-looking high-heel boots I could possibly find because Chris is 6'5'' and she's 5'5''.
Thompson's character, however, didn't always have the black suit. "There were obviously discussions: skirt, trouser. But, no. There's no getting away from the black suit," says Rose. "I had the run of maybe six black trouser suits from Paul Smith. I took them to Tessa and we decided the one we liked best." Thompson is the only woman in the film with her exact suit. (Rose also says she shopped at Madewell and Anthropology for Thompson's pre-agent "quirky geek" look.)
Hemsworth, meanwhile, loves the suit. "They're great. They're super comfy. They've got sort of a elasticity to them which is nice for movements and stunts," he says. "Better than the Thor costumes. Slightly more comfortable."
THE ALIENS
How real are they? Believe it or not, the aliens are a combination of CG and prosthetics and they have masks that are super light. According to makeup and hair designer Jeremy Woodhead, the masks are made of foam despite their detailed looks. While the masks can get super hot inside, the actors try to take them off any time they can and there are even holes designed in them for better ventilation. Creature designers were pulled from all over the world to imagine the various creations coming to the screen.
OUTSIDE INFLUENCES

Beyond getting inspiration from the original films, the need to expand MIB was partially influenced by many other films and stories, according to Parkes. "When James Bond goes to Istanbul, it was just so exciting. We absolutely are accessing the international thriller, but the romantic ones that happened back then as opposed to things like The French Connection," he says. He also compared the main relationship to the one in 1987's dramedy Broadcast News. "Nothing to do with Men in Black, but the relationship between the two characters: Holly Hunter is so hyper rational and Bill Hurt was so at ease with the world, and the way they connected was certainly an inspiration for understanding what this character relationship might be."