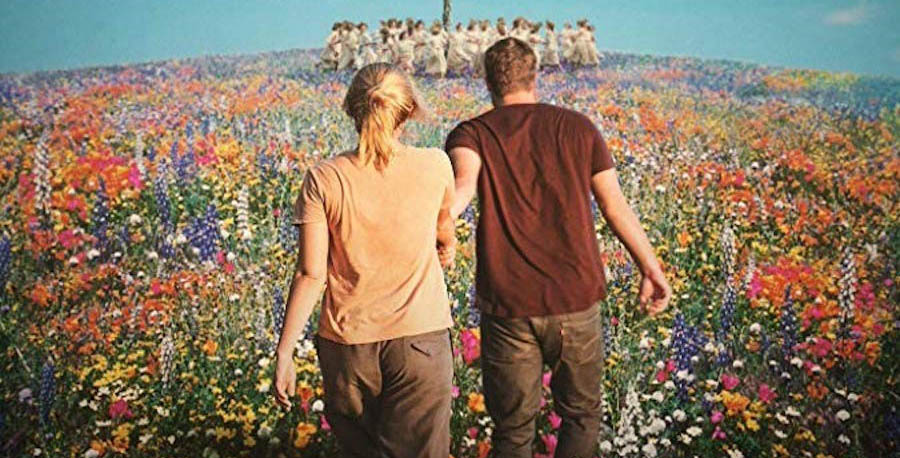 Ari Aster, the first-time writer/director of Hereditary, has set up his sophomore effort. Titled Midsommar, the feature will again be distributed by A24 (understandably, since Hereditary became their top-grossing release) and is another drama with horror elements that is sure to get under our skin.
A24 has just released the first teaser trailer for Midsommar, and it looks plenty disturbing and eerie without revealing much of the terror we have to look forward to. Aster is clearly delivering another movie with an unsettling tone that will build to something only he could envision.
Watch the new teaser down below after checking out everything we know about the movie here:
Here's everything we know about the movie so far:
What's the movie about?
Midsommar follows a couple to their friend's Swedish countryside hometown for a mid-summer festival. The trip goes downhill, however, when they encounter a pagan cult and violence ensues.
When Aster spoke to Fandango's Erik Davis last year, he said, "It's a dark break-up movie that becomes a horror film, set in Sweden. That's all I can really say now. It's called Midsommar. Everybody's been spelling it wrong. It's midsummer in Swedish."
Who is in the movie?
Jack Reynor (Transformers: Age of Extinction) and Florence Pugh (The Commuter) play the couple, while WIll Poulter (We're the Millers) presumably plays the friend. The cast also includes Vilhem Blomgren, William Jackson Harper, Ellora Torchia and Archie Madekwe.
When does the movie come out?
A24 will release Midsommar in theaters in late summer, specifically August 9, 2019.
Watch the latest trailer:
Pastel colors, floral crowns, maypoles and more idyllic visuals gradually give way to strange people, behavior and ritualistic scenes as screams join a screeching score. Let the festivities begin with the first Midsommar teaser: