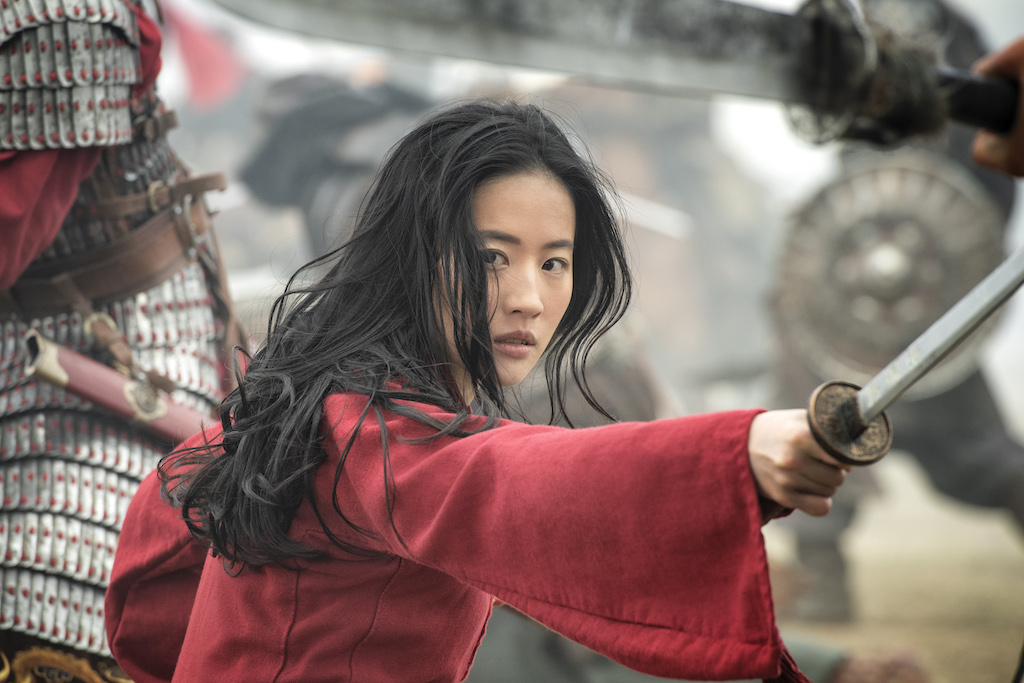 It's been over 20 years since Disney's Mulan won the hearts of countless fans. While the upcoming live-action film will be packed with similar action, storyline, motivations, themes, and of course, inspiration and heart — audiences can, in many ways, expect a different experience from the 1998 classic. After venturing to New Zealand to visit the set of Mulan, Fandango learned how and why some key elements of the film have been changed with input straight from the cast and creators.
It isn't just the changing times that have impacted the film, which debuts March 27 (tickets now on sale here at Fandango). The creators actually revisited the many interpretations of Mulan beyond the 1998 film, including the original "Ballad of Mulan" poem and its variations through the years. That process was just part of what helped mold this film, its characters (and lack thereof), and plot points.
This guide will help fans answer questions like: Will Mulan have a funny sidekick? Will her ancestors come into play? Will she cut her hair? How funny (and musical) will the film be, anyway? Check it out below.
Mulan's Hair
An iconic scene from the animated movie is when Mulan cuts her hair with her sword when she commits to enrolling in the Imperial Army, posing as a man, in place of her father. In this film, however, Mulan will keep her long hair. Producer Jason Reed explains why. "Chinese warriors, male warriors wore their hair long," he says. "For her to cut her hair off, it would make her look more like a woman than less like a woman in reality." Reed says there was a focus on "cultural accuracy." He further explains, "We refer this to her 'warrior princess' look. When we first see her early in the film, as a simple village girl, her hair is back but down. She's very traditional. When she goes in the army she has to wear her hair up in a top knot like all the men do so she blends in and looks like everybody else." But perhaps the hair-cutting scene will be replaced, in contrast, by Mulan letting her hair out. "Her hair comes down, it's flowing in the wind, she's totally kick-ass."
The Sidekicks
Who is Mulan without her dragon Mushu (played by Eddie Murphy in the animated film) and her cricket? Fans are about to find out. "Obviously Mushu is a beloved character and one of the most memorable elements of the animated film," Reed explains. "It turns out that the traditional Chinese audience did not particularly think that that was the best interpretation of the dragon in their culture, that the dragon is a sign of respect and it's a sign of strength and power, and that sort of using it as a silly sidekick didn't play very well with the traditional Chinese audience." But fret not, fans, Mulan will have a buddy by her side. "There will be a mythological sidekick of sorts in the movie, but I will not say anything more than that, except that it is not Mushu."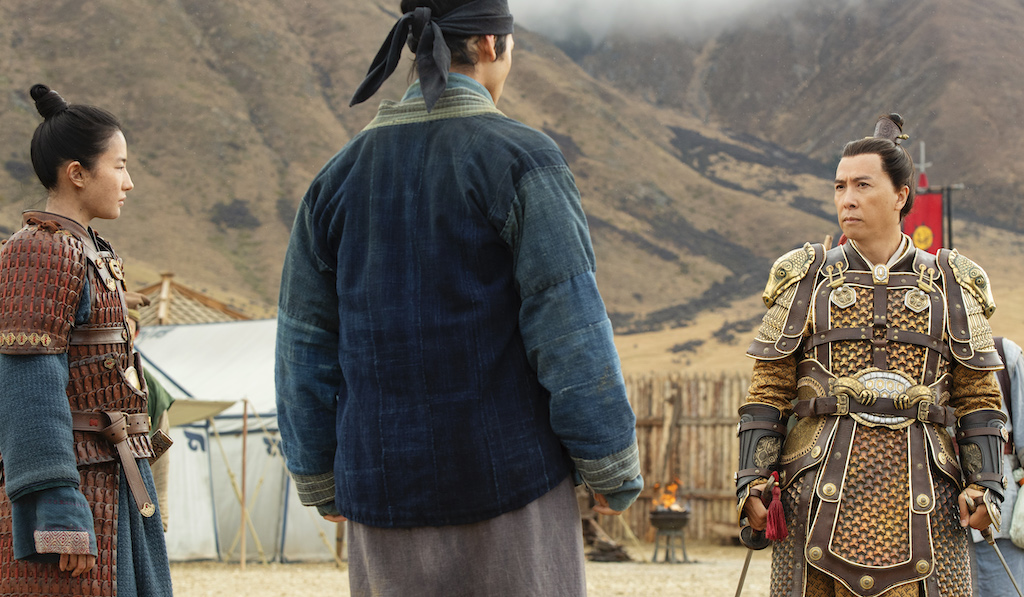 The Characters
Mulan's love interest/commander Li Shang has been split into two new characters: her mentor Commander Tung (Donnie Yen) and her equal Chen Honghui (Yoson An). The growing awareness of harassment in the workplace, according to producers, played a role in this, as the film's creators found it inappropriate to portray a love interest who is also a higher-up. The animated film's villain Shan Yu is now also split into two new characters: Rouran leader Bori Khan (Jason Scott Lee) and the witch Xian Lang (Gong Li). And, in addition to Mulan's mother and father, her family also consists of a younger sister (played by Xana Tang). You can learn more about each character in Fandango's Mulan character cast guide.
The Rourans and Chinese
Because the live-action film is dedicated to being more historically accurate and culturally sensitive, it has replaced the Huns and Mongols with Rourans and Chinese. Actor Jason Lee Scott, who plays the Rouran leader Bori Khan, sheds some light on the decision. "You have to play it very carefully and this is a very sensitive issue about the history and who goes where and who ended up where," he explains. "Being kind of generally selective with that name is historically accurate. It's a safe space to be." He explains that his character is motivated to regain Rouran pride and stature after it's been "overrun by the Chinese."
The Music
Mulan fans can probably recite songs like "I'll Make a Man Out of You" and "A Girl Worth Fighting For" in their sleep. But because this film is not a musical, the tunes may play out in a different capacity. "We're trying to keep some of our tricks a secret," says Reed. "However, I can guarantee you that there will be songs you recognize and remember in the movie." But don't expect any dance breaks. "It will not be a traditional break into musical. They're not going to stop their workouts and do a big musical number to camera. However, there are a number of songs that are iconic for the movie and tell a great version of the story, and they are very helpful to us in how we're putting the movie together." According to actor Yoson An, audiences can expect "a more realistic version of this story" while incorporating familiar tunes in some way.
Mulan's Hilarious Grandma
While Mulan's grandmother provided great comic relief in the animated film, she won't be in this one. "We really focused on the mother and father and sister as that relationship," says Reed. But maybe Mulan's father embodies a little bit of the grandmother character fans love. "Her dad's watching her do all this crazy chaos and he's super proud, and then everybody else is like 'What are you doing?' And he's like,' Oh yeah, right. You shouldn't do that."
The Humor
So how funny is the new Mulan? "I would say it's slightly less but still very funny," says Reed. "I think we leaned more into the action/adventure movie. There is comic relief, it is not as — you're never gonna compete with Eddie Murphy doing his schtick. We're not gonna beat that, in terms of raw comedy." Still, it'll have its moments. "We've added a couple of elements of this movie [and] we have some scenes that, although they're played very real, are gonna get some very big laughs." Lead actress Yifei Liu says, "We hold the good and loving elements, but because it's a live-action, we have real human emotions in our mind and bodies." Actor Jason Scott Lee is hopeful about the comedic elements: "I think [people] are gonna be pleasantly surprised with the entertainment value of all the supporting cast even though they're not like Eddie Murphy."
Little Mulan
Audiences have yet to meet Mulan as a little girl… until now. "We start with Mulan as a child. We see her spirit, we see that she isn't like the other kids and we see the difficulty that causes her parents which then becomes a theme of the movie in that she doesn't fit in and she doesn't know her place," Reed reveals. "Everyone's very concerned for her. She has all these great qualities about her but she doesn't do things the way that a young girl is supposed to. And it isn't until she's dressed as a boy that people encouraged those things in her."
The Ancestors
One of the most iconic scenes from the 1998 film is when the ancestors are woken by Mushu. While the same scene won't exactly play out, there may be a certain type of nod to it. "There's an allusion to that, or a metaphor for that, in a way, that relates to her ancestors and her ancestry," executive producer Barrie M. Osborne teases. "So that's definitely in the movie. Whether you see all her ancestors come alive, you'll have to watch the movie and see. But there is a reference to that."
Mulan hits theaters on March 27. Grab your tickets right here at Fandango.