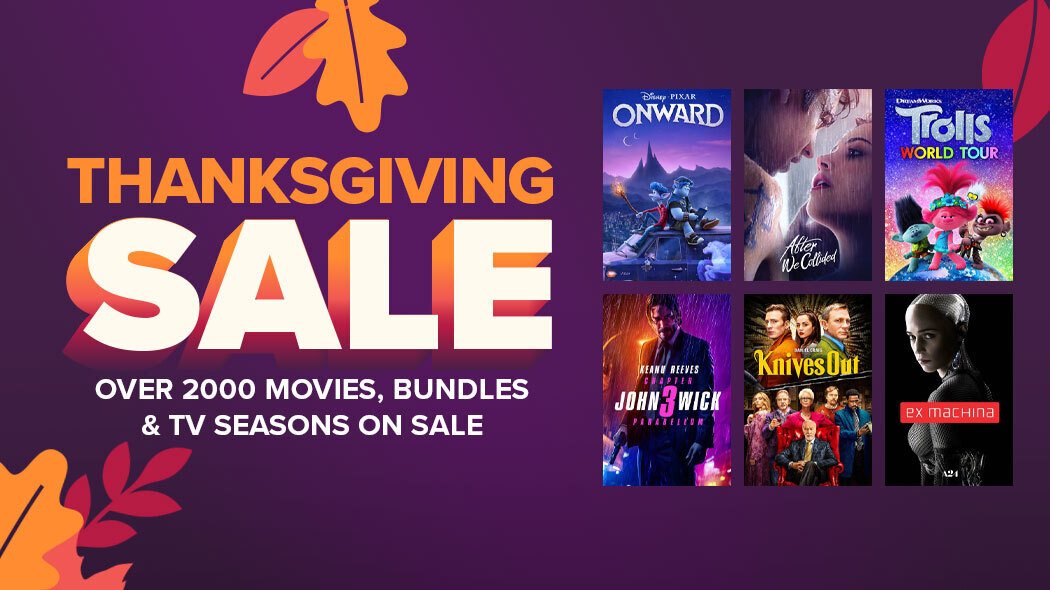 Want to know all the details on digital deals for the holidays and what to pick up from FandangoNOW and Vudu this week? Here is your weekly home video guide:
What holiday deals are offered by Fandango this week?
Do you love movies, especially when they cost less? Starting Tuesday, November 24, Fandango is holding its largest sale ever with on-demand digital platforms FandangoNOW and Vudu offering all kinds of special deals. Thousands of new releases and fan favorites, plus bundled sets, will be discounted during the Thanksgiving holiday week, through Monday. To paraphrase a lyric from one of the highlights: this is the greatest sale!
Do we get even more movies the more movies we get?
Not only are tons of movies on sale, but many can be found bundled together, whether collections of franchises like Jurassic Park, Twilight and The Dark Knight or curated compilations. There are over 175 movie bundles available for 25% off. And the more you watch, the more you can get. During "Bundle Bonus Week,' for every bundle you buy on Vudu or FandangoNOW (or rent on FandangoNOW), you get $2 towards more movies in December.
Are there any new releases included in these deals?
In addition to the many classic movies and franchise bundles discounted this week, you'll also find plenty of new and recent releases available to buy digitally for under $10. This year's animated sequel Trolls World Tour, the DC comic book movie Birds of Prey and After We Collided are among the more than 120 titles priced at $9.99. And recent favorites including Knives Out, Bloodshot and Once Upon a Time…in Hollywood are only $7.99.
How low do these deals go?
If you look beyond the recent releases, you'll save even more on hundreds of movies. Over 200 perennial favorites available for just $6.99 include the DC superhero blockbuster Man of Steel, the comedy Legally Blonde and the documentary RBG. And there are more than 350 collectible classics priced at only $5, including the original Dirty Dancing, the comedy Stripes, Quentin Tarantino's Reservoir Dogs and Leonardo DiCaprio in Catch Me if You Can.
Are these deals limited to just movies?
Television lovers are in luck, too, because Fandango's holiday sale includes plenty of full seasons of TV series at discounted prices. Pick up sets of popular shows like Friends, The Office and The Walking Dead and acclaimed masterpieces like The Wire. They're all available for under $10.
Do the deals get better on Black Friday?
While the main sale lasts through the week, Fandango is offering additional sales for Black Friday available for only 48 hours. On November 26 and 27, the 4K UHD versions of more than 140 titles will be 50% off. Among them, we recommend films like The Greatest Showman, Ex Machina and Ad Astra, Ridley Scott's intense war movie Black Hawk Down, the stunning action sequel Mission: Impossible - Fallout, the feel-good family movie, Instant Family, and the hilarious comedy Bridesmaids.
Can this sale get any better for movie and TV lovers?
Well, actually… on Monday, November 30, for Cyber Monday, you can find even more incredible deals. For just one day, more than 250 movie titles will be available for just $4. Among them, I recommend the horror comedy The Cabin in the Woods and the Oscar-nominated neo-Western Hell or High Water. As for TV, also for just $4, you can pick up the first seasons of such must-see shows as Mad Men, Orange is the New Black and Schitt's Creek.
And if you can't make up your mind, pick up any three from Vudu for only $9.99. That includes the movie selections and the TV first seasons offered through the Cyber Monday deal, which you can mix and match. That means you could get the Oscar-winning hip hop drama Hustle & Flow and the first season of 50 Cent's crime drama series Power plus the live-action family adventure Dora and the Lost City of Gold for the kids all together for under $10.
For more details on all the big sales this week, check out FandangoNOW and Vudu, respectively.