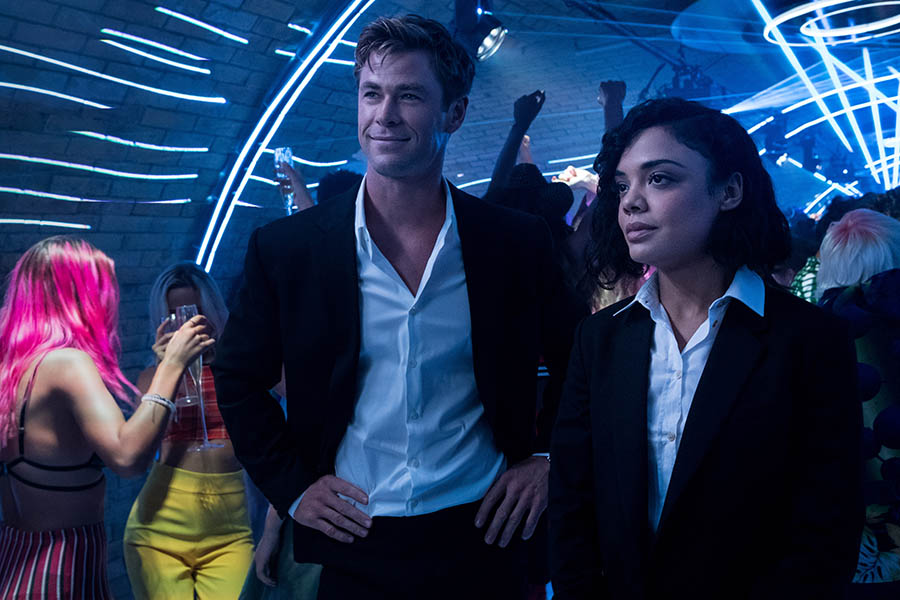 Here come the new men in black! After over two decades since the original franchise release, Men in Black is back with MIB: International. The rebooted spin-off from the film series focuses on the unlikely dynamic duo Agent M (Tessa Thompson) and Agent H (Chris Hemsworth) - and this time, they're going global. The original movies, spanning from 1997 to 2012, were made famous by Will Smith and Tommy Lee Jones, and although neither are starring in the upcoming reboot, there are tons of new additions who are gearing up to do them proud as the MIB universe expands.
When visiting the set outside of London last September, Fandango got some insight about the handful of new characters coming to MIB when it premieres June 14 — and even the return of a certain familiar face. Get your neuralyzers ready as you meet the gang of MIB: International.
Agent M: Tessa Thompson
Before she's Agent M, audiences will first meet Thompson's character as a young girl. Her fascination with MIB starts at just six years old when an alien accidentally appears in her room and she sees agents come to take care of it. Her obsession with the MIB ultimately leads her to follow them to NYC, and she's sent to London to partner with head honcho Agent H (Hemsworth). What Thompson loves about her character isn't necessarily the fact that she's a woman who's a new face of Men in Black, but her traits. "She's a scientist. She's really smart. And she leads with that," Thompson says. "She's curious about the world; she's resourceful."
According to producer Walter Parkes, Thompson and Hemsworth's characters have a very interesting dynamic and even some parallels to the original duo. "Tessa, in some ways, is more like Tommy, even though she's the rookie. She's very, very smart, and not by the book, but let's just say she's a character who doesn't let passion get in the way of her conscious approach to problem solving," he explains. "Whereas, although he's the veteran agent, there's a sort of a more freewheeling, romantic aspect to Chris' character." As observed on set, the two characters have a funny, quick-witted rapport, as Agent M "tries to grapple with the idea of [Agent H] as heroic," according to Thompson. "One thing we talk about a lot is: what do they teach each other?" Thompson says.
Agent H: Chris Hemsworth
As a contrast to Thompson's wide-eyed character, Agent H is an incredibly successful and established agent. According to line producer E. Bennett Walsh, Agent H has "saved the world many times [and is] a little full of himself." Hemsworth's character, while freewheeling, is a little arrogant and even cocky. Hemsworth describes H's dynamic with M: "There's a lot of fun trying to figure out that relationship and get on the same page and missing constantly. My character does things in his own way; he's reckless in his approach and works alone usually." Hemsworth also says he enjoys the English-style humor of his character has and that he's "continually riffing."
But will H and M eventually become romantic? That remains to be seen. "There's something more interesting about the idea of: They couldn't get there because there's certain obstacles in the way," Hemsworth says. "You're not supposed to have any attachments in MIB. There's an interesting obstacle there to play with." Producer Walter Parkes adds, "This is more akin to a friendship of great mutual respect and admiration in the sense that in another circumstance there could be something… What we hope will come across is a sense of longing."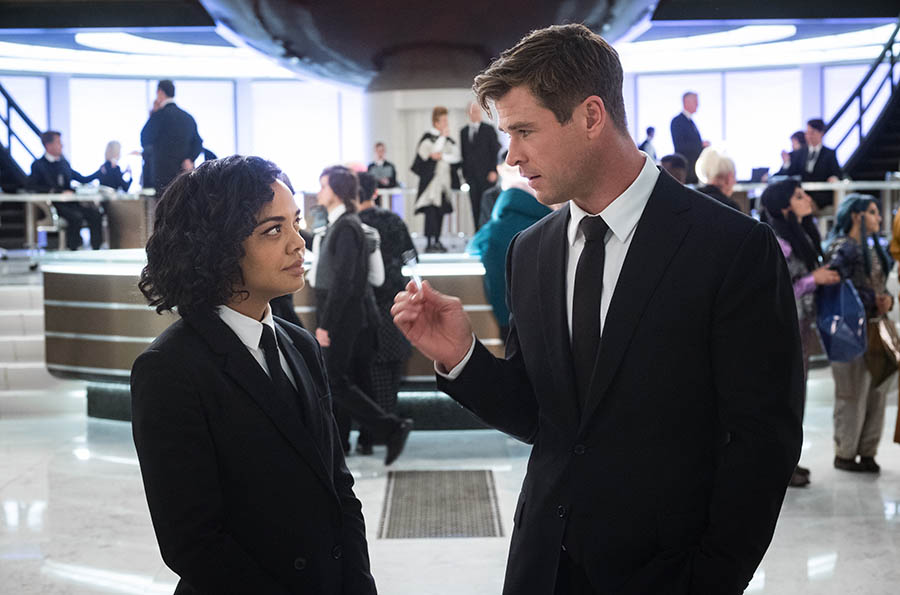 Riza: Rebecca Ferguson
In one of the MIB's missions abroad in Rome, Agent H is forced to reunite with his "ex-alien girlfriend" Riza. Costume designer Penny Rose revealed that Riza had an affair with Agent H in the past and is an arms dealer who lives on an isolated island. Rose describes Riza's look as "colorful, Mediterranean and unexpected." Further, makeup and hair designer Jeremy Woodhead explained that Ferguson's character has no prosthetics. "She's going to be enhanced in post-production. Why get Rebecca Ferguson and change her? She's beautiful," he says.
It was also revealed that "a great Tessa-Rebecca fight that ensues" when the two characters meet. Stunts coordinator Wade Eastwood teases the encounter, saying, "Riza's got this really cool feature to her alien-ism you'll have to see in the movie. It makes the fight very, very unique and different."
High T: Liam Neeson
The majority of MIB: International will take place at the MIB London Headquarters, run by High T. While the crew didn't divulge much about Neeson's character, E. Bennett Walsh explains why he was chosen for the authoritative role. "When we were looking for the person that was going to run MIB London, we really came to Liam because we wanted a father-type stature against Chris," he explains. "Part of that is physicality." We were also told that High T's London space is the same square-footage as MIB NY (and audiences should keep their eyes peeled for pictures of familiar faces in his office).
Agent O: Emma Thompson
Some agents just can't get enough of the black suit. After joining 2012's Men in Black 3 as chief Agent O, Thompson revives her role for the reboot. According to Walsh, Thompson is an "anchor" back to the prior films. Plus, she's highest in rank. "Emma is definitely more as a higher commander than Liam," the line producer says. "We imply that New York is more important [than London]." Tessa Thompson described the unforgettable experience of shooting with her co-star in her MIB office. "Getting to shoot with Emma Thompson in her recreated office from the last film was incredible," she says.
Pawny: Kumail Nanjiani
After first encountering the film's antagonist, Agents M and H head to Marrakesh on their mission where they find their third partner, Pawny, voiced by Nanjiani. Walsh explains the process in which the actor lent his voice (and presence) to the film. "One of the things we've done is facial capture. This could easily be a voice over, but we actually have Kumail on the floor when we're doing Pawny because of the comedic timing," he explains. "So much can happen spontaneously. It becomes more of his personality. We think he's a lot of fun." Hemsworth added that "there's so much more and better material" due to Nanjiani's role on set.
Pawny also worships Agent M. "Pawny protects the queen. But since the queen is dead, Pawny needs a new queen, which becomes Tessa," Walsh explains. And the feelings are mutual. "I begged him to do this movie," Tessa Thompson shares. "I heard his name come up and I was like, 'Please do it!' I'm just such a fan of his I think he's so smart, so talented. The humor is irreverent and satirical and topical."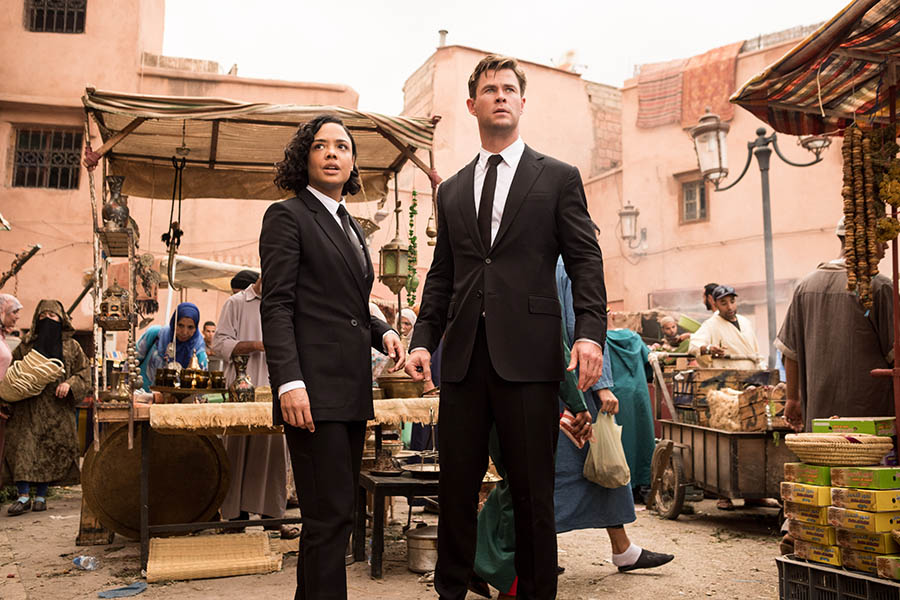 Twin 1 and 2: Les Twins
World of Dance's identical brothers, Les Twins, will play The Twins. They're members of the villainous "Hive," which M and H are assigned to take down. According to stunt coordinator Wade Eastwood, the Agents have a big chase sequence with The Twins, who would work up to 10 hours a day to create unique material for the film.
More about The Hive: It's the villainous force that Agent H and High T defeated a handful of years before events of the film and has now reemerged. "We discover that the circumstances of the great moment that made Chris' character a hero may not have been true. It's interesting. There's a little Hitchcock-y uncovering of it," says producer Parkes. He hints that Agent H's experience with The Hive and Twins could have a lot to do with neuralyzers. "That whole replaying of what really happened… the idea of taking peoples' memories away and putting in false memories. It might have more of a central role in this movie."
Agent C: Rafa Spall
Of course, Agent H can't run the show without some good, old competition. While details of Spall's role has been kept under wraps, producer Walter Parkes did reveal that he plays Agent C, who is Agent H's biggest work rival.