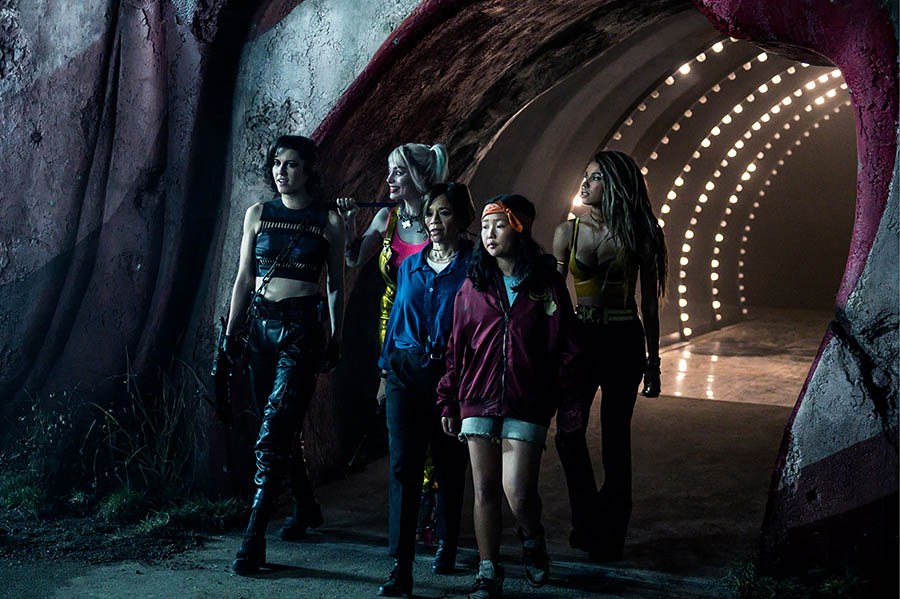 Harley Quinn may be fresh out of her breakup with the Joker, but that won't stop the DC heiress from kicking some serious butt. When Birds of Prey premieres February 7, fans are going to learn a whole lot more about their favorite female anti-hero and the origin story of Gotham's ultimate girl gang. In a mission to rescue a young Cass (Ella Jay Basco) from the sinister pair Roman Sionis (Ewan McGregor) and Zsasz (Chris Messina), Harley finds herself intertwined with an unlikely group of women who join forces in a way only Gotham's finest can. Narrated by Harley herself, it's a wild ride and a wild crew, and Fandango learned all about it when visiting the set in Los Angeles earlier this year.
Expecting one epic hero and one monstrous villain? Think again. According to director Cathy Yan, this group doesn't consist of typical bad guys, nor saviors. "I joke, we have two villains and five protagonists. They each really are their own leads," she says. Adding that it isn't a forced sisterhood and "they form alliances or don't," producer Sue Kroll says, "It's genuinely relatable." Margot Robbie, star and producer, teases that while each woman has a totally different moral compass, they have one thing in common: their home. "They're all from Gotham. This part of Gotham," the actress says. "If Gotham was New York, we're not in Manhattan. We're in Queens or Brooklyn. Everyone has their roots in this part of town and therefore want to fight for it."
So without further ado, meet the Birds of Prey — and the guys they're ready to take down.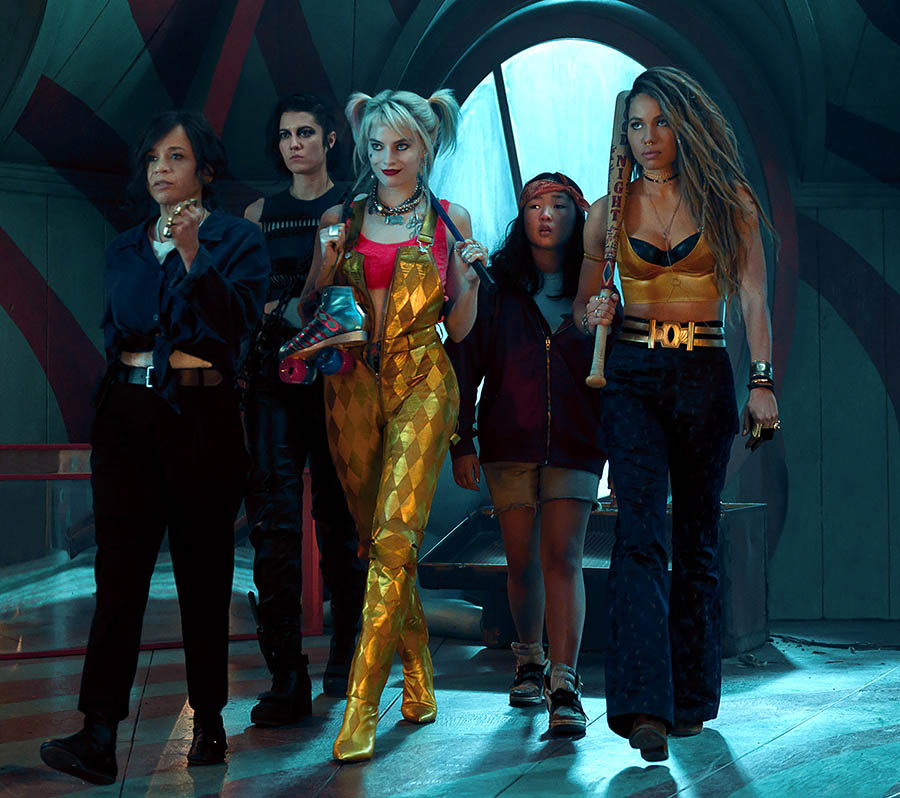 The Birds of Prey
Harley Quinn (Margot Robbie)
She has a pet hyena. She blows stuff up. She's her very own brand of crazy, and she's proud of it. But audiences are going to see a whole new side of Harley in this film. We find her fresh out of her breakup from the Joker. "She's truly just a mess. A total mess," Robbie teases. "She's just really struggling to figure it out for herself. It's pretty messy." But beyond her post-breakup state, there is so much more to Harley we'll discover. "You won't just see crazy, looney. There are moments in the movie that are emotional," Kroll reveals. "You see a lot of dimension to her… she's much more complicated."
While Yan says there are aspects of the character fans will recognize, like "the smart doctor she once was," this film dives deeper into her psyche. "Sometimes she's really good and heroic and sometimes she's terrible and irresponsible and can do a lot of harm," the director says. Rest assured, Unkeless says telling a story through Harley's point of view is nothing short of "fun and insane and absurd and untouchable." Potentially the best part? Seeing Harley doing… everyday things. "You see Harley in her element," says Robbie. "What does she wear when she goes to get drunk at night? How does she deal with a hangover?" (Yes, her apartment is epic, check out Fandango's behind-the-scenes guide to learn more.) Above all, she's the Harley fans know and love. "She's a baddy with her own set of rules she follows," Robbie says.
Renee Montoya (Rosie Perez)
Renee's the sharpest detective in the Gotham PD, but when she's keen on mobster Roman Sionis' destruction, her male colleagues won't give her the time of day. "A straight shooter, she's trying to make right — or wrong — in the world," explains costume designer Erin Benach. "She's playing by the rules until she can't anymore." Robbie adds that Renee "places priority on upholding the law." Kroll chimes in on Renee being the oldest of the group, saying, "It's really great that we have all these generations of women. She's got this world-weariness she brings to the character that I don't think anyone else can."
Canary (Jurnee Smollett-Bell)
Donned in signature black fishnets, Canary is a "sultry singer by night and by day she's all business," according to Benach. "The ultimate city-girl survivor." The songbird may be sultry and wounded, but she's not to be underestimated as she masters her strengths and her superpowers. Oh, and she happens to be Roman Sionis's favorite lounge singer at his club Black Mask. And during the day? She's his driver.
Huntress (Mary Elizabeth Winstead)
Navigating in hooded silhouettes throughout movie, Huntress is perhaps the most ambiguous of the gang. "She's mysterious and cool," says Kroll, and "an outsider coming back in [to Gotham]," according to Robbie. Helena Bertinelli, a.k.a. Huntress, happens to be the daughter of one of Gotham's richest mafia dons. But when he and his family were taken out by rivals, she was raised by assassins. Out for blood on and on a mission to avenge her family, she's out for the killers who are part of Roman Sionis's gang. She's armed with wicked revenge and a crossbow.
Cassandra Cain (Ella Jay Basco)
At just 12 years old, Cass is "a rebel with a cause," according to Benach. She's a smart-mouthed street kid who's survived on her own largely due to her knack for pickpocketing. But when she gets her hands on a priceless gem, she gets a target on her back. "She's the enduring ethos — a vulnerable young girl in a tough tomboy shell and in that shell," says the costume designer. And as the director teases, Cass and Harley form an "important relationship" throughout the course of the film.
The Bad Guys
Roman Sionis (Ewan McGregor)
Roman is an impeccably stylish mobster who runs his business in his Gotham nightclub, the Black Mask. Though he's hellbent on taking out his competition, Roman isn't your typical villain. Refusing to settle for villainous tropes, Unkeless explains how Roman is actually "really charming and likable." Kroll adds, "Roman is so complicated — it's not black or white and it's very enjoyable — he does so many surprising things. What motivates him, his backstory, how he deals with situations — he's very well-drawn. He's unfamiliar. It's always unexpected and surprising. You find yourself liking him and hating him at the same time." Described as a bit vain, controlling, and possessive, Roman also has a collection obsession. "He's exclusive and has to have stuff no one else can get their hands on and has his finger on the pulse of what is hip in the moment in Gotham City," says Benach. And regardless of occasion, you better believe he's dressing to the nines.
Victor Zsasz (Chris Messina)
Zsasz is Roman Sionis's right-hand man who happens to be handy with a switchblade. A slick street urchin who dons bleached-out hair and dresses to avoid being seen, this sinister man likes his job a little too much. Unkeless teases that Roman and Victor are "insane" and have great chemistry together. "Nobody's ever seen [Chris Messina] like this," says Kroll. "He brought A+ game to it and got so into it."
The Love Interest?
Now that the Joker is toast, will there be a potential new suitor in town for Harley Quinn? Director Cathy Yan laughs off the thought. "I don't know what I can say!" she says. We'll leave it at that.