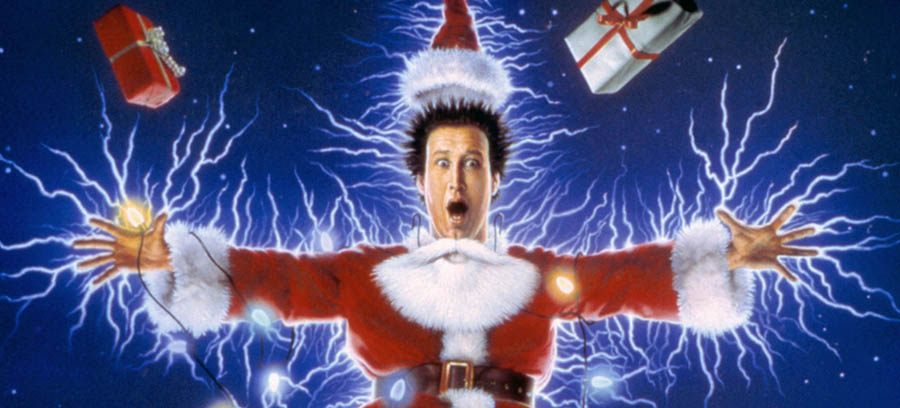 After traveling cross-country to an amusement park on an eventful summer vacation and then embarking on a diastrous European vacation, Clark Griswold (Chevy Chase) wanted nothing more than to spend a joyous holiday period at home with his family in National Lampoon's Christmas Vacation. To the merriment of all, a quiet few days with the family quickly transformed into a blow-out bash.
The third in a series of family-vacation movies, Christmas Vacation resonates strongly in the memories of anyone who's experienced a less-than-ideal holiday with loved ones. Here are 10 amazing fun facts about the movie.

Fun Fact #1: It was the biggest-earning installment of the Vacation films to that point.
As influential as John Hughes and his comic sensibilities proved to be upon the next generation of filmmakers, the movies themselves were not huge box-office smashes. Released in July 1983, Vacation earned an estimated $61 million at the box office, while European Vacation dropped a bit to $49 million in 1985. Four years later, Christmas Vacation grossed an estimated $71 million. More film installments and spin-offs were subsequently made. The first three films, however, all written by John Hughes, were modestly-budgeted and reached even bigger audiences on home video.
Fun Fact #2: Three supporting cast members would subsequently star in hit television shows.
Young Johnny Galecki, who costars here as the third actor to play Rusty Griswold (after Anthony Michael Hall and Jason Lively), would eventually land a starring role on The Big Bang Theory. Julia Louis-Dreyfus, who costars as a hapless neighbor living next door to the Griswolds, became a huge star as Elaine in Seinfeld. Already a well-established actress, Doris Roberts, seen in a minor role as Beverly D'Angelo's mother Francis, became even better known as a mother in Everybody Loves Raymond.
Fun Fact #3: Two cast members received Academy Award nominations, thanks to director Martin Scorsese. Two other cast members became Oscar nominees as well.
In an early role, Juliette Lewis is fun to watch as Audrey Griswold, a character previously played by Dana Barron and Dana Hill. Just two years later, she would earn an Academy Award nomination for her intense performance in Martin Scorsese's Cape Fear. Diane Ladd, here seen as Audrey's grandmother, received an Academy Award nomination for Alice Doesn't Live Here Anymore, directed by Martin Scorsese. She would later nab Oscar nominations for Wild At Heart and Rambling Rose. Randy Quaid returns here for a repeat performance as the good-hearted, if somewhat clueless Griswold relative Cousin Eddie Johnson; years before, he earned an Academy Award nomination for a somewhat similar role in The Last Detail. A few years before he took a Christmas Vacation another Griswold relative, William Hickey was also an Oscar nominee for Prizzi's Honor. John Randolph, who also appeared in the latter film, costars here as Clark Griswold's loving father.
Fun Fact #4: Most of the film was shot in sunny Southern California.
As exterior shots of gorgeous downtown Chicago attest, Clark Griswold works in the city and presumably lives not far away. In reality, however, the snow-filled street where the Griswolds appear to be living was not filmed anywhere near Chicago. Instead, it was shot on location at the Warner Bros. Ranch in Burbank, California. Other convenient locations include a department store in Los Angeles.
Fun Fact #5: The Rocky Mountains are showcased as the home of the Griswold Christmas tree.
What about the snowy outdoor scenes, where the Griswolds look for the family Christmas tree? Mostly, they were shot on location in Colorado, which would make it rather difficult for Clark and his family to get there and back on a single Saturday, as the dialogue suggests near the beginning of the film.
Fun Fact #6: A quintessential Christmas movie was filmed in the springtime.
As the film's locations suggest, Christmas Vacation was not filmed in the dead of winter. (Of course, in Southern California, that might not have been noticeable anyway.) Reportedly, production began on March 27, 1989 and concluded on June 30.
Fun Fact #7: Betty Boop also appears in the movie.
Among the unexpected relatives who surprise the Griswolds during Christmas, the aforementioned, Oscar-nominated William Hickey arrives, along with Mae Questel. Her voice is instantly recognizable to anyone who's ever seen a Betty Boop cartoon; she voiced that memorable character, as well as Olive Oyl in many Popeye cartoons, over a very long career. This was her final film.
Fun Fact #8: David Lynch's frequent collaborator provided the music.
Angelo Badalamenti, who composed the score for David Lynch's Blue Velvet, wrote the music for this fast-paced holiday comedy, right after he finished composing the score for A Nightmare on Elm Street 3: Dream Warriors. Badalamenti would go one to compose the haunting music for Twin Peaks and more Lynch films and TV shows.
Fun Fact #9: Only two cast members were natives of Chicago.
Brian Doyle-Murray, who plays Clark's crusty boss (and had earlier appeared in Vacation in a different role) and Natalija Nogulich were both born in Chicago. Thus, they represent the only two natives to the area where the movie is set.
Fun Fact #10: The film pays tribute to a famed teen comedy, but also two horror classics.
In a fantasy scene late at night, Clark imagines that he sees his long-dreamed backyard swimming pool come to life before seeing a woman in a red-bathing suit, apparently in tribute to Phoebe Cates in Fast Times at Ridgemont High. Clark also strikes a pose in a hockey mask with a chainsaw that's reminiscent of both Friday the 13th: Part III and The Texas Chain Saw Massacre.