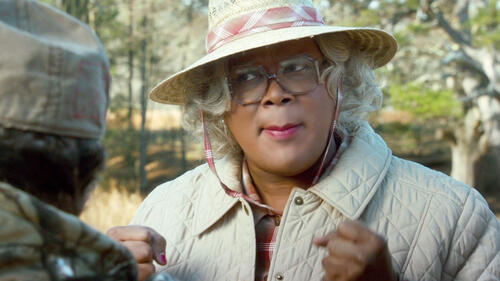 Tyler Perry's A Madea Christmas: Trailer 1
1 of 2
Weekend Ticket: Episode 40 - Martin Freeman

Which movie's right for you this weekend? Tyler Perry's A Madea Christmas? The Hobbit: The Desolation of Smaug? Fandango Chief Correspondent Dave Karger breaks them down with a little help from Martin Freeman.
Tyler Perry's A Madea Christmas Synopsis
Madea gets coaxed into helping a friend pay her daughter a surprise visit in the country for Christmas, but the biggest surprise is what they'll find when they arrive. As the small, rural town prepares for its annual Christmas Jubilee, new secrets are revealed and old relationships are tested while Madea dishes her own brand of Christmas Spirit to all.
Read Full Synopsis
Movie Reviews
Presented by Rotten Tomatoes
More Info
Rated PG-13 | For Sexual References, Language and Crude Humor