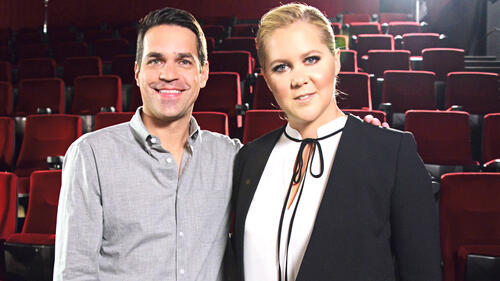 FrontRunners Season 4: Amy Schumer - Trainwreck
She's not afraid to talk drinks and d****, but Amy Schumer can also be vulnerable. Amy talks Trainwreck, feeling broken and the person who keeps her together.
Trainwreck Synopsis
Since she was a little girl, it's been drilled into Amy's head that monogamy isn't realistic. Now a magazine writer, Amy lives by that credo—enjoying what she feels is an uninhibited life free from stifling, boring romantic commitment—but in actuality, she's kind of in a rut.
Read Full Synopsis
Movie Reviews
Presented by Rotten Tomatoes
More Info
Rated R | For Strong Sexual Content, Nudity, Language and Some Drug Use
Positive Messages
Positive Role Models
Violence & Scariness
Language
Consumerism
Drinking & Drugs
Sexual