Want to know what's coming soon to digital and what to watch right now on Vudu? Here is your weekly guide to the latest releases: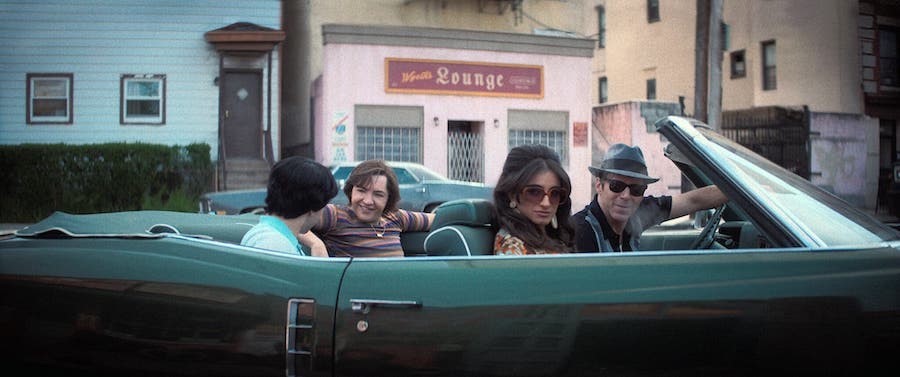 What big movies are coming out on Vudu this week?
The Many Saints of Newark, a feature-length prequel to the acclaimed cable series The Sopranos, arrives on Vudu to rent or own this Friday, November 19 (pre-order it today!). The movie features Michael Gandolfini as a young Tony Soprano, the iconic role his late father, James Gandolfini, originated on television.
Alessandro Nivola (American Hustle) also stars in The Many Saints of Newark as the famed character Dickie Moltisanti, who "made" Tony the man we watched over many seasons on HBO through the early 2000s. And Ray Liotta (Goodfellas) appears in the new gangster drama in two roles, playing twin brothers "Hollywood Dick" Moltisanti and "Sally" Moltisanti.
Also out on Vudu this Friday to rent or own (and available to pre-order), Zeros and Ones is the latest from cult-film favorite Abel Ferrara (Bad Lieutenant). The action flick stars Oscar-nominated actor Ethan Hawke (Training Day) as an American soldier in post-apocalyptic, war-torn and pandemic-stricken Rome.
The plot of the movie follows Hawke's character in his mission to find and stop the terrorists who bombed the Vatican. Currently, it's Ferrara's best-reviewed release ever, and it might just be his biggest picture since the early 1990s, when he made King of New York and the sci-fi remake Body Snatchers.
What are the latest new releases to watch right now?
Jungle Cruise, based on the Disney theme park attraction, is now available to rent on Vudu. Dwayne Johnson and Emily Blunt star in the movie as a mismatched duo navigating the Amazon River in search of a mystical tree that offers extended life. Yet for all their bickering, they also have incredible chemistry.
Hot on their trail is Jesse Plemons (Game Night), doing his best Werner Herzog voice as a German prince, and in their way is a trio of immortal 16th century conquistadors, led by Édgar Ramírez (Point Break). Jack Whitehall (The Nutcracker and the Four Realms) also co-stars as Blunt's character's brother.
The adaptation, which is also still available to purchase, delivers on adventure and humor for some old-fashioned escapist entertainment with a fun modern tone and remarkable visual effects. And if you're a fan of the classic ride, you'll enjoy plenty of Easter eggs. Be sure to check out all the movie's bonus material, as well, including deleted scenes, outtakes, and making-of featurettes.
Also newly available to rent, Nia DaCosta's Candyman revisits the 1992 horror movie of the same name for a similarly thought-provoking follow-up. Yahya Abdul-Mateen II (Aquaman) stars as an artist living in the now gentrified Cabrini-Green neighborhood of Chicago, which was the setting of the original. And he develops an obsession with and seemingly a connection to the Candyman.
Murders ensue, of course, as the titular boogeyman is summoned by having his name called out five times. But the legend is also given more historical context that relates to racism in America. Teyonah Parris (Dear White People), who co-stars as an art gallery director, becomes a major character and performance to watch as well as she attempts to understand what's going on.
You can also still buy Candyman on Vudu, and when you do you get access to a ton of extras, including an alternate ending to the new movie. There are also featurettes on the making of the sequel, including a focus on DaCosta, a video on the body horror makeup, a showcase of the music by Robert A.A. Lowe and an essential discussion on Black horror.
What movies or shows are great to pair with those new releases?
Obviously, you need to pick up the complete series of The Sopranos to binge-watch before or after you see The Many Saints of Newark. All six seasons of the Emmy-winning HBO drama, starring the late, great James Gandolfini as Tony Soprano, are available in a bundled collection for just under $100.
As for movies worth watching alongside The Many Saints of Newark, you can find Alessandro Nivola in significant supporting roles in the excellent recent crime dramas American Hustle, A Most Violent Year and You Were Never Really Here. And, of course, you should pick up Martin Scorsese's classic gangster movie masterpiece Goodfellas, starring Ray Liotta in the lead.
Another obvious choice for pairings this week is the original Candyman, directed by Bernard Rose and starring Virginia Madsen and Tony Todd, the latter in the titular role. In the movie that started it all, a grad student uncovers the legend of the hook-handed, often-bee-covered murderer known as the Candyman while researching urban legends.
You can actually pick up the original and the new sequel together in a two-movie collection bundle. There are other sequels to Candyman that aren't related to the same storyline as the first and latest installments. If you're a completist, Vudu has the 1995 follow-up Candyman: Farewell to the Flesh, also starring Tony Todd.
The most suitable modern movie pairing for Jungle Cruise is Pirates of the Caribbean: The Curse of the Black Pearl, and not just because it's also based on a Disney theme park attraction. Jungle Cruise also achieves a lot of the same sense of humor and adventure of the first Pirates of the Caribbean movie as well as a similar level of supernatural thrill. You can also pick up all five POTC installments in a bundle now on sale.
But I also must recommend the 1951 classic The African Queen. John Huston's World War I-set adventure film starring Katharine Hepburn and Humphrey Bogart was a huge influence on the original Disneyland ride as well as the new Jungle Cruise movie. Also, it's just one those old movies that doesn't feel old at all.
What are some other classic movies worth buying this week?
With Ghostbusters: Afterlife arriving exclusively on the big screen this Friday (get tickets now!), I have to give a shout out to the original Ghostbusters. The 1984 blockbuster is still as funny and spectacular today as it was when it was released almost 40 years ago, and if you've never seen it before, you'll need to before going to see the long-awaited new sequel.
I also recommend Ghostbusters II, which may not have as strong a connection to Ghostbusters: Afterlife but is still a part of the franchise. And while not nearly as good as the first movie, the 1989 sequel still has a lot to love. Plus, you can pick up both Ghostbusters and Ghostbusters II in a Double Feature bundle.
Another must-see movie opening exclusively in theaters this Friday (in limited release in New York City and Los Angeles) is the Critics Choice Documentary Awards nominee The Real Charle Chaplin, about — you guessed it — silent comedy legend and Hollywood icon Charlie Chaplin. And I recommend getting ready for that by picking up a classic Charlie Chaplin movie.
In the 1931 masterpiece City Lights, which Chaplin also wrote and directed, he again plays his famous Little Tramp character. This time, he falls in love with a blind woman selling flowers in the street. She appears to love him back, but there's one problem: she mistakenly believes that he's a millionaire. It's one of the most beautifully romantic — and thrilling — movies you'll ever see.
What are some great supernatural movies to buy this week?
Speaking of the Ghostbusters franchise, in honor of the opening of Ghostbusters: Afterlife, Vudu currently has a sale on supernatural movies. And yes, the original movie as well as its first sequel plus the 2016 reimagining (a.k.a. Ghostbusters: Answer the Call) are included in the group of more than 200 titles.
Other favorites that I recommend among the supernatural movie deals include the early 1990s romantic dramas Ghost, starring Demi Moore, Patrick Swayze and Oscar-winner Whoopi Goldberg, and Dead Again, directed by and starring Kenneth Branagh alongside Emma Thompson.
Also check out the horror classics Rosemary's Baby, Let's Scare Jessica to Death and the original Pet Sematary. And if you want to laugh, there are the underrated effects-driven black comedy Death Becomes Her, starring Meryl Streep, Goldie Hawn and Bruce Willis, plus Quentin Dupieux's surreal comedy Rubber, about a murderous tire. Yeah, you read that right.
Are we celebrating any big movie and TV anniversaries this week?
This week marks the 20th anniversary of the release of Harry Potter and the Sorcerer's Stone, and Vudu is celebrating the anniversary with a sale on all eight of the Harry Potter adaptations and both installments (so far) of the Fantastic Beasts prequel movies. Speaking of which, Fantastic Beasts and Where to Find Them is already five years old as of this week.
Also released 20 years ago this week: the Coen brothers' film noir homage The Man Who Wasn't There, starring Billy Bob Thornton, Frances McDormand and James Gandolfini; Guillermo del Toro's historical horror drama The Devil's Backbone; and Tony Scott's action-thriller Spy Game, starring Brad Pitt and Robert Redford.
Meanwhile, the classic animated feature An American Tail turns 35 while its sequel An American Tail: Fievel Goes West turns 30. Also, the supernatural drama The Wraith, starring Charlie Sheen, and the serious animated drama When the Wind Blows, which deals with nuclear war, both turn 35.
Plus, the Jane Fonda and Henry Fonda pairing On Golden Pond, the Milos Foreman-helmed historical musical Ragtime, the journalism drama Absence of Malice, starring Paul Newman and Sally Field, and the Looney Tunes cartoon feature The Looney, Looney, Looney Bugs Bunny Movie all turn 40.
Going back further, the original Rocky, starring Sylvester Stallone as the titular boxer, the Stephen King adaptation Carrie and Elia Kazan's Hollywood-set drama The Last Tycoon all turn 45 years old this week. Also, the horror film Eye of the Devil turns 55 and the romantic drama The Razors Edge turns 75.
The General Custer biopic They Died With Their Boots On and the mystery-comedy sequel Shadow of The Thin Man both turn 80, the Universal Monsters classic Frankenstein, the boxing drama The Champ and Jean Renoir's La Chienne all turn 90 and the famous silent film The Sheik starring Rudolph Valentino turns 100.
More recent titles with anniversaries include the first James Bond movie starring Daniel Craig, Casino Royale, which turns 15 years old this week. Also, George Miller's animated feature Happy Feet and Richard Linklater's ensemble-driven nonfiction book adaptation Fast Food Nation both turn 15, too.
Meanwhile, Alexander Payne's The Descendants, starring George Clooney, the animated sequel Happy Feet Two, the indie drama The Lie and the sequel The Twilight Saga: Breaking Dawn Part 1, starring Kristen Stewart and Robert Pattinson, were all released in theaters 10 years ago this week.
Can you recommend some more great movie deals on Vudu?
When you buy a movie on digital, you want to get the most for your money, right? Well, Vudu has a sale right now called More Bang For Your Buck, which features deals on films that are longer than your average release. Among those included are the James Cameron epics Titanic and Avatar, plus all six of Peter Jackson's Hobbit and Lord of the Rings movies in a Middle Earth collection.
And if you're looking for more full franchises of lengthy favorites, there's Francis Ford Coppola's Godfather Trilogy. Also available: Coppola's Apocalypse Now, David Fincher's Zodiac, Michael Mann's Heat, Stanley Kubrick's Spartacus, Spike Lee's Malcolm X and many more masterpieces. I also recommend a pairing of the Oscar-nominated foreign films Toni Erdmann and The Square.
The latest Actors Spotlight showcases the work of Oscar-winner Al Pacino, Oscar-nominees Sigourney Weaver and Will Smith and No Time to Die scene-stealer Ana de Armas. You can find deals on their most notable titles, such as The Godfather and Scarface, Alien and Aliens, Independence Day and Knives Out, respectively.
Here are my picks for under-seen and under-appreciated gems starring each of them: the comic strip adaptation Dick Tracy, for Pacino, who plays the cartoonish villain Big Boy; the political comedy Dave, for Weaver's role as First Lady Ellen Mitchell; The Pursuit of Happyness, for Smith; and Yesterday, for de Armas.
What must-see movies are coming soon to Vudu?
In one month, three of this year's hottest movies are coming to Vudu. All expected to release digitally on December 14th are the horror sequel Halloween Kills (including an extended cut), the family film Clifford the Big Red Dog and the latest quirky indie comedy from filmmaker Wes Anderson, The French Dispatch. You can pre-order all of them right now in anticipation of their arrival.
What are the 10 most popular movies on Vudu?
Two new movies topped Vudu's list of the most popular titles this week: the latest James Bond feature No Time to Die, featuring Daniel Craig's final performance as the iconic spy; and Marvel's Shang-Chi and the Legend of the Ten Rings. Also, Sylvester Stallone's re-cut version of Rocky IV landed in the 10th-place slot.
Actually, the Rocky movie was officially in 11th place out of all titles on the service, since one television series, Yellowstone, also made the cut. Season 4 of the Kevin Costner drama, the UHD version of which is exclusively available on Vudu, held the third-place spot after debuting last week at number two.
See the full top 10 movie list below.

1. No Time to Die
2. Shang-Chi and the Legend of the Ten Rings
3. Free Guy
4. Jungle Cruise
5. The Suicide Squad
6. The Addams Family 2
7. Old Henry
8. Dangerous
9. Old
10. Rocky IV: Rocky vs. Drago - The Ultimate Director's Cut