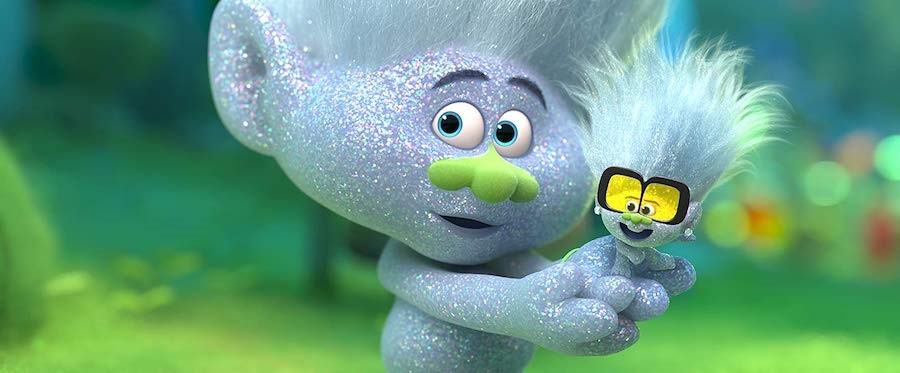 Want to know what's coming soon to digital and what to watch right now on FandangoNOW? Here is your weekly guide to the latest releases:
What are the latest new releases to watch right now?
Following its Home Premiere release, the hit animated sequel Trolls World Tour is now available to own digitally. Bonus features include music videos, deleted scenes, guided tours, dance tutorials and a new short film starring Tiny Diamond. Plus, you have the option to watch the movie in "Dance Party Mode."
From Oscar-nominated filmmaker Agnieszka Holland (Europa Europa) comes the acclaimed new historical thriller Mr. Jones, which is now available for digital purchase. James Norton stars in the movie as a journalist uncovering a Soviet conspiracy on the eve of World War II. Vanessa Kirby and Peter Sarsgaard co-star.
What movies are great to pair with those new releases?
Trolls is the obvious movie to pair with its sequel, Trolls World Tour, and you can even buy them together now and save money. Or you can go ahead and celebrate the history of DreamWorks Animation with the studio's 17-movie collection. Titles include Trolls, Shrek, Madagascar, How to Train Your Dragon and more.
Follow Mr. Jones with a couple of other historical films by Agnieszka Holland, including the 2012 Holocaust drama In Darkness and the 1988 anti-communism thriller To Kill a Priest. If you want more Holland, there's his 1993 version of The Secret Garden and the early Leonardo DiCaprio movie Total Eclipse.
Are there any other big movies coming out this week?
The latest feature directed by former Daily Show host Jon Stewart debuts digitally this Friday, June 26, as a Home Premiere rental. Titled Irresistible, the political comedy stars Steve Carell and Rose Byrne and follows a Midwest mayoral race. If you pre-order it now, you can get 50% off other Universal Pictures movies.
What are some great movies celebrating summer?
This is the first week of summer 2020, and while a lot of the usual activities and vacations aren't happening this year, you can celebrate the season virtually with some classics. First, for the kids, I recommend the coming-of-age summer vacation favorites The Sandlot, Now and Then and Secondhand Lions.
For the slightly older crowd, I recommend Spike Lee's Crooklyn, the Stephen King adaptation Stand By Me, the offbeat comedies One Crazy Summer and Wet Hot American Summer, Luca Guadagnino's Call Me By Your Name, the music-driven drama Dirty Dancing and the classic surfing film The Endless Summer.
For summer thrills, there's always Jaws, as well as the king of summer camp horror flicks, Friday the 13th (there's also a bundle pack for sale including the first eight installments of the franchise). Other more recent summer-set scary movies include It, Us and Midsommar. There are also plenty of thrills in Independence Day.
Can you recommend some great binge bundles to rent?
While we're on the subject of this season, we need some summer blockbusters in our lives right now, so how about a few binge bundles including big movies released in the warmer months? Start with a double-feature of Ghostbusters and Ghostbusters II, released in the summers of 1984 and 1989, respectively.
Then there's the original Karate Kid three-movie collection, featuring installments released in the summers of 1984, 1986 and 1989. And for the little kids, I'd go with the two-pack bundle of Cats & Dogs and Cats & Dogs: The Revenge of Kitty Galore, which came out in the summers of 2001 and 2010, respectively.
Are we celebrating any big anniversaries this week?
There are quite a number of action movies celebrating notable anniversaries this week. The Tom Cruise racing cult classic Days of Thunder and the sci-fi sequel RoboCop 2 both turn 30, the American Revolution movie The Patriot turns 20 and the World War II heist comedy Kelly's Heroes turns 50.
Another great World War II comedy, Catch-22, also turns 50, while the Western comedy Cat Ballou turns 55 this week and the courtroom drama Inherit the Wind turns 60. Going back even further, the George Gershwin musical biopic Rhapsody in Blue turns 75 and the original version of Gaslight turns 80.
The creature feature It Came from Beneath the Sea, the horror comedy Abbott and Costello Meet the Mummy and the Disney animated classic Lady and the Tramp all turn 65. And Disney's The Love Bug sequels Herbie: Fully Loaded and Herbie Goes Bananas celebrate their respective 15th and 40th anniversaries.
Which Joel Schumacher movies should you watch now?
We just lost the director Joel Schumacher, so I have to recommend his Brat Pack classic St. Elmo's Fire, which turns 35 this week. His best movies also include the Michael Douglas vehicle Falling Down, the teen vampire flick The Lost Boys and the underrated Vietnam War drama Tigerland.
Schumacher also gave us a couple of great John Grisham adaptations with The Client and A Time to Kill, and he famously gave us two enjoyably campy comic book movies with Batman Forever and Batman & Robin. Finally, I will always have a soft spot for the Lily Tomlin comedy The Incredible Shrinking Woman.
Which must-see movies are coming soon to FandangoNOW?
Coming out digitally next month, on July 3, Rod Lurie's Afghanistan War drama The Outpost stars Scott Eastwood and Orlando Bloom. And then arriving on July 10, Archive is an intriguing-looking science fiction movie set in 2038, as a scientist works to create the first true human-equivalent AI.
What are the 10 most popular new movies on FandangoNOW?

1. The King of Staten Island
2. You Should Have Left
3. Scoob!
4. Trolls World Tour
5. The Invisible Man
6. The Hunt
7. Bad Boys for Life
8. Sonic the Hedgehog
9. Burden
10. The High Note