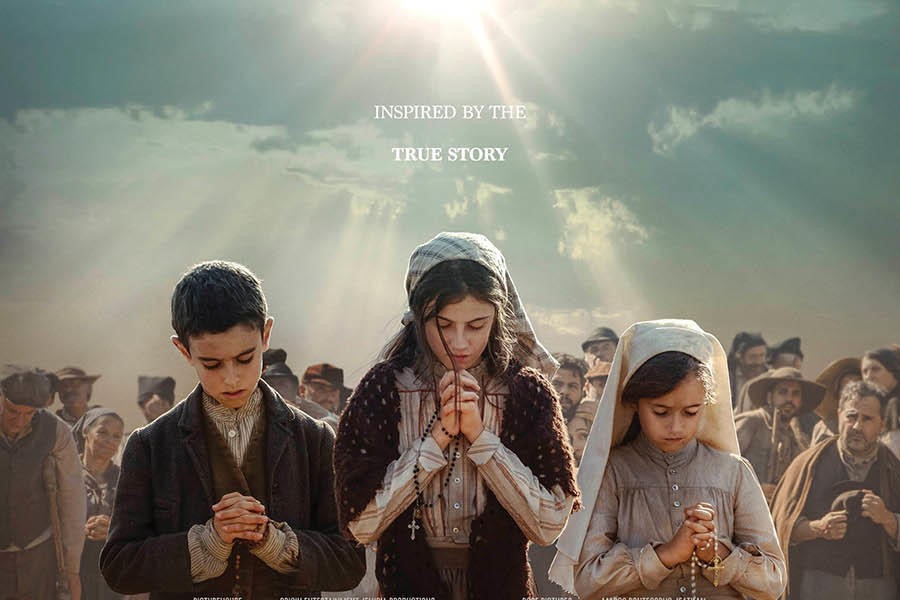 Want to know what's coming soon to digital and what to watch right now on FandangoNOW? Here is your weekly guide to the latest releases:
What are the latest new releases to watch right now?
From Italian filmmaker Marco Pontecorvo comes the latest Home Premiere rental, Fatima. The drama follows the true story of three children who claim to see visions of the Virgin Mary in the midst of World War I. The international adult cast includes Joaquim de Almeida, Goran Visnjic and Harvey Keitel.
Now available for rental or purchase, Robin's Wish is a documentary concerning the death of beloved actor and comedian Robin Williams. The film focuses on Williams' battle with a neurodegenerative disorder called Lewy Body Dementia and why it caused him to take his own life in August 2011.
Another new documentary I highly recommend — one of my favorites of the year so far — is now on digital to buy or rent after a virtual cinema release over the summer. Bill and Turner Ross' Bloody Nose, Empty Pockets chronicles a final night in a Las Vegas bar, though some of that premise isn't exactly true.
What movies are great to pair with those new releases?
Also set in 1917, also featuring Harvey Keitel and also based on a true story of children claiming unbelievable visions, FairyTale: A True Story would seem to fit best alongside Fatima. But instead I recommend the better telling of the same story in Photographing Fairies, which still applies only without the Keitel appearance.
If you want to stick to films involving religious visions, though, you can't do much better than the 1943 classic The Song of Bernadette, starring Jennifer Jones in a similar true story involving apparitions of the Virgin Mary in rural France in 1858. I also recommend Danny Boyle's Millions, even if its young protagonist's saintly visions are all imaginary.
For a pairing with Robin's Wish, many movies starring Robin Williams will do, but his more appropriate inspirational roles can be found in Awakenings, Dead Poets Society, The Fisher King, Patch Adams, Good Will Hunting and What Dreams May Come. I also recommend another, more biographical documentary, Marina Zenovich's Robin Williams: Come Inside My Mind.
As for a double feature with Bloody Nose, Empty Pockets, there is one other Ross Brothers feature on FandangoNOW: the unique concert film Contemporary Color, starring David Byrne. You could also pair the Ross Brothers film with Robert Altman's Nashville, which is one of their biggest influences.
What are some essential Chadwick Boseman movies to watch now?
The shocking death this week of Chadwick Boseman is a tremendous loss, and FandangoNOW is celebrating the actor with a spotlight on his movies here. Boseman was best known for playing Black Panther in the Marvel Cinematic Universe, making unforgettable appearances in Black Panther, Captain America: Civil War, Avengers: Infinity War and Avengers: Endgame.
Boseman was also known for playing historical figures in biopics. You can see him as baseball icon Jackie Robinson in 42, as music legend James Brown in Get On Up, as Supreme Court Justice Thurgood Marshall in Marshall and as pro football player Floyd Little in The Express: The Ernie Davis Story. He also played a fictional pro football prospect in the sports drama Draft Day.
Can you recommend some great binge bundles to buy?
Bill & Ted Face the Music arrived on digital last week, and now you can pick up all three Bill & Ted movies together in a triple-feature bundle pack, for purchase only. You can also buy the two Gremlins movies together and the four original Vacation movies together for much less than you'd pay for each individually.
And if you can't get enough of the '80s and '90s with those franchises, you can buy the 10-film packs devoted to those specific past decades. The Best of the '90s includes: Austin Powers: International Man of Mystery, Dumb and Dumber, Friday, Goodfellas, Rush Hour, The Mask, The Matrix, The Shawshank Redemption, The Wedding Singer and Unforgiven.
There are two '80s volumes. The Best of the '80s Vol. 1 includes Blade Runner, The Shining, The Lost Boys, Caddyshack, Lethal Weapon, A Nightmare on Elm Street, Purple Rain, Risky Business, Lean on Me and Vision Quest. The Best of the '80s Vol. 2 includes The Goonies, Beetlejuice, The Outsiders, Little Shop of Horrors, The Neverending Story, Poltergeist, Batman, Funny Farm, European Vacation and Gremlins.
Are we celebrating any big anniversaries this week?
Fifteen years ago this week, we saw the festival premieres of the Oscar winners Brokeback Mountain, Capote and Walk the Line, as well as Scott Derrickson's The Exorcism of Emily Rose and George Clooney's Good Night, and Good Luck. It's also the 15th anniversary of the theatrical release of The Constant Gardener.
Meanwhile, movies turning 10 this week include Black Swan, The American, Machete, Never Let Me Go, Somewhere, 127 Hours and Denis Villeneuve's Incendies. The Marquis de Sade drama Quills, the Jackson Pollock biopic Pollock and Julian Schnabel's Before Night Falls all turn 20, and Spike Lee's Clockers turns 25.
Going back further, Louis Malle's Atlantic City and John Cassavetes' Gloria turn 40, Walter Hill's Hard Times turns 45, the Gene Kelly musical It's Always Fair Weather turns 65 and the romantic drama A Life of Her Own starring Lana Turner turns 70.
Which must-see movies are coming soon to FandangoNOW?
I Am Woman, an acclaimed biopic starring Tilda Cobham-Hervey as singer Helen Reddy, arrives on digital next Friday, September 11th. And if you want something even more reality based, the documentary Stuntwomen: The Untold Hollywood Story, which is about just what it sounds like, comes out on September 22nd.
What are the 10 most popular new movies on FandangoNOW?

1. Bill & Ted Face the Music
2. The King of Staten Island
3. Fatima
4. The Tax Collector
5. Hard Kill
6. The Silencing
7. Rogue
8. The Vanished
9. The Secret: Dare to Dream
10. Trolls World Tour