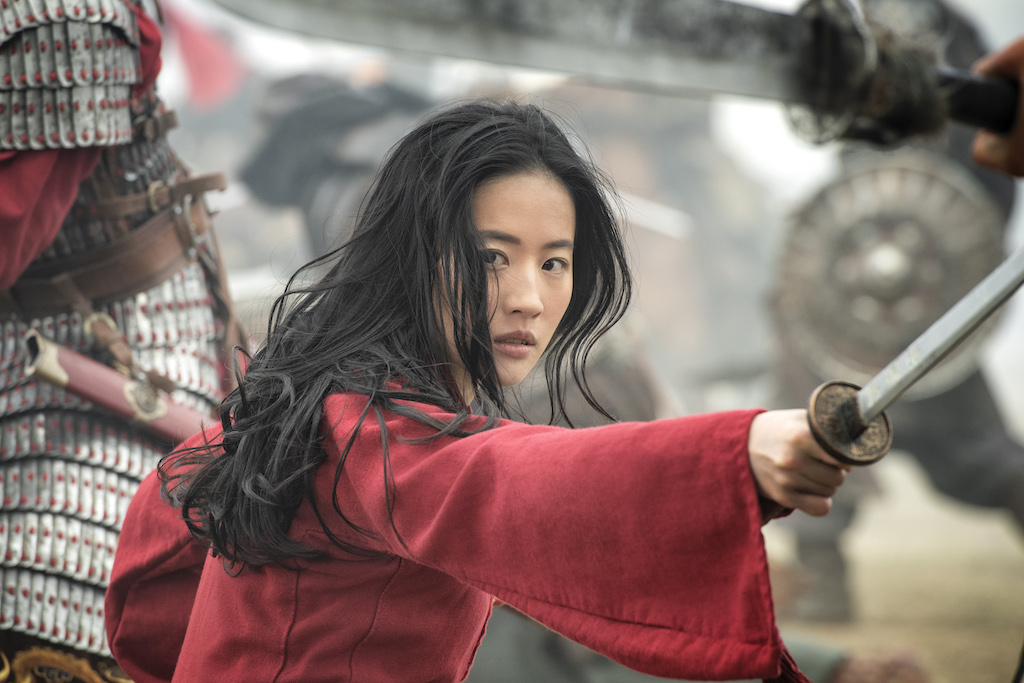 Want to know what's coming soon to digital and what to watch right now on FandangoNOW? Here is your weekly guide to the latest releases:
What are the latest new releases to watch right now?
Disney's live-action reimagining of Mulan is now available for digital purchase. Adapting the studio's own 1998 animated classic, the action-packed movie follows the legend of a young woman who disguises herself as a man in order to join the army. Yifei Liu is a perfect Mulan, dramatically and physically, and the cinematography by Mandy Walker is absolutely gorgeous.
Cut Throat City is also now available for purchase following a limited theatrical release. Directed by rapper-turned-filmmaker RZA, the acclaimed action movie follows a heist plot set in New Orleans during Hurricane Katrina, 15 years ago, and stars Spider-Man: Into the Spider-Verse's Shameik Moore along with Wesley Snipes, Ethan Hawke, Terrence Howard, T.I. and Eiza González.
Also, here's a great indie sci-fi/horror rom-com duo: Spontaneous stars Katherine Langford (Knives Out) and Charlie Plummer (All the Money in the World) as teens who meet and fall for each other as a deadly epidemic ensues; and Save Yourselves! reunites Search Party cast members Sunita Mani, John Paul Reynolds and John Early as hipsters trying to survive an alien invasion.
What movies are great to pair with those new releases?
The easy pairing for the live-action Mulan is Disney's animated feature, which still has the better visuals of the two versions, plus the comic relief of Eddie Murphy as the dragon Mushu. But another double feature idea is to watch Mulan with Whale Rider, which is also directed by Niki Caro. The empowering drama similarly follows a young woman defying cultural tradition.
The plot of Cut Throat City is very reminiscent of The Hurricane Heist and this year's own Force of Nature, but the best movie to pair with the new release is a classic New Orleans crime film, such as Elia Kazan's film noir Panic in the Streets, or any of these more recent neo-noir films: The Big Easy, The Drowning Pool, Tightrope, Double Jeopardy or Killing Them Softly.
For Spontaneous, I recommend the best horror rom-com ever made: Shaun of the Dead. For Save Yourselves!, I recommend other movies where characters are sort of in the periphery of alien invasions. There's Nacho Vigalondo's Extraterrestrial and Gareth Edwards' Monsters, plus the found-footage sensation Cloverfield and its first spin-off, 10 Cloverfield Lane.
Are there any other big movies coming out this week?
Action fans will not want to miss The Doorman, which pits Ruby Rose from John Wick: Chapter 2 as an ex-Marine against art thieves led by Jean Reno from Leon: The Professional. That's available this Friday, October 9. Also due out this Friday is Dream Horse, a true underdog sports story about a Welsh community who got together to buy a racing horse.
What are some great horror movies for people who don't love horror movies to rent now?
October is the month for horror movies, but what if you're not that into the genre and still want to participate in the custom? Confession: I don't care for horror movies in general, but I do have a few favorites to recommend that everybody should see regardless. They include the Steven Spielberg-produced gems Poltergeist and Gremlins as well as Spielberg's own Jaws.
I tend to enjoy horror more if there's some comedic element, so I have to add the aforementioned funny zombie film Shaun of the Dead and the genre deconstruction The Cabin in the Woods plus the sequels Gremlins 2: The New Batch, which is almost a parody of its predecessor, and A Nightmare on Elm Street 3: Dream Warriors, which is almost more like a superhero movie.
Then there are the very accessible and essential classics like Stanley Kubrick's The Shining, Alfred Hitchcock's Psycho, Charles Laughton's The Night of the Hunter and James Whale's Frankenstein along with his even better sequel, Bride of Frankenstein. I'm also a sucker for horror that's just sci-fi with killer ETs, such as the original Alien and the original Critters.
Can you recommend some great binge bundles to rent?
How about some horror bundles? There's the Ari Aster two-pack including his debut feature, Hereditary, and his even better sophomore effort, Midsommar. If you want something less scary but still steeped in the paranormal, go for the Anton Yelchin double feature of Odd Thomas and Burying the Ex. Both are a lot of fun. So are Ghostbusters and Ghostbusters II bundled together.
And for the kids: Hotel Transylvania and Hotel Transylvania 2 are available bundled together. There's also a Howard Lovecraft movie double feature pack including Howard Lovecraft and The Frozen Kingdom and Howard Lovecraft and The Undersea Kingdom. And there's a Howard Lovecraft three-pack that also includes Howard Lovecraft and the Kingdom of Madness.
Are we celebrating any big anniversaries this week?
A lot of great movies are turning 20 years old this week, including the Ben Stiller comedy Meet the Parents, Darren Aronofsky's drug-addict drama Requiem for a Dream, Lars von Trier's Bjork-led musical Dancer in the Dark and Joel Schumacher's Vietnam War drama Tigerland. Then there's Gus Van Sant's dark comedy To Die For, starring Nicole Kidman, which turns 25.
Going back further, Martin Scorsese's comedy masterpiece After Hours, the Stephen King werewolf movie Silver Bullet and the underrated would-be action franchise starter Remo Williams: The Adventure Begins all turn 35. The Goldie Hawn-led army comedy Private Benjamin and Akira Kurosawa's Oscar-nominated war movie Kagemusha are both turning 40.
Older classics celebrating include the Michelangelo biopic The Agony and Ecstasy, which turns 55, Kubrick's Spartacus, which turns 60, the musical Oklahoma!, which turns 65, Abbott and Costello in Hollywood and Billy Wilder's The Lost Weekend, which both turn 75, Down Argentine Way, which turns 80, the best film version of Shakespeare's A Midsummer Night's Dream, which turns 85, and the John Ford comedy Up the River, which turns 90.
More recent releases with anniversaries include the wonderful Aardman animated feature Wallace & Gromit: The Curse of the Were-Rabbit and the George Clooney-helmed historical drama Good Night, and Good Luck, which both turn 15. The Oscar-winning documentary Inside Job and historical horse race drama Secretariat both turn 10 and Steve Jobs is already five years old.
Which must-see movies are coming soon to FandangoNOW?
Two very different David vs. Goliath movies arrive on October 16. The first is the dark comedy The Devil Has a Name, which co-stars and is directed by Edward James Olmos and is based on a true story of an oil company butting heads with farmers whose land they've poisoned. The ensemble cast also includes Kate Bosworth, David Strathairn, Martin Sheen and Alfred Molina.
Then there's the romantic horror-comedy adventure flick Love and Monsters starring The Maze Runner's Dylan O'Brien fighting, you guessed it: giant monsters. Following an apocalyptic event where the titular creatures take over the world and humans retreat underground, a young man (O'Brien) decides to embark on a dangerous quest to find the woman he loves.
What are the 10 most popular new movies on FandangoNOW?

1. Antebellum
2. Ava
4. Alone
3. Bill & Ted Face the Music
5. Then Came You
5. The Secret: Dare to Dream
7. Welcome to Sudden Death
8. Death of Me
9. The Tax Collector
10. The King of Staten Island