Want to know what's coming soon to digital and what to watch right now on FandangoNOW? Here is your weekly guide to the latest releases: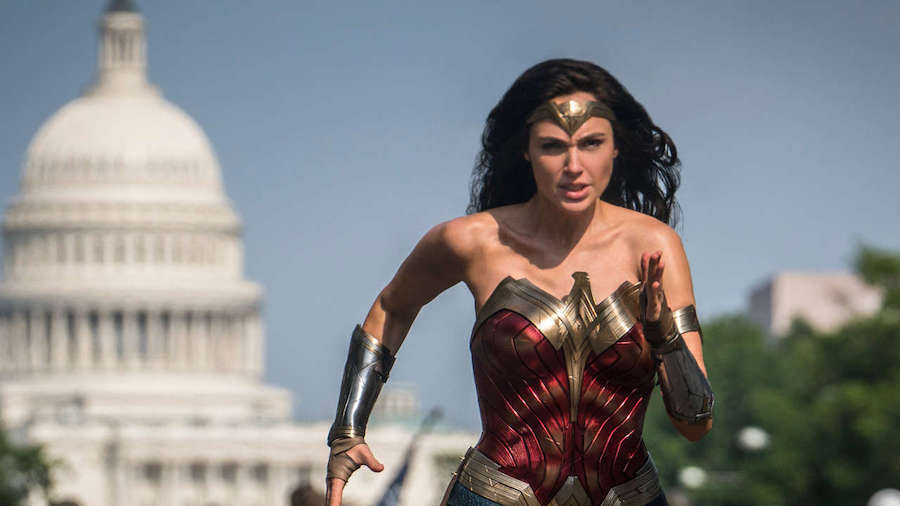 What are the latest new releases to watch right now?
Wonder Woman 1984, the blockbuster sequel starring Gal Gadot as the titular DC superhero and Kristin Wiig as her archnemesis, Cheetah, is now available only as a digital rental. Set in the mid-1980s, the action movie follows the future Justice League member as she also goes up against greedy, over-the-top oil tycoon Max Lord (Pedro Pascal) when he turns the world upside down by granting unlimited wishes. Chris Pine co-stars, reprising his role as Wonder Woman's one true love, Steve Trevor.
Also new to digital, for rental or purchase, is the fantastical action-horror movie Monster Hunter. Based on the video game series of the same name, this visual-effects spectacular again pairs director Paul W.S. Anderson with his wife and Resident Evil franchise star Milla Jovovich. She plays a U.S. Army ranger who finds herself transported to a world filled with giant deadly creatures, a humanoid cat man, ships that sail the desert, Tony Jaa as a badass warrior and Ron Perlman (Hellboy) in a bushy blonde wig.
What movies are great to pair with those new releases?
Obviously, you want to pair Wonder Woman 1984 with the original Wonder Woman from 2017, but it also goes very well with the older DC superhero sequels Batman Returns and Superman III, as well as the Jim Carrey plays God comedy Bruce Almighty. As for Monster Hunter, I recommend the Resident Evil movies, which you can pick up as a complete set of all six installments. Also, the recent romance-driven action sci-fi comedy Love and Monsters goes well its fellow new giant-creature extravaganza.
Are there any other big movies coming out this week?
Based on the true story of an internet-based drug kingpin and the law enforcement agents who brought him down, Silk Road is coming to digital this Friday, February 19th. Nick Robinson (Jurassic World) stars in the biographical crime drama as Ross Ulbricht, founder of the titular dark web marketplace for buying illegal items. Jason Clarke (Zero Dark Thirty) is the one to watch, though, as an old-school DEA agent who manages to break down Ulbricht's defenses and leave him wide open for his downfall.
What are some great Black History movies to rent this week?
February is Black History Month, so I'd like to recommend some favorite films depicting important stories involving African-American achievements. Spike Lee's Malcolm X and Ava DuVernay's Selma offer brilliant biographical portraits of 1960s Civil Rights leaders, while Hidden Figures spotlights a trio of little-known Black women who were instrumental to NASA's space program that same decade. And for sports lovers, Michael Mann's Ali stars Will Smith as the titular boxing champ through the '60s and '70s.
Great historical dramas set a century prior include Steven Spielberg's Amistad, about a slave ship revolt, the Civil War movie Glory, about Black soldiers fighting for the Union, and the heroic abolitionist biopics 12 Years a Slave and Harriet, about Solomon Northup and Harriet Tubman, respectively. If you want a perfect Black History triple feature, check out the Chadwick Boseman trio of 42, about Jackie Robinson, Get On Up, about James Brown, and Marshall, about Supreme Court Justice Thurgood Marshall.
There are also plenty of terrific documentaries celebrating Black History, including Stanley Nelson's The Black Panthers: Vanguard of the Revolution, History Channel's Black Patriots: Heroes of the Revolution and the Ferguson protest chronicle Whose Streets?, as well as the biographical features Toni Morrison: The Pieces I Am, Grace Jones: Blood and Bami, Free Angela and All Political Prisoners and the Oscar-nominated films I Am Not Your Negro and King: A Filmed Record…Montgomery to Memphis.
Can you recommend some great movie deals on Vudu?
Speaking of 12 Years a Slave, this week's Actor's Spotlight deals at Vudu include movies starring Chiwetel Ejiofor and Benedict Cumberbatch, both stars of that Best Picture-winner as well as Marvel's Doctor Strange. Movies featuring Frances McDormand, who could be looking at her third Oscar very soon, are also on sale. Make a double feature of her current two Oscar-winning roles, in Fargo and Three Billboards Outside of Ebbing, Missouri. Or binge her Coen brothers films, starting with Blood Simple.
For this week's Vudu Mix & Match deal, the theme is cinematic underdogs. You can pair Rocky with Creed. Or make a double feature of the first Bad News Bears and the first Major League. You'll love the under-seen female-led gems Wild Rose and Fighting with My Family, too. And for the kids, you can pair the original installments of the Kung-Fu Panda and How to Train Your Dragon franchises. My top recommendation, though, is the double shot of duos involved in swindles with The Sting and First Cow.
Are we celebrating any big movie anniversaries this week?
The Best Picture-winner The Silence of the Lambs turns 30 years old this week, along with the John Goodman comedy King Ralph. The Goldie Hawn football movie Wildcats turns 35 while the spy comedy The Silencers, the Marlon Brando movie The Chase and Disney's The Ugly Dachshund all turn 55 and the classic musical Carousel turns 65. More-recent movies with anniversaries include Muppet Treasure Island and the Adam Sandler sports comedy Happy Gilmore, both of which turn 25.
Can you recommend some great binge bundles to rent or buy?
If you're looking to watch The Silence of the Lambs for its anniversary, you can buy that and the sequel Hannibal in a two-film collection for under $10. And if you're going to pick up the original Wonder Woman, you can do so in a two-film collection with Batman v Superman: Dawn of Justice or in a three-film bundle with Justice League and Aquaman for under $20. There's also a new binge bundle featuring the biopic Mapplethorpe paired with Ondi Timoner's Director's Cut of the film, to rent or buy, and compare.
Which must-see movies are coming soon to FandangoNOW and Vudu?
Fresh off its award-winning film festival run and limited theatrical release, Mona Fastvold's The World to Come is due to arrive on digital next month, on March 2nd. The drama is set in rural American in the 19th century and follows the forbidden romance of two farmer's wives, played by Katherine Waterston (Fantastic Beasts and Where to Find Them) and Vanessa Kirby (Fast & Furious Presents: Hobbs & Shaw). Casey Affleck and Christopher Abbot co-star as their respective husbands.
What are the 10 most popular new movies on FandangoNOW?

1. The Croods: A New Age
2. Wonder Woman 1984
3. Greenland
4. Barb & Star Go to Vista Del Mar
5. Willy's Wonderland
6. News of the World
7. Let Him Go
8. Promising Young Woman
9. Freaky
10. Fatale

What are the 10 most popular movies on Vudu?
1. The Croods: A New Age
2. Wonder Woman 1984
3. Greenland
4. Willy's Wonderland
5. Freaky
6. Love and Monsters
7. Let Him Go
8. Barb & Star Go to Vista Del Mar
9. News of the World
10. Promising Young Woman