Want to know what's coming soon to digital and what to watch right now on FandangoNOW and Vudu? Here is your weekly guide to the latest releases: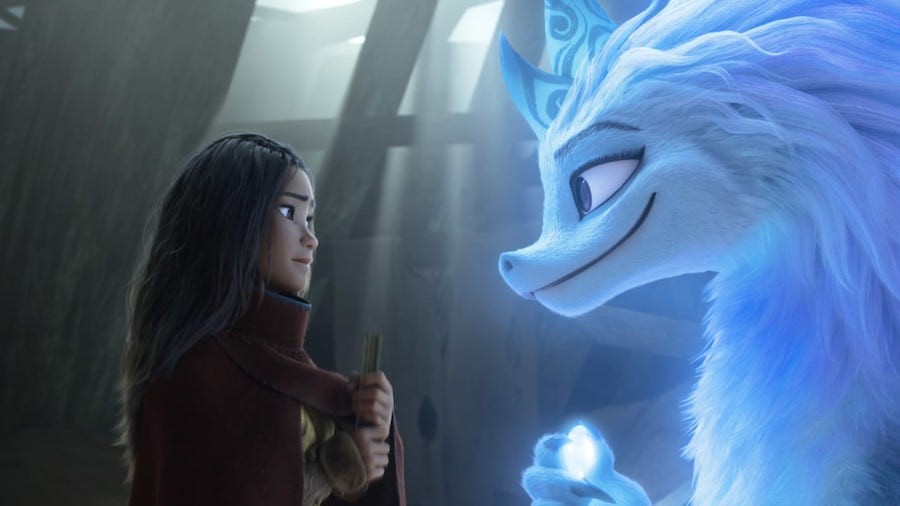 What are the latest new releases to watch right now?
Disney's latest animated feature, Raya and the Last Dragon, is now available to purchase digitally on FandangoNOW and Vudu. The hilarious and visually breathtaking movie follows the action-packed adventure of a warrior princess (voiced by Kelly Marie Tran) who teams up with a wacky dragon (Awkwafina) to save their world from an evil entity that is turning everyone into stone. When you buy Raya and the Last Dragon, you also get a bunch of extras, including deleted scenes, outtakes, features about how it was made, the animated short film Us Again and more.
Direct from its theatrical release, Chaos Walking is also now available digitally from FandangoNOW and Vudu for the first time, as a premium VOD rental. The sci-fi action movie — directed by Doug Liman (The Bourne Identity) and based on the best-selling dystopian YA novel The Knife of Never Letting Go — pairs Spider-Man actor Tom Holland and Star Wars actress Daisy Ridley in a future-set story of survival in a time and a world where men's thoughts are exposed and women are extinct. That is, until Ridley's mysterious female character crash lands on the planet.
You can also now rent or buy the new comedy that everyone's talking about — Barb & Star Go to Vista Del Mar — from FandangoNOW and Vudu. Written by Kristen Wiig and Annie Mumolo, who last collaborated on the Oscar-nominated script for Bridesmaids a decade ago, the very silly comedy also stars the duo as the titular sheltered Midwest ladies, who decide to go on a beach vacation and find more adventure than they've bargained for. Watch out for Jamie Dornan (Fifty Shades of Grey), who unexpectedly steals the movie as a lovelorn villain's henchman.
What movies are great to pair with those new releases?
Raya and the Last Dragon pairs well with a number of other modern-era Disney animated features, including the similarly plotted and culturally rich Moana, the progressively magical fairy tale sequel Frozen II, the diverse-landscape-oriented Zootopia and the martial-arts heavy Mulan (you could also pair it with the new live-action version). If you want to go beyond the borders of Disney movies and even outside of animation, I also think it goes very well with The NeverEnding Story with its dragon sidekick, Falkor, and its abstract evil entity, The Nothing.
For Chaos Walking, you can make a double feature with director Doug Liman's other future-set sci-fi action movie, Edge of Tomorrow. There's also the first installment of the YA-based Maze Runner franchise, which similarly introduces a mysterious female character into a world of males, or Alfonso Cuarón's dystopian sci-fi movie Children of Men, in which one pregnant woman in a time of absolute infertility is escorted through dangerous territory. And if you just want a great under-seen movie starring Tom Holland, give The Lost City of Z a shot.
There are a lot of great options for a double feature with Barb & Star Go to Vista Del Mar, from Bridesmaids, with its Wiig and Mumolo script and Wiig lead role, to the '90s thriller The Net, in which Sandra Bullock plays a woman who becomes mixed up in a conspiracy plot while on a beach vacation. But you'll probably want something just as silly, so pair it with Austin Powers: International Man of Mystery, which goes well with Barb & Star's ridiculous villain and her evil scheme, or Keanu, another crazy comedy in which two other regular folks get pulled into a wild plot.
Are we celebrating any big movie anniversaries this week?
This week marks the 40th anniversary of the Medieval adventure movie Excalibur and the Sylvester Stallone thriller Nighthawks. Other movies with anniversaries this week include the Watergate scandal drama All the President's Men, Alfred Hitchcock's Family Plot and the little league comedy The Bad News Bears, which all turn 45, and the sci-fi horror classic The Thing from Another World, the Ronald Reagan chimpanzee comedy Bedtime for Bonzo and the romantic drama A Place in the Sun, which all turn 70. Also, the Best Picture-winning biopic The Great Ziegfeld and Frank Capra's Mr. Deeds Goes to Town both turn 85.
More recent movies with anniversaries include the cult classic black comedy The Last Supper, which turns 25, the drug dealer biopic Blow and the crime thriller Along Came a Spider, which both turn 20, the Nicole Holofcener comedy Friends with Money, which turns 15, and the Saoirse Ronan action movie Hanna, the Bethany Hamilton biopic Soul Surfer, David Gordon Green's Medieval comedy Your Highness, the popular IMAX nature documentary Born to Be Wild, and the comedy remake Arthur starring Russell Brand and Greta Gerwig, which all turn 10 years old.
What are some great little league baseball movies to rent this week?
Major League Baseball kicked off its 2021 season last week, and The Bad News Bears turns 45 years old this week (see above), so I'd like to highlight some little league movies available to rent. In addition to the original Bad News Bears and its sequels, The Bad News Bears in Breaking Training and The Bad News Bears Go to Japan, there's also Richard Linklater's remake. You can also pick up the original and remake together in a bundle or buy all four in one collection. We've also got the Little League World Series drama The Perfect Game, the comedy Rookie of the Year, the Keanu Reeves sports drama Hardball and even though it is not about Little League, I'll throw The Sandlot in there, too.
Can you recommend some more great movie deals on Vudu?
This week, Vudu has a sale on 1950s movies for just $5 each, including such classics as A Place in the Sun and Bedtime for Bonzo (both are celebrating a big anniversary this week — see above). Double features I recommend include Hitchcock's James Stewart essentials Vertigo and Rear Window, Orson Welles-led films Touch of Evil and The Third Man, westerns High Noon and 3:10 to Yuma, Marilyn Monroe favorites The Seven Year Itch and There's No Business Like Show Business and Billy Wilder's William Holden masterpieces Sunset Boulevard and Stalag 17.
Vudu's Actor's Spotlight series celebrates the following performers this week: Antonio Banderas, Bryce Dallas Howard, Wesley Snipes, Connie Nielsen, Colin Farrell and Regina King. And I've got a favorite film of each to recommend: Pedro Almodóvar's Pain and Glory, for Banderas; the Disney remake Pete's Dragon, for Howard; the sci-fi action movie Demolition Man, for Snipes; the recent sci-fi thriller Sea Fever, for Nielsen; Yorgos Lanthimos' surreal comedy The Lobster, for Farrell; and Barry Jenkins' If Beale Street Could Talk, for King, who won her Oscar for the film.
What are the 10 most popular new movies on FandangoNOW?

1. Raya and the Last Dragon
2. Wonder Woman 1984
3. The Little Things
4. Chaos Walking
5. The SpongeBob Movie: Sponge on the Run
6. News of the World
7. Boogie
8. The Father
9. Every Breath You Take
10. The Vault

What are the 10 most popular movies on Vudu?
1. Raya and the Last Dragon
2. Wonder Woman 1984
3. Willy's Wonderland
4. Chaos Walking
5. The Little Things
6. News of the World
7. The Croods: A New Age
8. Freaky
9. Monster Hunter
10. Soul