Want to know what's coming soon to digital and what to watch right now on FandangoNOW and Vudu? Here is your weekly guide to the latest releases: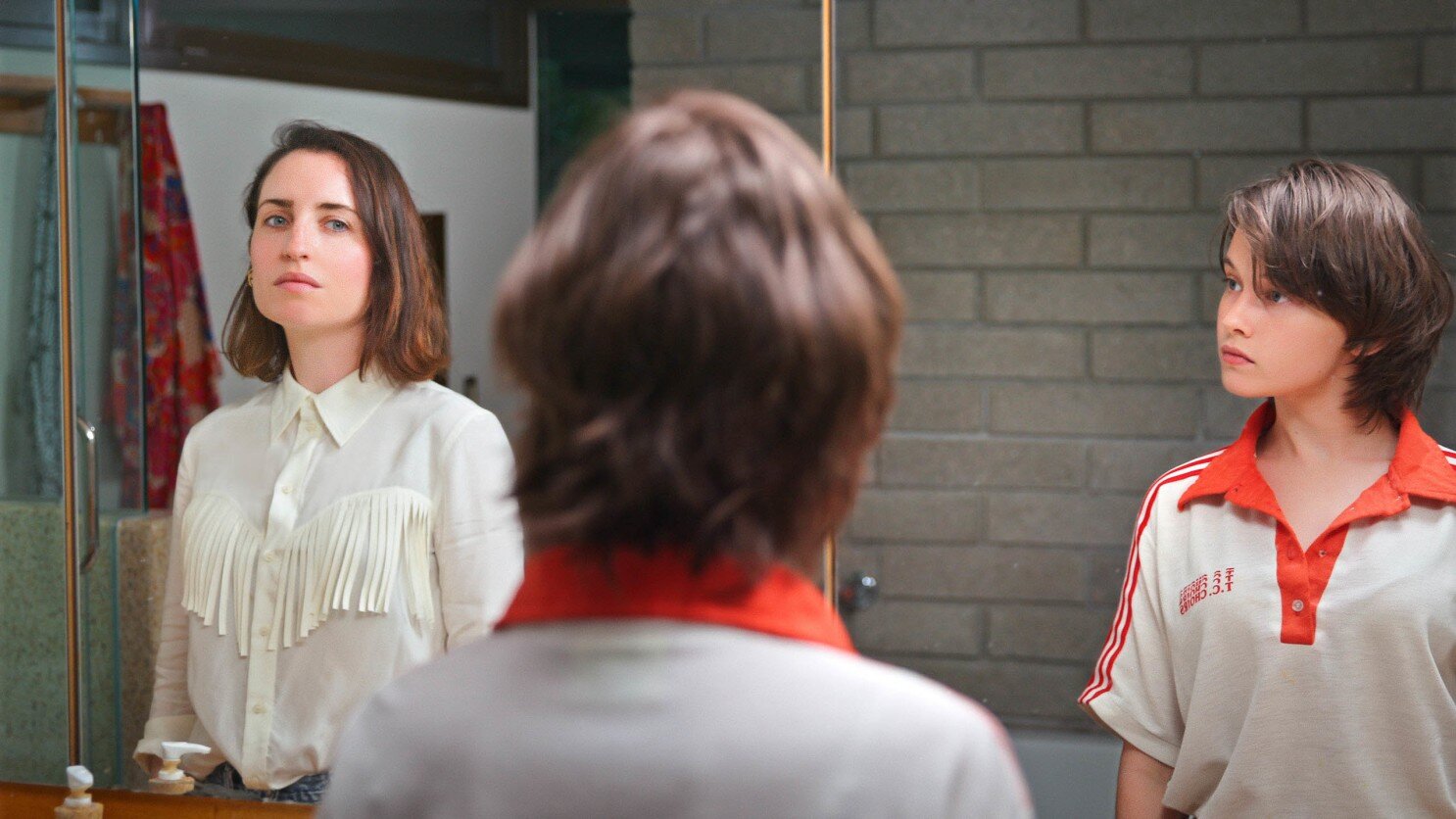 What are the latest new releases to watch right now?
Following its film festival run, the latest quirky independent feature from married filmmakers Zoe Lister-Jones and Daryl Wein (Lola Upwards) is now available to rent on FandangoNOW and Vudu. Titled How It Ends, the new comedy also stars Lister-Jones as a woman attempting to get to a party and reconnect with estranged friends and family before the world ends.
Along the way, she's accompanied by her younger self (Cailee Spaeny) as she encounters numerous obstacles and meets amusing characters played by the likes of Olivia Wilde, Nick Kroll, Whitney Cummings, Paul Scheer, Helen Hunt, Fred Armisen and three regulars from It's Always Sunny in Philadelphia: Charlie Day, Glenn Howerton and Mary Elizabeth Ellis.
Other new releases available now to rent or purchase include a few acclaimed documentaries. Rita Moreno: Just a Girl Who Decided to Go for It (on FandangoNOW and Vudu), which like How It Ends premiered at Sundance, is a biographical film profiling the titular Oscar-winning Puerto Rican actress. Victor Kossakovsky's stunning, award-winning Gunda (on FandangoNOW and Vudu) lovingly spotlights farm animals in gorgeous black and white. And if you want another animal doc, there's The Loneliest Whale: The Search for 52 (on FandangoNOW and Vudu).
What movies are great to pair with those new releases?
If you're not familiar with the work of Lister-Jones and Wein — or even if you are already a fan — and want to pair How It Ends with their past collaborations, you should pick up Lola Versus, which they co-wrote together. Wein directed the rom-com and Lister-Jones co-stars,while Greta Gerwig leads as the title character and The Suicide Squad's Joel Kinnaman plays the love interest.
Lister-Jones also wrote, directed and stars in Band Aid (currently on sale on Vudu), which Wein produced, and she co-wrote, produced and stars in Consumed (currently free on Vudu), which Wein directed. They both produced the Wein-helmed comedy White Rabbit. Also, though Wein isn't involved, there's last year's teen horror sequel The Craft: Legacy, which Lister-Jones directed and which stars her How It Ends younger self, Cailee Spaeny.
You should pair the new Rita Moreno documentary with movies featuring the actress, such as the classic musicals West Side Story, The King and I and Singin' in the Rain. Or you can pick the comedy The Ritz, the boxing drama The Ring, the biographical adventure film Seven Cities of Gold and the detective film Marlowe. With Gunda, I recommend Kossakovsky's previous breathtaking doc, Aquarela. And with The Loneliest Whale, I recommend the Leonardo DiCaprio-produced vaquita doc Sea of Shadows.
Are there any other big movies coming out this week?
Coming to digital later this week are a few of this year's biggest sequels. First up, The Forever Purge will be available to rent as a Home Premiere title on FandangoNOW and Vudu starting Thursday, July 22. The movie continues the popular Purge film and television franchise, which depicts what would happen if all crime, including murder, were permitted one whole day each year.
In this future-set installment, though, the "Great Experiment" known as the Purge keeps on going after the intended twenty-four hours. Scripted again by The Purge creator James DeMonaco, it marks the feature directorial debut of Everardo Valerio Gout (Luke Cage) and stars Ana de la Reguera (Nacho Libre), Josh Lucas (Ford v. Ferrari), Will Patton (Armageddon) and Tenoch Huerta.
Also for the horror fans, the latest installment of the Conjuring Universe will be available to rent or purchase digitally via FandangoNOW (pre-order here) and Vudu (pre-order here) this Friday, July 23. The main-franchise sequel, titled The Conjuring: The Devil Made Me Do It, brings back Patrick Wilson and Vera Farmiga as real-life paranormal investigators Ed and Lorraine Warren. This one is about a man who claims, in his defense, that he had been possessed by a demon when he killed his landlord.
Also beginning this Friday, The Hitman's Wife's Bodyguard will be available to purchase digitally on FandangoNOW (pre-order here) and Vudu (pre-order here). The action-comedy, a follow-up to the 2017 movie The Hitman's Bodyguard, again stars Deadpool's Ryan Reynolds as the titular bodyguard and Samuel L. Jackson as the titular hitman with Salma Hayek returning as the now-titular hitman's wife. Antonio Banderas joins them as the new villain, a Greek shipping tycoon and terrorist.
Additionally, one of the most talked-about movies of the year, Janicza Bravo's Zola, releases digitally Friday on FandangoNOW and Vudu. The award-winning indie sensation is adapted from a Twitter thread — yes, that's right — about two women taking a wild road trip. Then there's Midnight in the Switchgrass, a new mystery thriller also coming out Friday. It stars two of the most popular VOD stars of late, Megan Fox (Till Death) and Bruce Willis (Out of Death), who play FBI agents who wind up investigating the case of the real-life "Truck Stop Killer."
What are some great inspirational sports movies to buy this week?
With the delayed 2020 Olympics finally beginning in Tokyo this Friday, now is a great time to watch inspiring sports movies to pump you up for the Summer Games. Fortunately, Vudu currently has a spotlight on that very kind of movie, some of them even involving the Olympics in their stories. Like Race, the Jesse Owens biopic centered around the 1936 Summer Olympics hosted by the Nazis, and Angelina Jolie's Unbroken, a biopic about Olympian Louis Zamperini becoming a POW during World War II.
Those two movies about runners would make a nice double fea-ture given their relevance to World War II, actually. Best Picture-winner Chariots of Fire would also go well with Race since it deals with real Olympic runners and prejudice just one decade earlier. And Victory pairs well with Unbroken since it's about soccer player POWs during World War II. You could also obviously pair, and compare, the two late '90s Steve Prefontaine biopics: Prefontaine starring Jared Leto and Without Limits starring Billy Crudup.
You could also check out a double feature of Jim Thorpe: All American, about the titular track star and the stripping of his Olympic medals for not being an amateur, and Personal Best, about real-life American track stars who missed their chance at the Olympics in 1980. How about something involving a different sport? There's the Olympic gymnast biopic Nadia, about Nadia Comaneci, and the fictional and somewhat raunchy Olympic gymnast comedy The Bronze.
And if you want true stories without the dramatic portrayals, I recommend the Olympics-focused documentaries I Am Bolt, about Jamaican sprinter Usain Bolt, and The Other Dream Team, about the Lithuanian basketball team. Here's another essential pair of nonfiction films that don't involve the Olympics but are part of the spotlight and sale: Jimmy Chin and Elizabeth Chai Vasarhelyi's mountain climbing films Meru and Free Solo, the latter of which won the Oscar for best documentary feature.
Are we celebrating any big movie or TV anniversaries this week?
This week marks the 20th anniversary of the theatrical release of the comic book adaptation Ghost World, which stars Thora Birch and Scarlett Johansson as teenage outsiders in the months fol-lowing their high school graduation. The Friday the 13th sequel Jason X, the musical Hedwig and the Angry Inch, the Julia Roberts rom-com America's Sweethearts and Hayao Miyazaki's Oscar-winning animated feature Spirited Away also turn 20.
Meanwhile, the John Grisham adaptation A Time to Kill and Peter Jackson's The Frighteners, starring Michael J. Fox, both turn 25. The sequel Bill & Ted's Bogus Journey, the Studio Ghibli animated feature Only Yesterday and the queer cinema landmark My Own Private Idaho all turn 30. And Stephen King's murderous machines movie Maximum Overdrive and Mike Nichols' Heartburn, starring Meryl Streep and Jack Nicholson, both turn 35.
Going back further, the werewolf horror movie Wolfen turns 40 years old this week, along with the Donald Sutherland spy movie Eye of the Needle and John Derek's Tarzan, the Ape Man. Also, the Dolemite sequel The Human Tornado and the final John Wayne movie, The Shootist, both turn 45; the Roger Corman biker movie The Wild Angels, starring Peter Fonda, turns 55; the musical Show Boat turns 70; Douglas Sirk's A Scandal in Paris and the family film Courage of Lassie, starring Elizabeth Taylor, turn 75; and the Bette Davis classic Satan Met a Lady turns 85.
More recent titles with anniversaries include Kevin Smith's sequel Clerks II, M. Night Shyamalan's Lady in the Water, the Uma Thurman superhero movie My Super Ex-Girlfriend and the 3D animated feature Monster House, which all turn 15. Also, Captain America: The First Avenger, Friends with Benefits, the haunting documentary There's Something Wrong with Aunt Diane and Another Earth were all released 10 years ago. Plus, Star Trek Beyond, the animated sequel Ice Age: Collision Course, Shin Godzilla, the zombie flick Train to Busan and the first season of the Phoebe Waller-Bridge series Fleabag are already 5 years old!
Can you recommend some more great movie deals on Vudu?
In addition to Vudu having a sale on inspiring sports movies, they also have a sale on martial arts movies, which spotlight a lot of in-spiring athletics of their own. Personally, I love Jackie Chan and so recommend the deals on Supercop, Project A, Shinjuku Incident, Operation Condor, The Forbidden Kingdom and Shanghai Noon and its sequel, Shanghai Knights. Also, you need the Bruce Lee movies Enter the Dragon and The Big Boss and the two-movie bundle of The Raid and its sequel, The Raid 2.
Perfect for the summer season, Vudu also has a sale on beach movies, including the iconic Jaws (and its sequels) and the new comedy Barb & Star Go to Vista Del Mar. I also recommend Cast Away, Disney's Lilo & Stitch, the Alfred Hitchcock classic To Catch a Thief, the musical South Pacific, and Danny Boyle's The Beach, plus the Frankie and Annette vehicle Beach Blanket Bingo paired with their nostalgic comedy Back to the Beach, and the Harmony Korine duo of Spring Breakers and The Beach Bum.
What are the 10 most popular new movies on FandangoNOW?
This week's charts are topped by the newly released sci-fi horror sequel A Quiet Place Part II and include two newcomers: Out of Death, a crime thriller starring Bruce Willis and Jaime King; and the horror movie Separation, starring Brian Cox, Rupert Friend and child actress Violet McGraw, who plays a little girl who thinks she's being comforted, rather than haunted, by her dead mother.
1. A Quiet Place Part II
2. Wrath of Man
3. Mortal Kombat
4. Cruella
5. The House Next Door: Meet the Blacks 2
6. Out of Death
7. Spirit Untamed
8. Nobody
9. Godzilla vs. Kong
10. Spiral: From the Book of Saw
What are the 10 most popular movies on Vudu?
1. A Quiet Place Part II
2. Wrath of Man
3. Godzilla vs. Kong
4. Mortal Kombat
5. Nobody
6. Spiral: From the Book of Saw
7. Cruella
8. Out of Death
9. Till Death
10. Separation