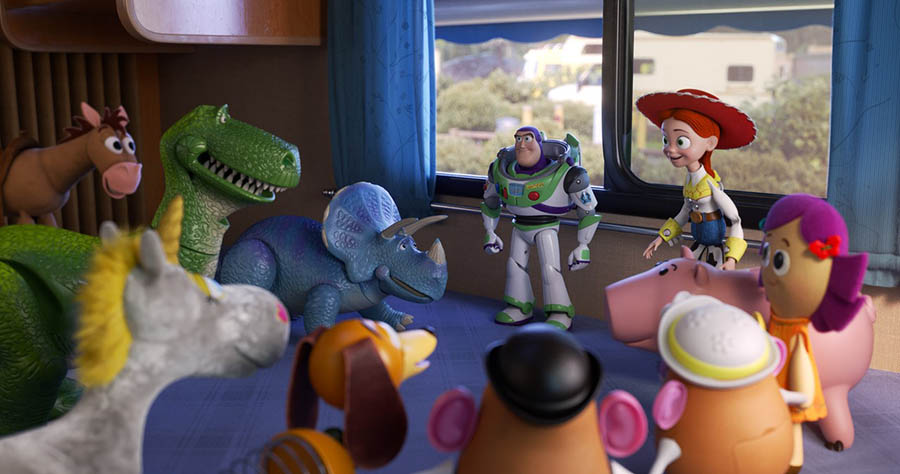 When Pixar's Toy Story 4 opens this June, the big screen will welcome back old favorites like so much tear-soaked nostalgia. Woody (Tom Hanks), Buzz (Tim Allen), Jessie (Joan Cusack), Trixie (Kristen Schaal), Hamm (John Ratzenberger), Mrs. Potato Head (Estelle Harris) and Mr. Potato Head, complete with voice work from the late Don Rickles recorded prior to his passing, are all right where we left them, playing to infinity and beyond in Bonnie's bedroom.
But while this reunion may have all the makings of a cinematic group hug, there is little time to bask in the glad glow of good times before a barrel of monkey wrenches is thrown into the mix. Like any Toy Story film worth its plastic, there is change on the horizon and the challenges thereof. From characters to themes to technology, everything old is new again, and everything new is, well, even newer.
I attended an early press day at Pixar Studios to learn all about it.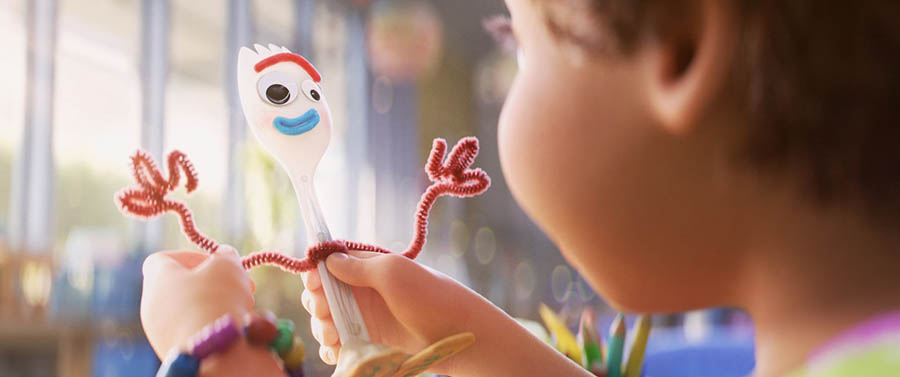 New Characters
Like any kindergarten student on their first day of school, Bonnie made a friend - literally. Forky (Tony Hale) is the most brilliant of all disposable utensils, a spork, brought to life with glue, love and a generous drop of confusion. Forky quickly becomes Bonnie's it toy, torn between a world of wonder and the lure of the wastebasket.
Another new character isn't really new at all, but rather the long-awaited return of Bo Peep (Annie Potts), who, according to an exchange between Woody and Rex (Wallace Shawn) in Toy Story 3, was lost "along the way." We haven't seen Bo since Toy Story 2, and she's got a story to tell - and also, new friends.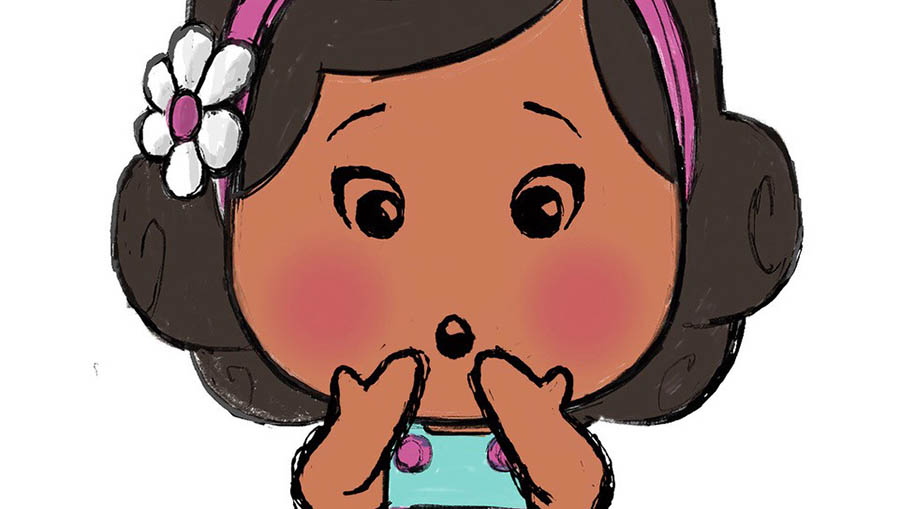 Officer Giggle McDimples (Ally Maki) is Bo's best friend and confidant. She loves a good shoulder.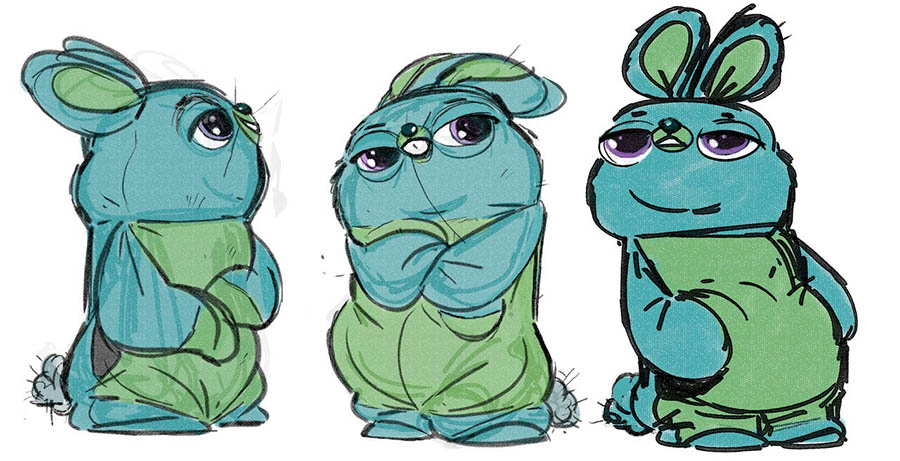 Speaking of best friends, Bunny (Jordan Peele) and Ducky (Keegan-Michael Key) are a couple of plush animals who spend their time hanging out on the prize wall and wishing kids were better at carnival games.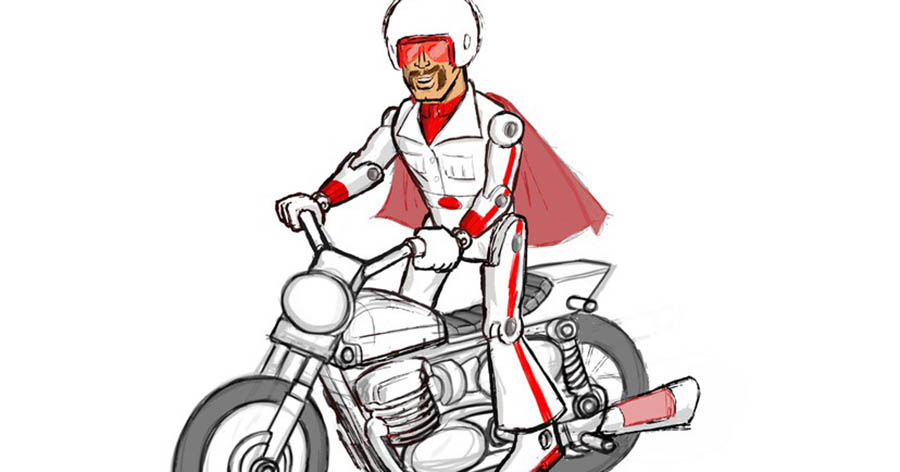 Duke Caboom (Keanu Reeves) is Canada's greatest stuntman and daredevil. He also made a cameo appearance in Incredibles 2, presumably risking life and limb in the harsh confines of Jack-Jack's crib.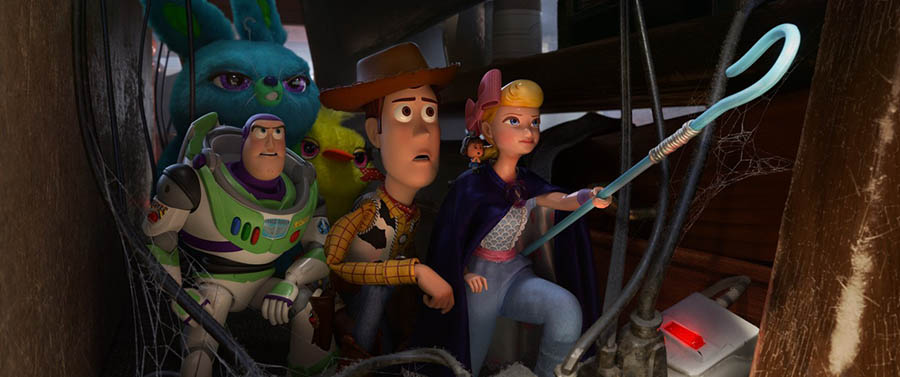 New Themes
Themes are a funny thing, because a good chunk of storytelling is dependent upon the interpretation of the audience; however, in the limited footage of the film (about 30 minutes) that the press was shown, it is obvious that Bo Peep's journey of self-awareness and reliance is a big one, for her and Woody.
Additionally, many of the new characters we meet are old toys, childless and left to time. This, more than anything, seems a natural progression in the Toy Story franchise, the child's plaything equivalent to empty nesters or those finding themselves forced to early (relatively) retirement. The question is, does one accept a life of melancholy peers, tied to the world by only a string of glory days, or rather forge a new path of opportunity and fulfillment? It's yet another very human hurdle that the characters face, just as we all must, except they don't have to deal with insurance.
Conversely, Forky provides life anew. He is experiencing everything for the first time: awareness, friends and the love of a child, allowing us to see the world through freshly glued eyes. It is an introductory experience, exploring the multitudes of chance, that only a spork is equipped to handle.

New Technology
There are many beautiful, deep and interesting scenes in Toy Story 4, but the two elements that jumped out most during our limited viewing were rain and cobwebs.
You may recall a fairly dramatic scene in the original Toy Story, that involved a mood-setting stream of raindrops running down the window. That was done due to the difficulty of making rain look the way that Pixar felt it should. Rather than show rain outside, they let the window pane frame the weather. Needless to say, through new technology used in Toy Story 4, Pixar has found a way to unleash buckets. It's raining. It's pouring. And you believe it.
One of the main locations in the film is an antique shop, filled with knickknacks, time and the forgotten. Spiders love stuff like that. In an effort to make realistic spiderwebs (and the placement thereof), Pixar created a bunch of little spiders that did the work of their real world inspiration, spinning webs in all the right places. Note, no spiders were harmed in the creation of this movie.
Overall, Toy Story 4 promises to be a sweeping tale of incredible detail and big ideas, the new and the old, and all that entails. It's life to scale, and that feels like a great place for playing.