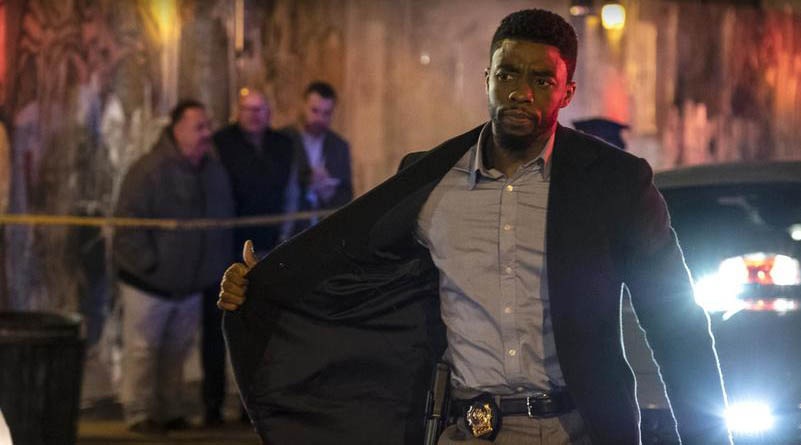 Chadwick Boseman is back on the big screen in 21 Bridges playing an embattled NYPD detective who is thrust into a citywide manhunt for a pair of cop killers after uncovering a massive and unexpected conspiracy. It's a different kind of role for Boseman, whose range and versatility is always front and center in his films. Whether he's portraying a historical figure in 42 and Get on Up or protecting the fictional country of Wakanda from space invaders in Black Panther, Boseman is known for his dedication to the art and craft of storytelling, no matter the genre.
For 21 Bridges, the actor is taking on another role, in addition to that of the lead — he is also one of the film's producers. He sat down with Fandango to share his thoughts on 21 Bridges and its balance of form and substance timed to the debut of the film's final trailer right here at Fandango.
Check out the exclusive trailer below, then keep reading as we talk with Boseman about the difference in training for a police thriller versus a superhero movie, as well as what it was like to work with the Russo brothers as producers, instead of directors. Plus, there may be a little tease of Black Panther 2 in there, too.
Fandango: 21 Bridges is a different type of action film than the ones audiences are most used to seeing you in. So, how is doing a police thriller different for you as an actor, in terms of the type of action required from you or your approach to the character?
Chadwick Boseman: It's a little bit more grounded in reality, of course. It's completely grounded in reality. I'm not scaling buildings and I'm not jumping 30 feet in the air and coming down like an earthquake. None of that is happening. And no martial arts, none of that.
Fandango: And no green screens.
Chadwick Boseman: And no green screen, absolutely no green screen. So yeah, it brought things down to a place where I didn't have to train every day and I could just concentrate on who this guy was.
But, there's still the skill set, obviously. I still had to do some gun training. So, I went and got a specialist with the LA City cops who did the first part of my gun training. We were shooting real rounds, live rounds, 500 rounds a day, sometimes more than that, training me with weapons before I got to Philly and New York. Then, during pre-production, I also trained with detectives from Manhattan and Brooklyn who gave me a scoop on how a New York detective would do things, and what their training was, like how they clear buildings. So, it became a physical thing, but much more cerebrally grounded in reality than Black Panther.
Fandango: Right.
Boseman: Also, a lot of running. A lot of running.
Fandango: Since you brought up the weapons training, did it change your overall perspective on guns, gun violence and gun safety?
Chadwick Boseman: I think anytime you have an intimate relationship with any type of martial activity, martial art, knives, guns, it changes your perspective on it because you develop a new respect for the weapon itself and what it could do to you or anybody around you. On one hand, I'm not a person that would typically have guns in my house or anything like that around me. But now I understand more why people do, why people might love to go to the range. Even though this thing, it has a sense of totally being out of control when you're on a gun range or when you're carrying a weapon, and it has that danger to it, it can give a person a sense of control and power. Until you hold a weapon in your hand, and you understand, "Oh, this is how you actually hit a target", you don't understand a person's point of view that has that weapon in their hand. I think I understand it more. But I still don't like guns.
Fandango: Let's switch gears again here. You've worked closely with Joe and Anthony Russo as directors, but now they are producers for 21 Bridges. How did that change or evolve your relationship? Did it limit your access to them?
Chadwick Boseman: It actually increased my access to them because I'm also a producer on this film, so there was a back and forth and communication from the beginning to the end that wouldn't exist if I were just an actor. There are conversations about the script and where it should be at different stages, from pre-production to the actual shooting script. All were things that we had very in-depth conversations and meetings about. Even sitting in the writer's room with the writer going through notes, we did all of that together. In the Marvel movies, the Russos were like football coaches who had 52 players they got to worry about. On this film, I'm one of the coaches.
Fandango: Police and crime thrillers are a favorite genre for movie audiences, especially in America. Did you have a favorite films of this genre, or character from the genre, that you took inspiration from in your performance?
Chadwick Boseman: There's not any particular character that I felt like I could draw from. But I think one of the films, that for some reason during the course of shooting this movie, I kept returning to — and I think my director too, that we both kept returning to even though we didn't know were — was Heat. When you're shooting a film, you don't want to pull from other things, but those things come to you naturally. Certain inspirational moments. Heat was one of those films. Mystic River was strangely enough another movie [we drew from], and so was Seven with Morgan Freeman and Brad Pitt. So, those are a few films that me and my team spent time — we actually did spend time just sitting and watching movies.
Fandango: Oh, yeah. That would have been fun.
Boseman: The difference is that those movies move at a much slower pace than our movie. This movie is definitely more action driven. There's still a similar intensity to Heat and Mystic River, but it's a different pace in terms of how the action unfolds.
Fandango: When I was watching the trailers, The Fugitive kept coming up in my mind and for some reason you gave me a Tommy Lee Jones kind of feel for your character.
Boseman: You're 100% right! That's the action part. It really has both a slow burn and a fast fry, you know what I'm saying? This movie sort of has both of those things going at the same time. I think this is why we got the cast that we got. That slow burn part of it is why you can get a J.K. Simmons, a Taylor Kitsch, Sienna [Miller], Stephan James to do this. It has a thing that a New York actor would love to do that sometimes you see on stage with certain playwrights like David Mamet. It has those moments in there at the same time as giving you that action.
Fandango: Speaking of action... what do you hope to see from the Black Panther franchise going forward post-Endgame? Can you give us a little tidbit on what's going to be happening next?
Chadwick Boseman: Um… (laughs).
Fandango: Or if you can't, even just what your hopes are for the franchise?
Chadwick Boseman: I don't know. I really don't know how to answer the question without giving anything away. If I didn't know anything, then I'd probably be able to answer the question easily. But since I know so much… (laughs)
Fandango: Oh, so you do know something!
Chadwick Boseman: I've got to stay away from answering lest my tongue slips.
Fandango: All right, I can totally understand that.
Chadwick Boseman: (laughing) But that in and of itself is an answer.
21 Bridges opens November 22, 2019. Sign up for a FanAlert to find out when tickets go on sale.