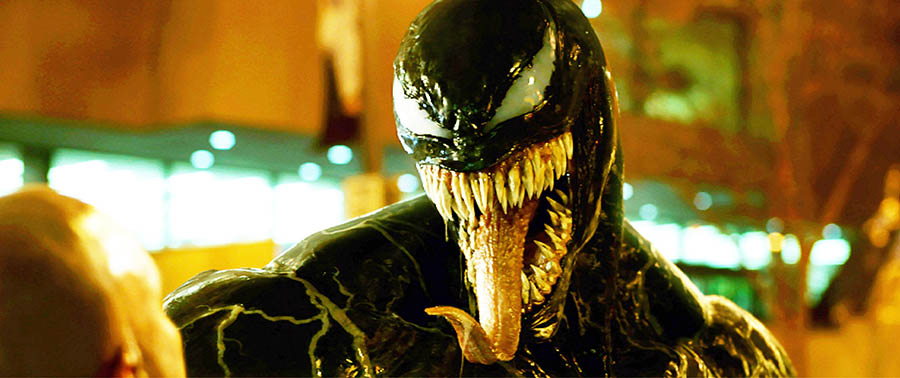 Sony has a new comic book movie franchise, and the studio didn't even need Spider-Man to make it happen - not on screen, anyway. Venom, a Marvel Comics character associated with Spidey, made his solo screen debut this past fall, and the movie has gone on to gross more than $850 million worldwide. Despite critics not liking it (28% on Rotten Tomatoes), moviegoers have been loving Venom and want more.
According to Variety, Sony is giving the fans what they desire by putting Venom 2 into development. So far, the sequel is only at the writing stage, with the studio reportedly bringing back one of the Venom writer/producers, Kelly Marcel, to work on the script. As for what we can expect from the second Venom movie, there are some big hints in the first installment, including who the villain will be and which actor is playing him.
Here's everything we know about Venom 2 so far:
Which actors will be back for the sequel?
Tom Hardy, who plays Eddie Brock, the host of the monstrous alien symbiote that turns him into Venom (also voiced by Hardy), will be back as the star of Venom 2. Michelle Williams, who plays Brock's ex-fiancee, Anne Weying, is also expected to return. There have been claims by Venom director Ruben Fleischer that Weying could also become She-Venom again in future installments.
Who is the villain this time?
As seen in a mid-credits scene at the end of Venom, the teased villain for the sequel is none other than Cletus Kasady, who becomes the host for the alien symbiote Carnage. The big difference between Kasady and Brock regarding how their symbiote forms go is that Kasady is a serial killer prior to his transformation, meaning Carnage winds up even more of a monster than Venom. Also as seen in the Venom cameo, Woody Harrelson will play Kasady/Carnage.
Who is directing the sequel?
While Ruben Fleischer would be the preferred choice to reprise his job as director, especially since he has expressed his interest in where the sequel(s) will go, Variety speculates that his work finishing another sequel, this year's upcoming Zombieland 2, could keep him from returning to helm Venom 2. There's no official word on this, however, and for the moment the position of directing the sequel is simply vacant.
Who is writing Venom 2?
Kelly Marcel, who co-wrote and was a producer on Venom, has begun writing a draft for the sequel. She will also be back as an executive producer this time around. Marcel previously wrote the adaptation of Fifty Shades of Grey and earned a BAFTA nomination as co-writer of the Disney biopic Saving Mr. Banks. She also created the Steven Spielberg-produced sci-fi TV series Terra Nova.
When does it come out?
There is currently no release date set for Venom 2, but Sony has slotted as unidentified Marvel movie for October 2020, which would be two years after the release of the first movie.