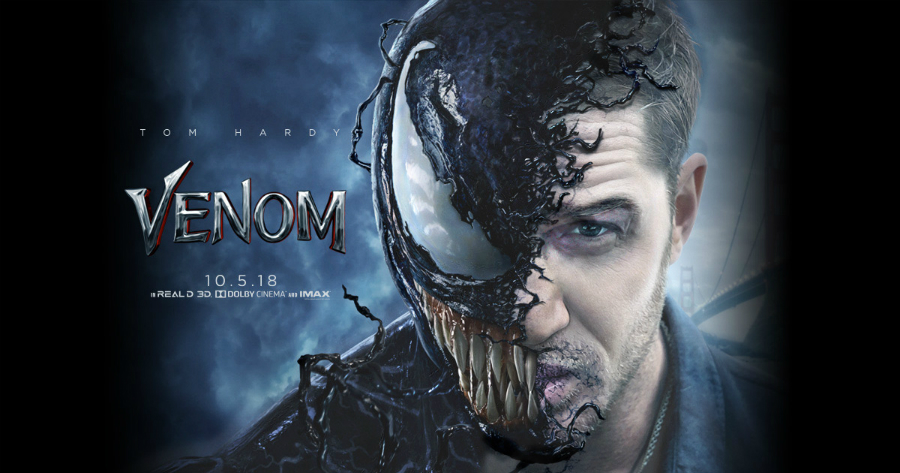 Sony is kicking off its next cinematic universe with Venom. The comic book movie, focused on the titular Spider-Man supervillain, features Tom Hardy as Eddie Brock, an investigative journalist who is taken over by an alien symbiote - a big, bad monstrous alien symbiote with a long, nasty tongue.
We are fast approaching the release of Venom, and the studio recently unleashed a new clip from the movie with Hardy as Brock still in human form as he ambushes Riz Ahmed's nefarious scientist and businessman, Dr. Carlton Drake. Watch it at the bottom of this post.
Here's all that we know about the movie so far:
What is Venom about?
Based on characters from Marvel Comics, Venom follows Eddie Brock, a crusading reporter who is not afraid to ask tough questions. Thanks to a whistleblower, he hears about some nefarious plans by the mysterious Life Foundation, headed by Carlton Drake. His investigation leads to him being taken over by an alien symbiote. Soon, he's taking direct, spectacular action against the bad guys and talking to himself on the streets of San Francisco.
Will Spider-Man be in the movie?
No, despite Venom being based on a character from the Spider-Man universe of Marvel Comics, the movie is the start of a series that's sort of Spidey-adjacent but Spidey-less called Sony's Marvel Universe. As far as we know, there will be no crossover with Sony's new Spider-Man, played by Tom Holland in Spider-Man: Homecoming and the Marvel Cinematic Universe titles.
Who will we see in Venom?
Tom Hardy stars as Eddie Brock/Venom, providing the voice of the creature as well as portraying its human counterpart. Fellow Oscar nominee Michelle Williams co-stars as Brock's girlfriend, Ann Weying, a district attorney who in the comics becomes his ex-girlfriend and also She-Venom -- though the latter is not likely to happen in this movie.
Woody Harrelson, Veep's Reid Scott, comedic actress Jenny Slate and Riz Ahmed of Rogue One: A Star Wars Story round out the cast. Slate's character has simply been described as a whistleblowing scientist, while Ahmed's part is villainous head of Life Foundation, Dr. Carlton Drake. Nothing has been revealed regarding Harrelson's role.
Who is the director of the movie?
Ruben Fleischer, the director of Zombieland and Gangster Squad, is at the helm.
Who wrote the screenplay?
The Venom script is credited to Scott Rosenberg (Con Air, Jumanji: Welcome to the Jungle), Jeff Pinker (The Amazing Spider-Man 2, Jumanji: Welcome to the Jungle) and Kelly Marcel (Saving Mr. Banks, Fifty Shades of Grey).
When does Venom come out?
October 5, 2018.
Can we see some trailers and clips?
The first, intense teaser for Venom can be found below. As Tom Hardy's voice-over narration acknowledges: "We all have our own problems ... our own issues ... our own ... demons."
And here's the first full-length Venom trailer:
And a second trailer:
And here's a clip from the movie featuring Hardy as Brock ambushing Riz Ahmed's villain: