Here are a bunch of little bites to satisfy your hunger for movie culture: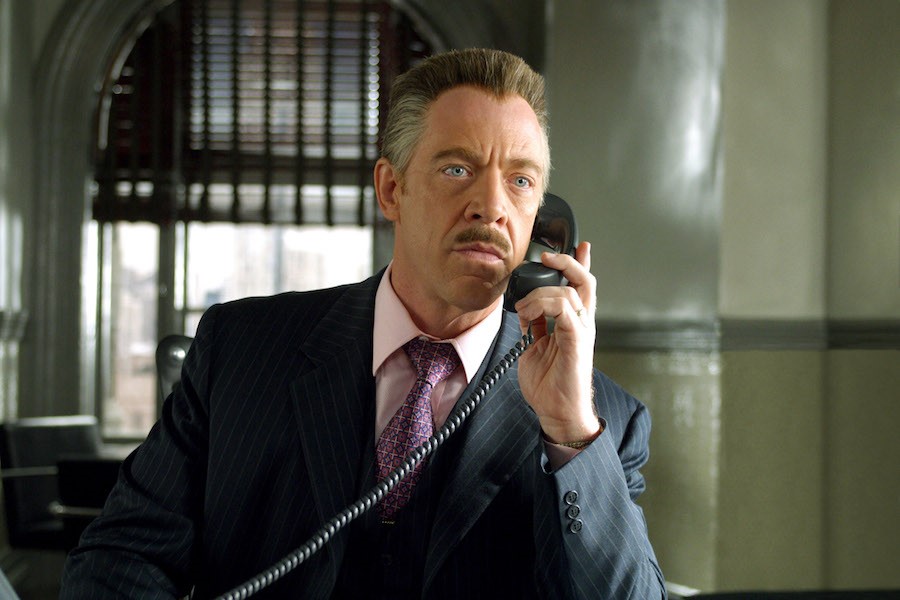 Character Reprisal of the Day:
J. Jonah Jameson hasn't made his debut in the Marvel Cinematic Universe yet, but many fans wish J.K. Simmons could just reprise the role as he played in the first Spider-Man trilogy. That might never happen, but at least here's an animation of a Simmons-voiced Jameson as he would appear in Avengers: Endgame:
What would it be like if J. Jonah Jameson was in 'Avengers: Endgame'?

J.K. Simmons reprised his 'Spider-Man' character to give us a taste.

Interview: https://t.co/4Sy0eP7PRy pic.twitter.com/pjDopf1wm7

— Lights, Camera, Pod (@LightsCameraPod) March 5, 2019
Casting Alternatives of the Day:
Brie Larson is perfect as Carol Danvers in Captain Marvel, but she wasn't always the choice to play the MCU's first solo female superhero star. IMDb's Casting Call series looks back on the early rumored, requested and shortlisted picks for the character, including Charlize Theron, Emily Blunt and Ronda Rousey:
Fan Art of the Day:
Speaking of Brie Larson, the Oscar-winning actress is still excitedly engaging with fans of her new movie. Here she is sharing some fan art by Drachea Rannak crossing the titular hero of Captain Marvel with the iconic anime character Sailor Moon. There's another piece focused on Goose the "cat," too.
This! THIS!!!! https://t.co/eFymcwxozQ

— Brie Larson (@brielarson) March 14, 2019
Alternate Poster of the Day:
Speaking of Goose, everyone is hoping to see the Captain Marvel fan favorite return in Avengers: Endgame, so much that reworked versions of the new poster for the upcoming movie have been popping up all over. Here's one from artist Mister Morris with all the human stars replaced by the adorable but deadly Flerken:
"Not the hero we need, but the hero we deserve." #GooseTheCat #AvengersEndGame Art by the legend @mistermorris55 pic.twitter.com/kDZGNR7ynH

— Thank You Stan Lee (@ForAllNerds) March 14, 2019
Trailer Parody of the Day:
While Avengers: Endgame also just released a new trailer, the movie's earlier Super Bowl spot just received the surreal "weird trailer" treatment from Aldo Jones, who adds Venom, Deadpool and Will Smith's Genie from Aladdin into the mix of the upcoming Marvel Cinematic Universe installment:
Cosplay of the Day:
He's only in Captain Marvel briefly, but Lee Pace's reprisal of his Guardians of the Galaxy character Ronan the Accuser is plenty for fans of the Kree villain. Here's one such fan sharing a photo of himself cosplaying as the baddie, complete with his Universal Weapon:
I feel super awkward sharing my cosplay with an actor and actually thought I'd never do that but I really don't know how else to express how much I appreciate your performance as Ronan and how much I love that character ??????
Photo by @squirrelgraphy pic.twitter.com/VomGLkSHLp

— Abyseñor (@Abessinier) March 10, 2019
Fan Build of the Day:
If you're still working on your own Captain Marvel inspired costume, perhaps to cosplay as the title character, you should check out this step by step DIY tutorial from Odin Makes detailing how to create your own Captain Marvel helmet, complete with mohawk:

Video Essay of the Day:
In other superhero movie fandom, Aquaman continues to ride a massive wave of popularity at the box office. How did this DC Extended Universe installment do so much better than others in the franchise? The latest Filmento video essay looks into the one important thing that saves Aquaman and elevates its appeal:
Making-of Feature of the Day:
The hit documentary Apollo 11 is expanding further into wide release this weekend, and for the occasion Neon has released a new featurette video spotlighting the making of the movie, which uses archival footage to chronicle the titular mission to the Moon:
Music Video of the Day:
Get ready for the next Disney live-action version of an animated classic with a new kaleidoscopic music video showcasing Arcade Fire's cover of the song "Baby Mine" for the Dumbo soundtrack. And for those who can't wait to make plans to see the movie, tickets just went on sale for the reimagined classic this week.