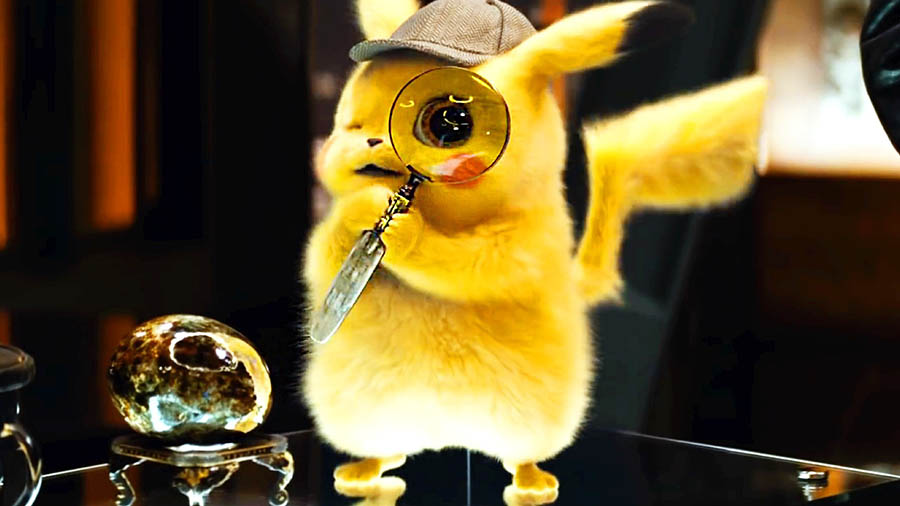 Here are a bunch of little bites to satisfy your hunger for movie culture:
Easter Eggs of the Day:
Millions of moviegoers went to see Pokémon: Detective Pikachu over the weekend, and the many fans among them were surely taking count of all the movie's included Pokémon species and other references that only they would get. For those who couldn't catch 'em all, though, here's Mr. Sunday Movies highlighting all the Pokémon, Easter eggs and more:
Franchise Recap of the Day:
Today is officially known as X-Men Day, and Disney (via 20th Century Fox) is celebrating the occasion with a look back on the last 19 years of the X-Men movie franchise, from the original X-Men in 2000 through Dark Phoenix, which comes out in theaters in less than one month. Here's a recap in the form of honoring the series' 10-title legacy:
Movie Science of the Day:
While we await the release of Dark Phoenix, let's continue to look at X-Men movies of days past. Wolverine, who is unlikely to make an appearance in the next installment, remains one of the biggest characters of the franchise. What if he existed in real life? Could anyone ever defeat him? For Because Science, here's Kyle Hill explaining how to beat the popular X-Man with science:
Movie Experts of the Day:
Speaking of people expertly commenting on X-Men movies and characters, one guy we look forward to in Dark Phoenix is Quicksilver, as portrayed by Evan Peters. There's going to have to be another iconic slow-motion scene, right? In anticipation of that, for Vanity Fair, here are slow-motion experts The Slow Mo Guys reviewing slow-motion scenes in various movies, including Quicksilver's big moment in X-Men: Days of Future Past.
Cosplay of the Day:
The most popular cosplay idea to come out of Avengers: Endgame has to be Thor's Big Lebowski-like new look. The overweight thunder god with overgrown beard is showing up at screenings, fans conventions, and wherever it is this guy is. Thor is just a regular guy in this incarnation, and if he wasn't wielding Stormbreaker, people might not get that's who this fan is:
best cosplay ever #AvengersEndgame pic.twitter.com/A5BPLqWjI3

— Christopher (@stevngrntrogers) May 13, 2019
Movie Food of the Day:
Do you like movies, fan art and food? Then join Collins Key in this messy Food Art Challenge video and learn how to make DIY creations such as Iron Man out of a watermelon and a Spider-Man pizza inspired by Avengers: Endgame plus a vegetable creation inspired by Pokémon: Detective Pikachu and more:
Actor in the Spotlight:
Avengers: Endgame, and really, the whole Marvel Cinematic Universe, wouldn't be the same without Robert Downey Jr.'s phenomenal decade-long portrayal of Tony Stark. Some are even hoping he gets an Oscar nomination for his latest MCU appearance. For now, here's another honor from Owenergy, which presents a supercut of RDJ performing a signature move throughout his career:
Supercut of the Day:
If you like supercuts, then here's another. John Wick: Chapter 3 - Parabellum arrives in theaters this week, and to help get us excited for more of Keanu Reeves in action, Movieclips has compiled an ultimate mashup of the best moments from the first John Wick and John Wick: Chapter 2:
Classic Movie Trailer of the Day:
Also in honor of this week's release of John Wick: Chapter 3 - Parabellum, let's look back at the movie that started it all nearly five years ago. Courtesy of Movieclips, here is the original trailer for John Wick, which opened in U.S. theaters on October 24, 2014:
Fan Art of the Day:
Godzilla: King of the Monsters is out in just a few weeks, and fans are spending their time waiting for the Monsterverse sequel by paying homage to Godzilla and his latest theatrical feature with awesome art work. Warner Bros. recognized this display of excitement by holding a fan art contests. See the work of the chosen winners — Tuck Yin Foong, Gus Mertha and Jireh Villafuerte —here:
Congrats to the winners of the #GodzillaMovie fan art contest! Check out their monstrous Godzilla inspired art now. Get advance tickets now: https://t.co/B3ThYbfVKe. Art by: Tuck Yin Foong, @gus_mertha & @kyouzins. pic.twitter.com/UbieIo04c8

— Godzilla: King of the Monsters (@GodzillaMovie) May 13, 2019