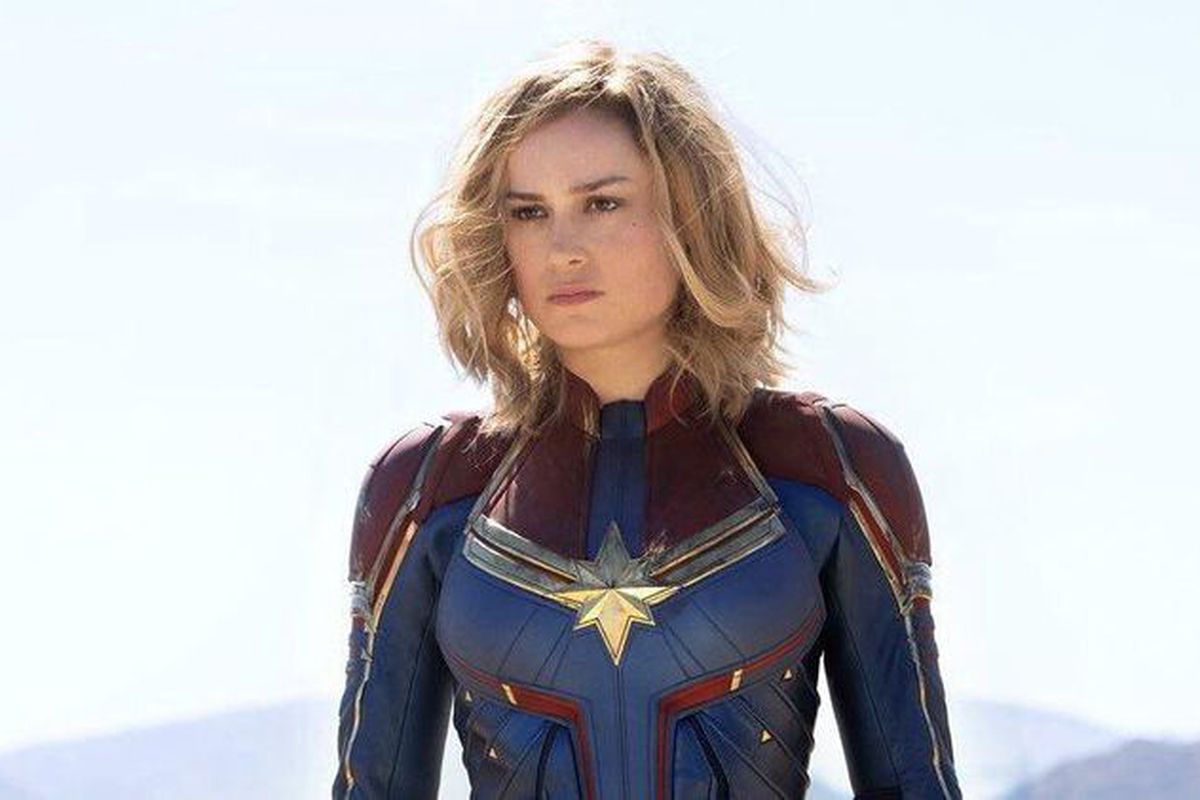 Here are a bunch of little bites to satisfy your hunger for movie culture:
Cosplay of the Day:
Let's get the week of the release of Captain Marvel started right with this little fan cosplaying as the movie's title character at the premiere last week. Representation and adorability have never gone so well together, have they?
Brie Larson at the UK Premier of #CaptainMarvel sitting on the floor in a ridiculously expensive dress to give a Young Fan an Autograph. pic.twitter.com/nhOEV7fZO1

— ERod ?? (@ERodBuster1) February 28, 2019
Retro Fad of the Day:
Get in the '90s mood ahead of this week's release of Captain Marvel with some autostereogram art, which was popular on posters and in the Magic Eye books during the decade the new Marvel Cinematic Universe installment is set in. After you figure out what the secret image is in the picture below, the Captain Marvel Twitter account has four more to try.
Who remembers these? ??‍????‍?? #TBT #CaptainMarvel(1/5) pic.twitter.com/Ty6KmrDCCv

— Captain Marvel (@captainmarvel) February 28, 2019
Fan Art of the Day:
With Captain Marvel out this weekend and Shazam! debuting a new trailer today, some fans have been pairing the two characters — aka, Marvel and DC's versions of a character called "Captain Marvel" — as friendly competitors:
@FreelancerAmber https://t.co/9QbKQFSP4x new shazam movie trailer it looks like a lot of fun and new captain marvel movie coming out I'm going to have a fun time with both. Here is some awesome fan art of the two. pic.twitter.com/gMD3BHm4gU

— DeltaPrime350 (@DeltaPrime350) March 4, 2019
Oscar-winning Song Cover of the Day:
The stars of Captain Marvel are so desperate to try to get people to see their little movie that they're promoting it through karaoke. Watch Brie Larson and Samuel L. Jackson belt out a cover of the Oscar-winning song 'Shallow" from A Star is Born while guests on The Jonathan Ross Show:
Celebrity Impersonation of the Day:
Speaking of "Shallow," can you imagine if the song had actually been written for and performed in the 1954 version of A Star is Born? Here's actress Julia Aks doing an impression of Judy Garland singing the Oscar-winning tune in a reworked style befitting the 65-year-old musical remake:
Judy Garland sings the hit song 'Shallow' from her new movie 'A Star Is Born' @ladygaga #mashup pic.twitter.com/vQYJO54x30

— J U L I A A K S (@jaksicle) March 1, 2019
Non-Oscar-winning Song Cover of the Day:
Another song from A Star is Born was recently covered by another famous person: Eddie Vedder, who worked with Bradley Cooper on the development of Cooper's singer-songwriter character, Jackson Maine. Here's Vedder's performing "Maybe It's Time" in concert at Innings Fest in Tempe, Arizona, this weekend:
Yes, Eddie Vedder did cover a Bradley Cooper/Jackson Maine song from A Star Is Born at @InningsFest pic.twitter.com/7WuJX0eDyp

— Erin Davoran (@erindavoran) March 4, 2019
Video Essay of the Day:
Speaking of Oscar winners, Vice is the latest focus for ScreenPrism's The Take, which makes the case that the Adam McKay-helmed feature (and McKay's previous effort, The Big Short) is more of a documentary of the essay film variety than a comedic biopic. Maybe it's the first essay film to earn an Academy Award for achievement in makeup and hairstyling, but the argument is sound. Watch:
Filmmaker in Focus:
Academy Award-nominated filmmaker Yorgos Lanthimos, whose latest, The Favourite, was just honored with a Best Actress Oscar for Olivia Colman, is the focus of Harrison Edgecombe's new "Eyes of…" video essay. Celebrate Lanthimos' vision with a montage of clips from Alps, Dogtooth, The Lobster, The Killing of a Sacred Deer and of course The Favourite by watching here:
Franchise Recap of the Day:
Want to see Tyler Perry's A Madea Family Funeral but don't have time to watch the other 10 Madea movies first? For Vanity Fair, here's writer/director/star Tyler Perry as Madea recapping the franchise up until this point:
Reworked Trailer of the Day:
In honor of Robert Rodriguez's latest movie, Darth Blender revisits the filmmaker's 1995 action movie, Desperado, with a modern trailer cut and soundtracked in the style of Alita: Battle Angel: