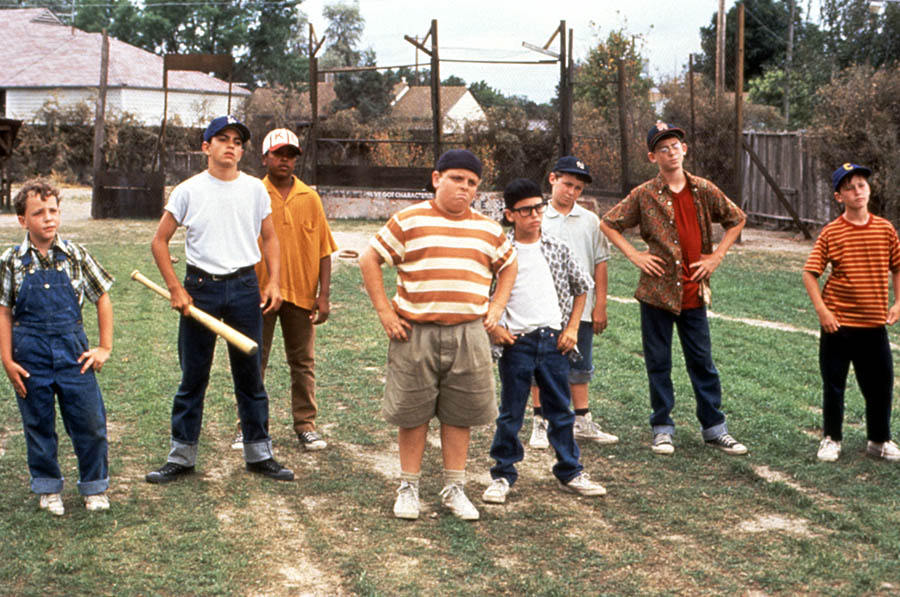 We just heard that a remake of Indecent Proposal is in development. The original romantic drama was a box office success, though its critical reputation is not exactly flattering. As it happens, two days before that film opened in 1993, a less-heralded movie about "kids playing baseball in an empty field," titled The Sandlot, hit theaters. It received mostly positive reviews, yet was only a modest success at the box office.
Still, when The Sandlot was released on home video, it found many new fans. Eventually, it became a cult favorite and inspired two direct-to-video sequels (The Sandlot 2, The Sandlot: Heading Home). Now a prequel to the beloved comedy is on its way, according to Deadline. Here's what we know so far.
What's the original story?
Set in the summer of 1962, the story follows Scott Smalls, whose family has recently arrived in a Southern California neighborhood. Yearning for acceptance, yet unable to play baseball, he becomes determined to improve his athletic skills with the help of his stepfather. Soon he is able to join the team, which then has a series of memorable comic adventures.
What made it so beloved?
As we've noted in the past: "Few films really nail the bond that forms between boys in the free hours of a school-free summer, but The Sandlot is one of them. To this day it holds up as a great example of how a wholesome film doesn't need to be cheesy and silly. Sometimes sincerity pays off, and in the case of this little film about how baseball can bring everyone together, it never grows old."
The New York Yankees expressed their love for the film by recreating a scene from it, as we detailed a few years ago.
Who wrote and directed the original?
David Mickey Evans. He also narrated the film. Before The Sandlot, he gained attention with his script for Radio Flyer; after The Sandlot, his credits include the comedy First Kid, starring Sinbad, The Sandlot 2 (featuring a new group of kids in the 1970s) and sports drama The Final Season.
What's the prequel about?
Obviously, since it's described as a prequel, it takes place sometime before 1962. Details have not been released, but Deadline says it involves "the Beast from the first iteration." It's a reference to an English Mastiff that is a very large, legendary threat in the neighborhood. The dog's origin story was told in the original film, describing a puppy that quickly grew and become an aggressive protector of a junkyard, ending up in the backyard of a neighbor's house.
Who is involved?
David Mickey Evans, again! So that's a good sign. He'll be writing the script with Austin Reynolds, a newcomer who has written several short films and directed two.
When might we see it?
It's still in the early stages of development, but chances are that we could see it in theaters as soon as 2020 or 2021, if all goes well.