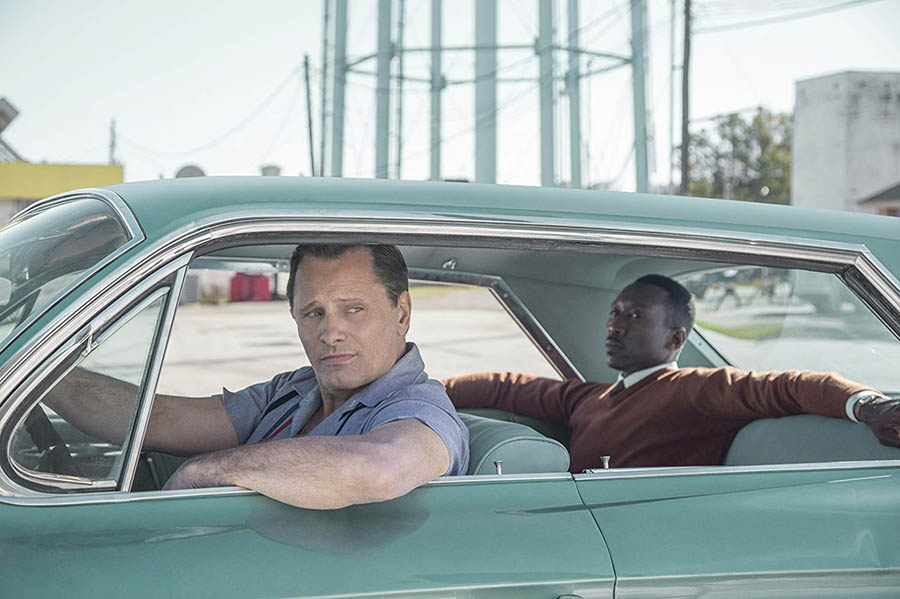 We've passed the midway point of this year's Toronto Film Festival, but the buzz continues. While our first roundup looked into most of the big titles debuting at the start of the festival, a number of other anticipated movies have premiered this week that deservedly have taken over some of the conversation, particularly when it comes to awards talk. Check out all the latest essential chatter from TIFF below.
Green Book
Rotten Tomatoes score: 100%
Flying somewhat under the radar, this period drama from just one of the Farrelly brothers (you know, the Dumb and Dumber guys) stars recent (and maybe future repeat?) Oscar winner Mahershala Ali as a pianist on tour in the Deep South in the 1960s with Viggo Mortensen playing his driver. The crowd-pleasing picture, which received a two-minute standing ovation, is being celebrated for its two lead performances and its classy and heartfelt story focused on race in America. You can see it for yourself in theaters on November 21.
GREEN BOOK: Peter Farrelly's funny, tender film is a delightful crowd pleaser. The odd couple / road trip dynamic works because of the great chemistry between Viggo Mortensen & Mahershala Ali - who are two of the most talented, intelligent, sweet & sensitive actors around #TIFF18 pic.twitter.com/JAuQiFppoK

— Alicia Malone (@aliciamalone) September 12, 2018
#GreenBook, with Mahershala Ali and Viggo Mortensen, had one of the biggest rounds of applause we've heard all week@at #TIFF18; and huge laughs and applause throughout the movie. pic.twitter.com/FyQEql2bpx

— Fandango (@Fandango) September 12, 2018
Mahershala Ali and Viggo Mortensen First connected during the 2016-2017 awards season run and now they're in this season's run with #GreenBook! pic.twitter.com/HusIYTJfrr

— Fandango (@Fandango) September 12, 2018
.@octaviaspencer talks about becoming a producer/consultant for the #TIFF18 crowd-pleaser #GreenBook. pic.twitter.com/YGL4DJXp7c

— Fandango (@Fandango) September 12, 2018
Roma
Rotten Tomatoes score: 97%
The latest from Alfonso Cuaron, his first feature since he won the Best Director Oscar for Gravity, is being called nothing short of a masterpiece. The smaller, more personal black and white Spanish-language drama is about a family in Mexico City in the 1970, and it features unknown actors who are also deservedly earning acclaim. The almost unanimously acclaimed movie hits Netflix on December 14.
Yeah, ROMA is fucking glorious. So wonderful to see an artist operating at peak performance level on such a personal, vigorous piece. The aesthetic is both personal and political here. The aesthetic is wielded to a wonderfully emotive, devastating effect.

— Barry Jenkins (@BarryJenkins) September 11, 2018
Also, for the love of cinema, please see #Roma on the big screen. It is gorgeous and striking, and the tracking shots are magnificent. You have not truly watched ROMA if you watch it on a tiny screen. End plea.
See Roma

— Erik Davis (@ErikDavis) September 11, 2018
Alfonso Cuaron kept 'em up for a long standing ovation at #TIFF18 at Roma. Folks are absolutely floored, same as in Venice and Telluride. pic.twitter.com/vVT4lX6k0t

— Fandango (@Fandango) September 11, 2018
Cuarón describes the three elements he wanted for #Roma - who it's inspired by and dedicated to; how it's influenced by the divorce of his parents and that it be shot in black and white #TIFF18 pic.twitter.com/9waLjNUkwo

— Erik Davis (@ErikDavis) September 11, 2018
#Roma breakout star Yalitza Aparicio on what it was like to work on this film, having never acted in anything before this.#TIFF18 pic.twitter.com/VAtkpc8q40

— Erik Davis (@ErikDavis) September 11, 2018
The Old Man & the Gun
Rotten Tomatoes score: 89%
So, does Robert Redford go out with a bang? The legendary actor is allegedly calling it quits with this movie being his last, and this is both a wonderful goodbye from him and to him. With this true crime film drama, director David Lowery also paying tribute to the era in which Redford was at his peak stardom. Maybe it's even an allegory for filmmaking. Or, according to its rare negative reviews, it's just an excuse to pay homage to its leading man. Judge for yourself when it opens on September 28.
Robert Redford gets a #TIFF18 standing ovation; will #OldManAndTheGun truly be his final performance? pic.twitter.com/8istV8c2CY

— Fandango (@Fandango) September 11, 2018
The Sisters Brothers
Rotten Tomatoes score: 84%
John C. Reilly is garnering Oscar buzz for his part in this humorous, emotional, and violent postmodern Western, and his pairing with Joaquin Phoenix immediately fits into the halls of the most iconic movie duos of all time, while Riz Ahmed is reportedly great, as well. Reviews aren't all favorable, but those that are positive are really selling its merits as an original and beautiful work from filmmaker Jacques Audiard. See it very soon, as it hits theaters on September 21.
#TheSistersBrothers is a gorgeously grimy and sometimes gory story of brotherly love set in the Old West. Joaquin Phoenix and John C. Reilly are great as wannabe gangster legends slowly out carving different paths. Definitely dug its unique tone & story#TIFF18 pic.twitter.com/WALT8vUNyJ

— Erik Davis (@ErikDavis) September 11, 2018
Destroyer
Rotten Tomatoes score: 81%
Nicole Kidman is on another roll this festival season and her performance in Destroyer, from the director of The Invitation, might be her strongest of the year. In fact, while going for a less glamorous look this time around, she's either the best reason or the only reason to see the grimy neo-noir thriller about an L.A. detective making amends about a past case. The hardly festive movie opens on Christmas Day.
NIC??LE KIDMAN #Destroyer pic.twitter.com/qQDTxjf4nj

— Fandango (@Fandango) September 11, 2018
Sebastian Stan stans Nicole Kidman.#DestroyerMovie pic.twitter.com/oavIpLtwLg

— Fandango (@Fandango) September 11, 2018
"I leaned across the table and kissed [Sebastian Stan]. Repeatedly." — Nicole Kidman on the first day on set for DESTROYER. ???? #TIFF18 pic.twitter.com/5s6U24hQgB

— TIFF (@TIFF_NET) September 12, 2018
Hold the Dark
Rotten Tomatoes score: 71%
Westworld's Jeffrey Wright goes in search of wolves that killed a young boy in this drama from the filmmaker behind Blue Ruin and Green Room, and the first handful of reviews are mixed and relatively low compared to those previous efforts, but it's another violent feature that its defenders are all-in on and that will no doubt please a lot of Jeremy Saulnier's fans. This one is also heading to Netflix, starting September 28.
HOLD THE DARK is pokier than Jeremy Saulnier's BLUE RUIN and GREEN ROOM, but in its tenser second hour especially, it shares the same strengths: unpredictability, vivid characters, and uncompromising brutality. I'm curious to see how it'll play on Netflix. #TIFF18

— Noel Murray (@NoelMu) September 13, 2018
At the HOLD THE DARK premiere, Jeffrey Wright brings light. ?? #TIFF18 pic.twitter.com/oYORPtvUAA

— TIFF (@TIFF_NET) September 13, 2018
HOLD THE DARK (and our hearts), Alexander Skarsgård. #TIFF18 pic.twitter.com/ANdtARJJbA

— TIFF (@TIFF_NET) September 13, 2018