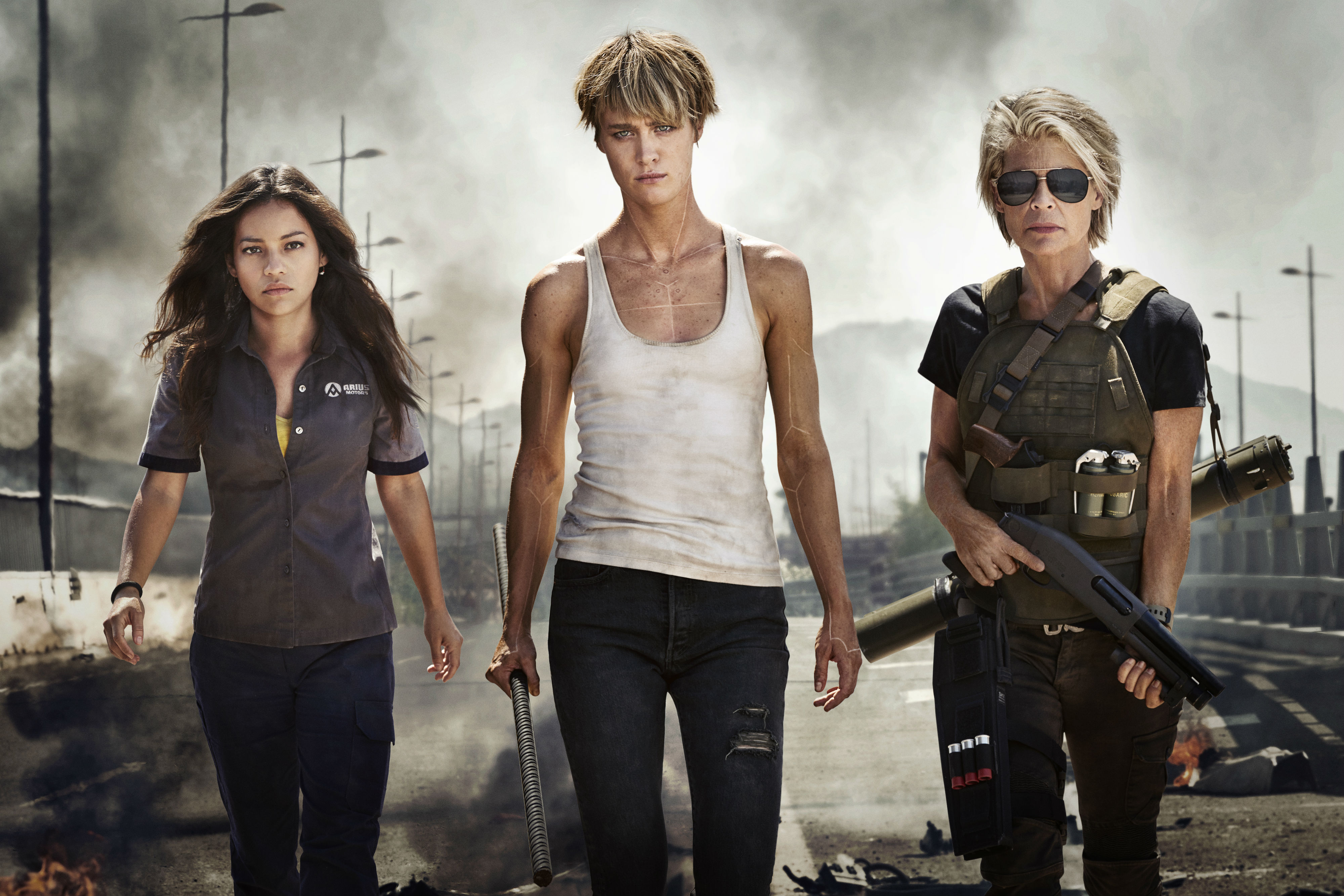 Get ready for the future, because a new Terminator is on the way. The retconning reboot, which will ignore parts three through five, is bringing original Terminator and Terminator 2: Judgment Day star Linda Hamilton back into the fold for the first time in 28 years. And she's joined by fellow returning lead Arnold Schwarzenegger and original director James Cameron on board as a producer.
In a recent interview with Yahoo!, Cameron revealed that the working title for the movie is Terminator: Dark Fate, but that could potentially change before it's finished. What that name might mean for the plot is anyone's guess for now, though Cameron also hints at some darker ideas such as Hamilton's character being stronger, more hardened and maybe no longer likable.
What can we look forward to with certainty? Here's everything we know so far:
How is the next Terminator special?
James Cameron, who created the franchise and co-wrote and directed the first two installments, 1984's The Terminator and 1991's Terminator 2: Judgment Day, is on board as a producer since he will regain the franchise rights in 2019. The last and only installment he produced is Judgment Day.
Is this a reboot of the whole series?
No, but the movie will be a direct sequel to those first two Cameron-helmed installments. So the movies Terminator 3: Rise of the Machines, Terminator Salvation and Terminator Genisys, as well as the TV series The Sarah Connor Chronicles, are all becoming non-canon.
So that's how they've brought Hamilton back?
While other actresses have played her character, Sarah Connor -- namely Game of Thrones actresses Lena Headey on The Sarah Connor Chronicles and Emilia Clarke in Genisys -- Linda Hamilton herself has been absent since Judgment Day. Her character was said to have died before the events of Rise of the Machines, so that detail is at least one thing being retconned.
And Schwarzenegger is the Terminator again?
Schwarzenegger is expected to play another T-800 Terminator, but he's also been said to be playing the human whom the T-800s were modeled after.
What is the plot this time?
All we know is that Hamilton and Schwarzenegger are somehow the anchors for a story involving the fresh faces in the cast. Previously we heard the movie would involve a young actress as "the centerpiece" of the story. Cameron said, "We still fold time. We will have characters from the future and the present. There will be mostly new characters." More recently he confirmed that this movie is female-centric.
Who are the new characters?
Natalia Reyes is probably the "centerpiece" character, who is called "Dani Ramos," while Gabriel Luna is a new Terminator. Diego Boneta's character is not yet known. Mackenzie Davis (Blade Runner 2049) is also on board and is playing someone named "Grace."
Who is directing this one?
With Cameron still only overseeing the production (he told Yahoo! he would direct it if he wasn't booked doing Avatar sequels), Tim Miller, who made his feature debut with Deadpool, is at the helm.
Who wrote the screenplay?
While Cameron currently has a story credit along with Miller and producer David Ellison (Terminator Genisys), the screenplay is by David S. Goyer (Batman v Superman: Dawn of Justice), Josh Friedman (The Sarah Connor Chronicles), Justin Rhodes (Grassroots) and Oscar nominee Billy Ray (Captain Phillips.).
When does the next Terminator come out?
November 1, 2019.