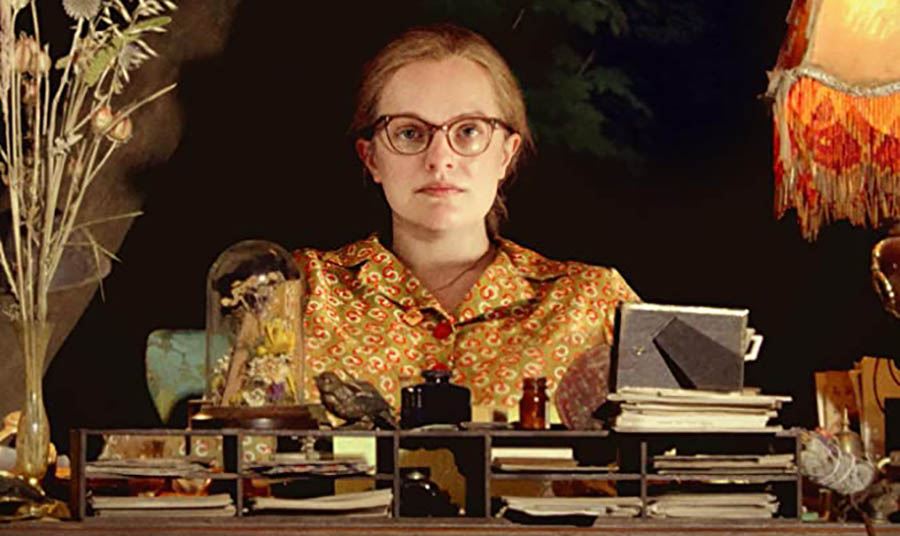 Shirley Jackson's most famous work, The Haunting of Hill House, has been turned into two feature films and a hit Netflix mini-series. But the biopic Shirley does not even mention her most seminal work. That's because it's not a standard biopic, but instead, a film that digs into the atmosphere of Jackson's gothic prose and weaves a standalone tale all its own. Josephine Decker's film begins shortly after "The Lottery" was published in The New Yorker, making Jackson (Elisabeth Moss) one of the most infamous writers in the world overnight. Before she starts on her follow-up, Jackson and her professor husband Stanley (Michael Stuhlbarg) host a young new-to-town couple (Logan Lerman and Odessa Young), and tensions between both couples start to boil as indiscretions and distrust mount. Shirley and her young boarder start to research a young woman who disappeared without a trace from the woman's college and many a dinner party devolves into drunken mayhem.
Shirley won a special jury prize for Best Auteur Filmmaking at the 2020 Sundance Film Festival. It was picked up by NEON shortly after winning Best Picture with Parasite but the novel coronavirus shifted a theatrical release to home video, where it is currently available to rent or own via FandangoNOW. To support this beguiling film, we recently sat down to chat with Moss, Stuhlbarg and Decker via Zoom for a discussion on many of the film's most intriguing components.
Speaking of Zoom, we debuted an exclusive chat where the film's executive producer, Martin Scorsese interviewed Decker, which you can view below if you'd like to see one of the all-time greats talk movies with one of the most exciting filmmakers of this generation. Then continue on to hear from the rest of the cast in our print interview below.
On Shirley Jackson's legacy:
Josephine Decker: "This movie was right up my alley in a lot of ways. I was a literature major in college, I'm a kind of feminist, I really wanted to study ethnomusicology like Stanley did — and ultimately it was kismet, because the way Shirley Jackson writes stories is the way that I try to tell stories, as well. To descend into hell, out of reality and not know how you got there — or even where 'there' even is."
When Shirley opens, Rose (Young) had just finished reading "The Lottery" and is on a bit of a literary high about staying with her. As she and her husband, Frank (Lerman), walk through Bennington's downtown, she notices young boys throw rocks in an alleyway (an allusion to the ending of "The Lottery") which fills her with unease. "The Lottery" and Jackson's novel Hangsaman are the direct allusions in the film to Jackson's work.
Decker: "We had to peel back and make sure we're telling the story of our movie, and not just bits of every story Shirley ever wrote. So, we stripped the one-armed man and various others and kept it just to The Lottery and Hangsaman. What they both share is that the towns are so eerie and bizarre and full of creepy and deranged people. And parties, big gatherings of these deranged people… And, similar to our film, a lot of her books explore the duality of female characters."
Elisabeth Moss: "I had read her two biggest works, The Haunting of Hill House and The Lottery, so I was a little bit familiar with her, but I didn't really know about her personal life. I was familiar with that famous book jacket photo of her, but I didn't really know much about her. And then I got into the research of it and learned about Stanley, and it was just fascinating. I feel like you could do five movies about Shirley Jackson and still not cover it.
"She had this fearless, dark style of writing that also had this biting sense of humor that I think people reacted at the time like, "Oh, women don't usually write like this!" I see echoes of her work in Margaret Atwood — Stephen King has obviously referenced her work as a huge influence for him. But the townspeople? I think people find it easier to be afraid of a woman who is a "strong personality" than they seem to be of men. I don't know why. I think we all know very strong women, so I'm not sure why there's always a societal surprise at that still."
Michael Stuhlbarg: "We meet Shirley at the height of her popularity. She hadn't received the kind of attention that perhaps she's longed for with her heart, but at the start of this story, she's got it in spades and doesn't know what to do with it, and it overwhelms her. She decides to do a novel instead of a story and she stays in bed, paralyzed."
Moss: "In our story, Shirley's coming out of this time where "The Lottery" had just come out, and it's been hugely successful. She's literary famous and she's basically now having to move past that and try again and try to write another story. And I think as a writer, that's an incredibly scary and intimidating position to be in. And now, Rose represents who she was once and Rose can do better than Shirley by not making the same mistakes. There's a deep sadness in that awareness."
Shirley & Stanley: A Toxic Love Story & Their Shared Cruelty
One of the most compelling components of Shirley is the central relationship between Jackson and her husband Stanley Hyman, who teaches at a women's college. The couple are introduced though a wild dinner party but though Shirley gets to hold court for a moment discussing her writing, the arrival of the young woman reminds her of all the affairs they've agreed for Stanley to partake in. The emotional weight of such an arrangement is removed by his praise of her work. A level playing ground that they seem to share is in issuing cutting remarks that belittle but also attempt to help the other's become more precise if they were to listen.
Moss: "Their relationship is very, very complicated. It was important to acknowledge his affairs, his cheating, the complications of that, the fact that Shirley knew about them, the fact that he would write her letters and he would come home and he would tell her about his escapades is so deeply fascinating and toxic. But at the same time, from our research, what we did find as well is that they loved each other very, very much, and they had an incredible respect for each other professionally. She ultimately cared the most about what he thought; she really respected his opinion. What mattered to her most is whether or not he liked her work. And there's a lot of love there. And I think that they had a really complicated, toxic, but also very modern relationship. I think they truly loved each other and that was important for us to take care of and not let the negative aspects erase that completely.
"Michael and I got access to these letters between Shirley and Stanley — love letters, and they were incredible. They were funny and dirty and a passionate and really helped us to see who they were and who they were together."
Stuhlbarg: "I was surprised by how much they corresponded with each other when they were away from each other. In spite of all the games they played, in spite of the agreements they had settled upon (in regards to Stanley's cheating), they loved each other and needed each other. They had each other's backs."
Decker: "I think her self-love was really wrapped up in how he perceived her and her work. He was such a champion of her work, but also controlling. Michael Stuhlbarg is a genius. He is so good — just so very good. Obviously, Lizzie knocks it out of the park. Elisabeth Moss and Michael Stuhlbarg have dissimilarities in how they approach their craft that probably feel akin to the ones that Shirley and Stanley actually had. It was so fun to work with the two of them and they actually had fun working together. They understood these people which made their relationship on screen that much easier."
Moss: "They veer a little too far into cruelty (with the young couple). I think they're incredibly smart people and they're asking others to be as smart as them. They definitely go too far. But I think that the people that I tend to work with and the people that I have the most fruitful creative relationships with — we're brutally honest with each other. I want to be told if my idea is sh*t. I derive no benefit from you telling me something is good if it's not. I don't need my ego pet. I don't need to be lied to. This is Shirley and Stanley's method. They have incredible senses of humor and I think they're asking that of this couple and, doubly, Shirley is asking that of Rose. Get on our level."
Shirley & Rose: The Subgenre of Feminine Identity-Merge Movies
A favorite subgenre for cinephiles is the merging of identities that happens frequently in female narratives, from Mulholland Drive to Persona to 3 Women to more recent indie films like Always Shine and Queen of Earth (also starring Moss). Shirley has a component of that, as Rose and Shirley start to assist each other in various ways that unlock new confidences and support, not only Shirley's creative juices but Rose's ability to stand up for herself in her marriage. But unlike most identity-merging movies, Shirley isn't about devouring the other woman.
Moss: "I think [Shirley] contemplates, briefly, devouring Rose. I think there's a very cruel part of Shirley that would take pleasure in that. And I think she quickly realizes as she falls in love with her in a confusing way, because I do think she loves her in her own way, that it's almost like she thinks devouring her is a gift. I'm going to make you stronger by devouring you myself; I'm going to teach you the lesson, because it's going to be easier coming from me than it is going to be you waking up in 30 years and learning it. I'm going to toughen you up for the rest of life."
Decker: "The big difference (from other films in this subgenre) is just that these women both continue onward with their own trajectories. Although I think the ending is open to interpretation in regards to Rose."
Shirley & ________: Make it a Double Feature!
Because Shirley is available at home, that makes it ripe for a double feature! So we asked Moss, Stuhlbarg, and Decker which film they'd pair with Shirley. It's no surprise that the boozy double-couple drama Who's Afraid of Virginia Woolf? (starring Elizabeth Taylor and Richard Burton and based on the play by Edward Albee) was on the actor's tongues. It was even something they've discussed continuing by doing the stage play themselves.
Moss: "The obvious answer is Who's Afraid of Virginia Woolf? Stuhlbarg and I, the entire time we were shooting, were like, "We should do (the play) 'Who's Afraid of Virginia Woolf?' after this, right?" So the movie version seems 100% appropriate."
Stuhlbarg: "The first title that naturally comes to mind would be Who's Afraid of Virginia Woolf? Simply because it shares similar themes and cat and mouse games between four people. But with Pouilly-Fuissé. Stanley was a big Pouilly-Fuissé drinker."
Decker: "Who's Afraid of Virginia Woolf? Is the obvious one but I think the more fun one is Hitchcock's Rebecca. I'd seen it before but we watched Rebecca a few weeks before shooting for reference. I feel like the movies are connected in some way and akin to Shirley's writing. There's this specter of the past that's hanging over this young woman. I think there's a version of Shirley that could've easily been more like Hitchcock."
Shirley is available on FandangoNOW now! (And so is Who's Afraid of Virginia Woolf? )