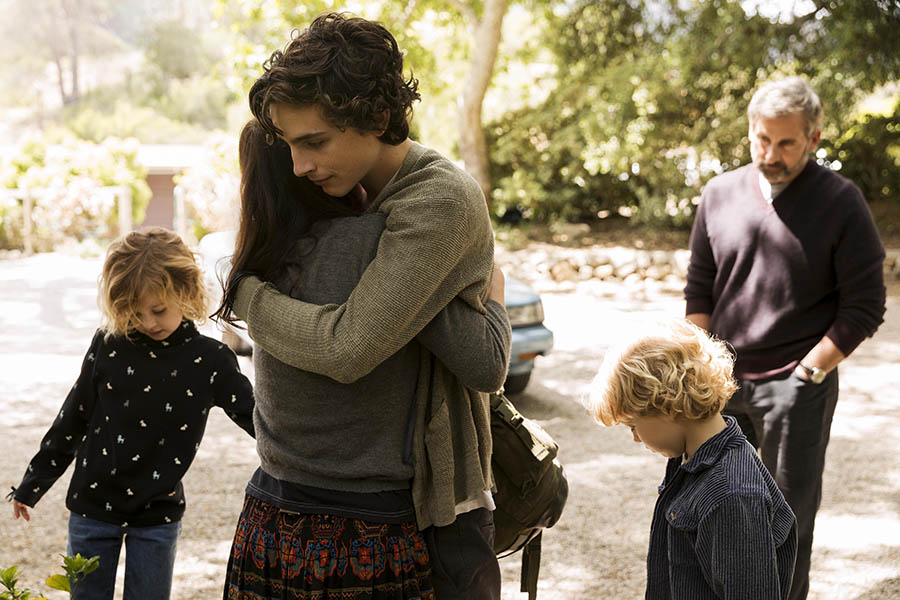 Timothée Chalamet began appearing on the big screen with brief roles in Jason Reitman's Men, Women & Children and Christopher Nolan's Interstellar before snaring larger roles in indie dramas like One and Two. He caught fire in Hollywood thanks to his trio of acclaimed performances last year in Call Me By Your Name (for which he received a well-deserved Academy Award nomination), Lady Bird and Hostiles.
Now he is again receiving plaudits for his sterling performance as a young man dealing with addiction in Beautiful Boy, starring Steve Carell. Based on a true story, the drama opened over the weekend to very positive audience reaction, scoring 90% approval on Rotten Tomatoes as of this writing. What's next for the talented actor?
The King
Chalamet, who is very good in Beautiful Boy (above), has taken on an unexpected starring role as King Henry V. Recently he told Variety: "It was really good to play a role where … as a consequence of being in that position as a king, let alone at a very young age, [it] required a channeling of stoicism and muted-ness that's not very close to me as an actor. It's not my instinct."
Joel Edgerton, Robert Pattinson, Sean Harris, Lily-Rose Depp and Ben Mendelsohn also star. Edgerton and David Michôd wrote the screenplay, drawn from several different plays by William Shakespeare. Netflix will distribute The King; from the sound of the project, we can only hope that it will receive (at least) a limited theatrical release in conjunction with its streaming availability next year.
Little Women
For her follow-up to Lady Bird (above), filmmaker Greta Gerwig decided to made a new version of Louisa May Alcott's classic novel. Chalamet was in the initial group of actors touted for the cast, which now includes Saoirse Ronan, Emma Watson, Florence Pugh, Laura Dern and Meryl Streep.
This will be Chalamet's first foray into 19th century on-screen drama; he will portray Theodore "Laurie" Lawrence, who becomes good friends with Jo (Ronan) before, er, other things happen, avoiding spoilers for those who haven't read the book or seen any of the multiple previous screen versions. And really, who knows how writer/director Gerwig might change things up? Sony Pictures has set the film for release on December 25, 2019. Read more about the film here.
Dune
Back in 1984, no less than David Lynch tackled Frank Herbert's environmental space opera, creating stunning visuals (above). Unfortunately, the director experienced creative differences with the film's producers and his full vision was never realized.
Our hopes are high for a new version, to be directed by Denis Villeneuve, who has a great record of delivering ambitious, artistically-satisfying visions (Sicario, Arrival, Blade Runner 2049). Chalamet, who previously appeared in the sci-fi dramas Interstellar and One and Two, has been tapped for the lead role, previously played by Kyle MacLachlan. Release plans have not yet been revealed, but we're not likely to see the sci-fi epic before 2020. Read all we know about the film here.