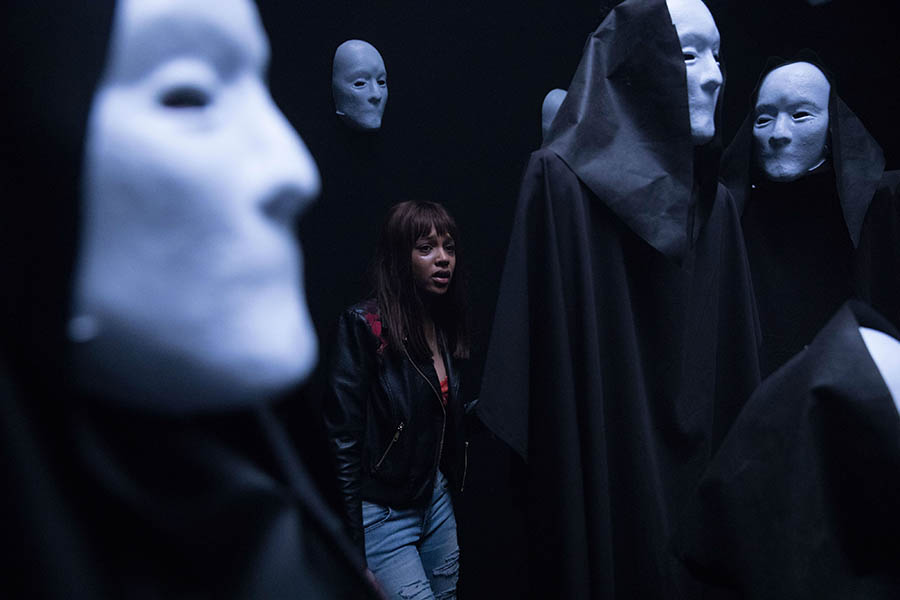 Amusement parks and carnivals are great settings for horror movies. Visitors are already vibing on the excitement of the attractions; past fright flicks like Final Destination 3, Zombieland and The Funhouse added layers of extreme anxiety -- and fear of death! -- to the adrenalized experience.
Tapping into that anxious feeling, the upcoming horror thriller Hell Fest is set at an amusement park where the scares become real. Read onward to learn all we know about the film and then watch two trailers that will make you jump, either for joy or out of genuine panic.
What's it about?
Three friends can't resist the lure of a traveling attraction known as Hell Fest, so they head there with their boyfriends. They fully anticipate a night of fun and (probably) mild frights as they wander through the attractions and get lost in the haphazard mazes. Instead, things quickly become very intense and genuinely frightening.
Here's the official synopsis: "A masked serial killer turns a horror-themed amusement park into his own personal playground, terrorizing a group of friends while the rest of the patrons believe that it is all part of the show."
Who stars?
Amy Forsyth (above) plays Nathalie, a college student who is visiting her childhood best friend Brooke (Reign Edwards) and her roommate Taylor (Bex Taylor-Klaus). Tony Todd also stars; he's well-known to horror-movie fans for his appearances in Candyman, Final Destination and Hatchet, among others.
Who is the director?
Gregory Plotkin. He is a veteran film editor whose credits include Get Out, Happy Death Day and Game Night. He also worked as a film editor on four installments of the Paranormal Activity series, making his feature directorial debut on Paranormal Activity: The Ghost Dimension.
When can we see it?
Hell Fest will open in theaters everywhere on September 28, 2018.

Watch the first two trailers below.
The first trailer establishes that the park is not as safe as it might appear to the unwary.
The newest trailer is NSFW (Not Safe For Work); it contains profanity, bloody images and violent acts.