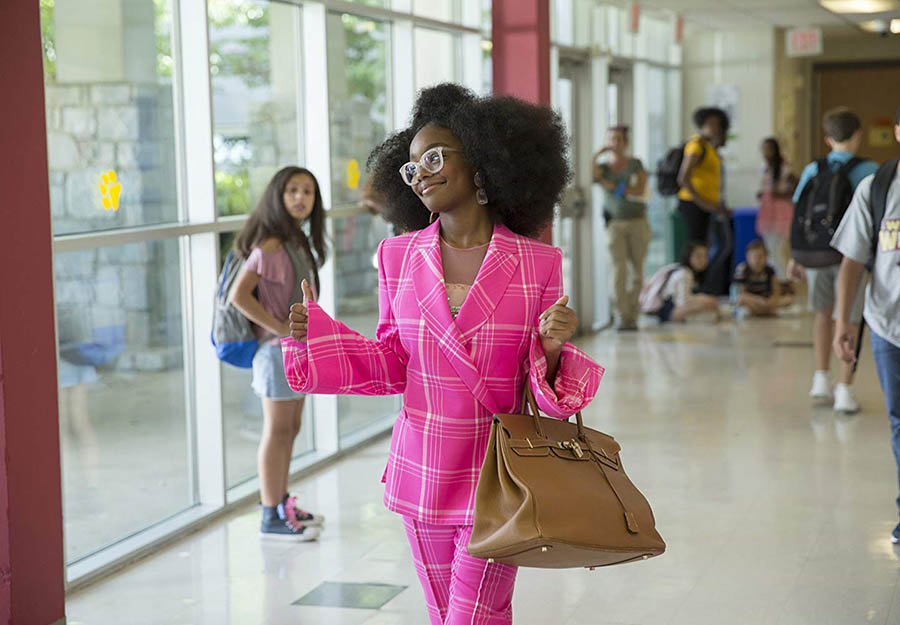 You've seen Big; now it's time for Little, a comedy about a wealthy tech company executive who is magically turned back into a kid. That's not the most amazing story involved with the movie, either: Little is based on an idea pitched by its young star, Marsai Martin, who also become one of the youngest Hollywood producers ever with this project at just 13 years old.
Universal Pictures has just released the first trailer for Little, which looks like a hoot and offers evidence that Martin is not just making history with her producing credit but also primed for movie star status. In under three minutes, the teenage Black-ish regular will win you over and have you anxious to see this fantastical farce.
Watch the new trailer down below after learning everything we know so far about the movie:
Was Little really conceived by a 13 year old?
Although it's unclear when Martin came up with the idea for Little, the movie was announced in early 2018 when she was 13 years old.
So she wrote the movie?
Not exactly. After Martin pitched the idea for Little, screenwriter Tracy Oliver (Girls Trip) penned the first draft. Filmmaker Tina Gordon Chism (Peeples) then boarded the project as director, and she also rewrote the screenplay. Chism also wrote the upcoming fantasy comedy What Men Want.
Is Martin the youngest Hollywood movie producer?
This can't quite be confirmed (and, anyway, Stranger Things' Millie Bobby Brown also recently became a movie producer at age 13), but regardless, Martin, who began playing daughter and twin sister when she was nine years old, is definitely one of the youngest movie producers ever.
Who is helping her out on her first producing gig?
Martin is credited as an executive producer on Little, alongside Josh Martin and her co-star Regina Hall. The producing team with more direct involvement in the project include Black-ish creator Kenya Barris, Girls Trip producers James Lopez and Will Packer.
Who else stars in Little?
Martin will share the screen with fellow rising star and multi-hyphenate talent Issa Rae, who rose to fame through her web series Awkward Black Girl and has since gained more notoriety through her HBO show Insecure and her supporting role in the 2018 YA adaptation The Hate U Give. Rae's co-star in that movie, Regina Hall, plays the older version of Martin's character in Little, while This Is Us star Justin Hartley plays the woman-turned-girl's teacher when she's forced to reenroll in school.
When does it come out?
Universal will release Little in theaters on April 12.
Watch the first trailer for Little here: