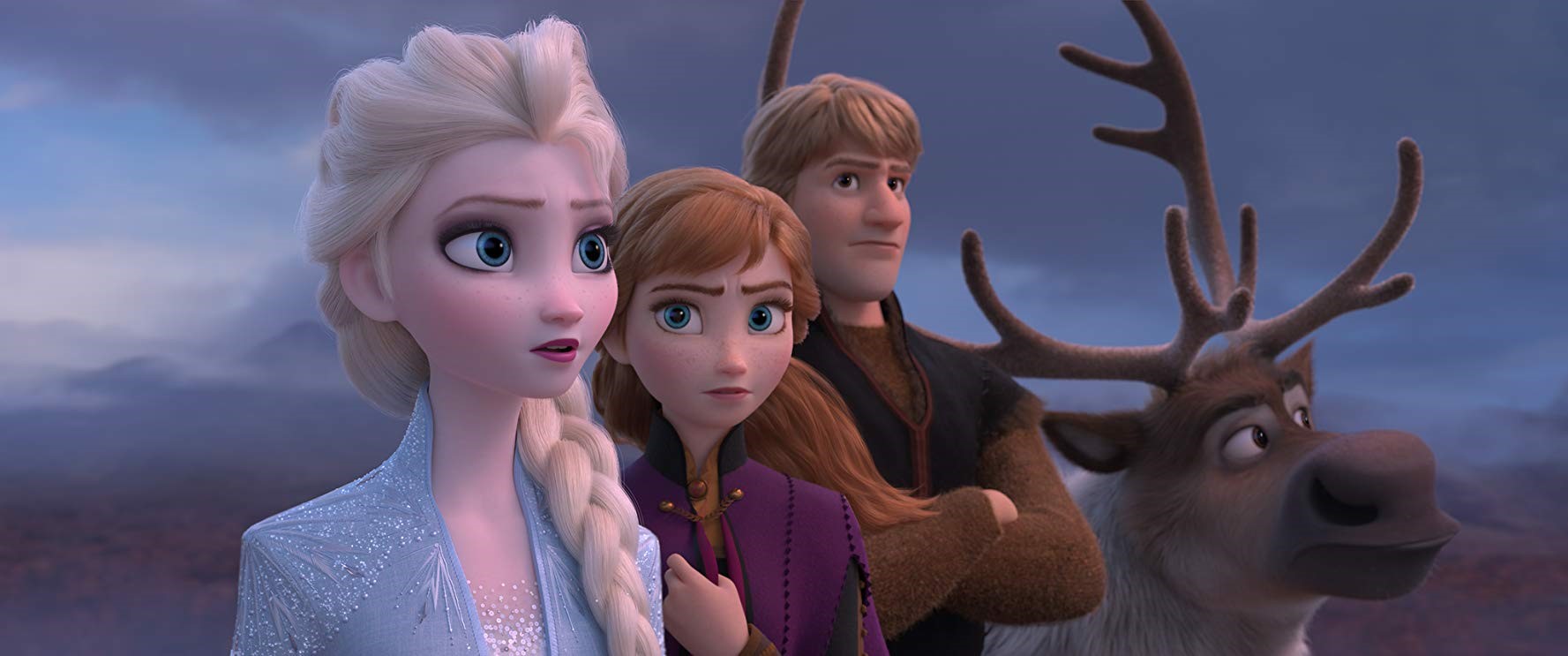 Six years after everything changed for Disney and for families all around the world, the phenomenon of Frozen is back. Princess Anna, Queen Elsa, Kristoff, Sven and the lovable snowman Olaf are ready to return to the big screen for another feature-length adventure as one of the most anticipated sequels ever, Frozen 2, finally arrives in theaters this fall.
What's in store for the gang from Arendelle? The Frozen follow-up looks to tell a much bigger and seemingly darker story while still giving fans more of what they loved, including brand new songs by the Oscar-winning team behind "Let It Go." Obviously Disney wants us to be surprised by some of the magic, but let's take a look at what we can expect from the animated sequel.
First, check out this exclusive video of the Frozen 2 cast playing charades.
Here is everything you need to know about Frozen 2:
Where did Frozen come from?
We know Frozen was made and released by Walt Disney Animation Studios, but the tale on screen has origins going back hundreds of years. The source material is a fairy tale titled The Snow Queen by Hans Christian Andersen, who also wrote the original story of The Little Mermaid. He first published his version 1844, yet he was himself inspired by ancient myths.
The Snow Queen is "a tale told in seven stories" and features the wicked title character, an evil troll (actually the devil), a magic mirror, and two children, one of whom is injured by shards from the mirror and then held prisoner by the Snow Queen. The other child must find and save her captive friend. One notable element from the story that made its way into Frozen is troll-induced amnesia.
Walt Disney had been interested in adapting many of Andersen's stories, including The Snow Queen, as far back as the 1930s. Over the years, the idea was proposed many times, but the company had trouble turning the story into a feature. Ultimately the studio created an original narrative inspired by the fairy tale that made its own Snow Queen the hero rather than the villain.
What happened in the first movie?
Millions of children and their parents have watched Frozen enough times to recite every line of dialogue and every lyric of every song and share every other detail of the movie perfectly. For those who could use a refresher since its release in 2013, however, in order to help set up for where we're at with the sequel, here's a rundown of the plot of the original:
Sisters Anna and Elsa live in the kingdom of Arendelle, a land their parents ruled until their disappearance at sea when the girls were quite young. Elsa always had a special gift to create snow and ice out of thin air, initially all in good fun. But then one time, as a child, she accidentally hurt Anna while they were playing. Afterward, Elsa was ordered to keep her magic a secret.
At the same time, Anna's memory of Elsa's frozen abilities was wiped clear, and the girls became distant so that Elsa could never harm her sister again. Once Elsa turned 18, she was crowned Queen of Arendelle. During the coronation ceremony, her powers were accidentally unleashed for all to see, causing fear among her people plus guests from other lands. Elsa exiled herself.
The trouble was, as she fled her home, Elsa let go her suppressed magic and wound up covering her entire queendom in snow and ice, even though it's not winter. Anna, believing it was all her fault, headed out to find her sister. She was joined in her journey by new friends Kristoff, his reindeer Sven and a snowman named Olaf to whom Elsa had magically given life.
Of course, some of the outsiders in Arendelle had devious intentions regarding the new queen, whom they labeled as an evil sorceress. One of them was Hans, a seemingly good guy who planned to marry Anna. He turned out to be faking his love for the princess just so he could take over Arendelle and meant to kill Elsa. He instead mistakenly harmed Anna, but Elsa saved her life.
In the end, Hans was stopped and punished, Arendelle was thawed out, Kristoff fell in love with Anna, Olaf received a perpetual snow flurry to walk under so he doesn't melt, even in summer, and the sisters were reunited happily ever after, at least until whatever dramas and conflicts and difficult quests rise up for the ensemble of characters in Frozen 2.
What has the phenomenon of Frozen entailed?
Not only was Frozen very well-received critically (with a 90% Tomatometer score) and a huge box office success, grossing more than $1.2 billion worldwide, but the movie went on to win the Academy Awards for Best Animated Feature and Best Original Song, for the number "Let It Go." That tune became a hit, as well, and won a Grammy Award, as did the Frozen soundtrack album.
"Let It Go" also became an integral component of Disney's merchandising of Frozen, which also consists of dolls, costumes, books and really just about everything marketable to kids. And the consumption wasn't short-lived. For the last six years, the quickly iconic Queen Elsa has remained a favorite character among young girls especially, for dress up, birthday parties and more.
Additionally, Frozen has had a major presence at Disney theme parks in the form of meet and greets with the characters, musical stage shows, and a ride based on the movie at Orlando's Epcot. Anna and Elsa became characters in the crossover TV series Once Upon a Time as well as the video game Kingdom Hearts III, and the movie was adapted as a Broadway musical, and it spawned two follow-up shorts before the new feature sequel.
Aside from its in-house legacy at Disney, Frozen has also had a big influence on culture worldwide, from the increase of babies named Elsa to a significant boost in Norwegian tourism (some it officially Disney based). Elsa also inadvertently became an LGBT icon. Of course, the movie has continued to be a phenomenon due to all the media coverage of it being a phenomenon.
What happened in the Frozen animated shorts?
In 2015, Disney released the first Frozen follow-up, a seven-minute short titled Frozen Fever, paired theatrically with the live-action Cinderella. The plot follows Elsa as she prepares a birthday celebration for her Anna. But she's sick, and each time she sneezes, a miniature living snowman is created. They're adorable but also numerous and cause havoc on the festivities.
Two years later, a longer short, Olaf's Frozen Adventure, was released in theaters with Pixar's Coco. The 21-minute movie centers around Christmastime in Arendelle and how Anna and Elsa didn't grow up with any specific traditions for the season. So Olaf sets out on a journey to other lands to learn about their own holidays and customs. There is a fruitcake involved.
What's the plot of Frozen 2?
While the first movie is all about the discovery, threat and eventual embrace of Elsa's magical powers, there's no explanation of their origin. Frozen 2 is interested in why she was born with the ability to create snow and ice as it follows the Queen of Arendelle on a dangerous journey in which she'll need to use her magic for the utmost good: saving the world.
Of course, she will be joined in the adventure by all our favorite Frozen characters, namely her sister Anna as well as Kristoff, Sven and Olaf, as they uncover the truth about the sisters' family's past. The adventure takes them beyond the queendom of Arendelle to an enchanted forest and other mysterious lands, where they encounter spirits, giants, and other new characters.
So the original voice cast is on board?
Frozen 2 has indeed brought back the vocal and singing talents of Idina Menzel as Elsa, Kristen Bell as Anna, Josh Gad as Olaf and Jonathan Groff as Kristoff. Disney staple Alan Tudyk, who portrayed the Duke of Weselton in the first movie, is also back, but is now voicing other characters.
Who has joined the cast this time?
The aforementioned new characters will be voiced by Evan Rachel Wood (Westworld), Sterling K. Brown (Black Panther), Alfred Molina (Spider-Man 2), Martha Plimpton (The Goonies), Jason Ritter (TV's Parenthood) and Rachel Matthews (Happy Death Day). Wood and Molina portray Queen Iduna and King Agnarr, the parents of Anna and Elsa lost at sea in the first movie, presumably just for flashback scenes.
Brown's character is an army lieutenant from Arendelle who has been trapped in the enchanted forest along with other soldiers for the last 30 years. Plimpton, Ritter and Matthews play members of a northern tribe who embrace magic and who've long been the enemy of the kingdom of Arendelle. But now at least some of them seem to be focused on bringing peace to the lands.
Who wrote the sequel?
Jennifer Lee, who solely wrote the screenplay for the original movie based on a story conceived by Chris Buck, Shane Morris and herself, returned to script the sequel. This time she received some assistance from Oscar-nominated Hidden Figures screenwriter Allison Schroeder.
Did Lee also return to co-direct Frozen 2?
Yes, Lee and fellow Frozen director Chris Buck are back together at the helm of Frozen 2.
Are there new songs?
Of course there are new songs written for Frozen 2 — seven of them, to be exact — and they're again written by the original movie's Oscar-winning duo, Robert Lopez and Kristen Anderson-Lopez. One of the numbers, an Elsa-sung tune called "Into the Unknown," is the sequel's centerpiece, similar to "Let It Go." The movie also features a cover of the song performed by the band Panic! at the Disco. Check out their official lyric video:
When does the sequel come out?
Disney will release Frozen 2 on November 22, 2019, exactly six years from the date of the original's debut. Grab your tickets right here at Fandango.