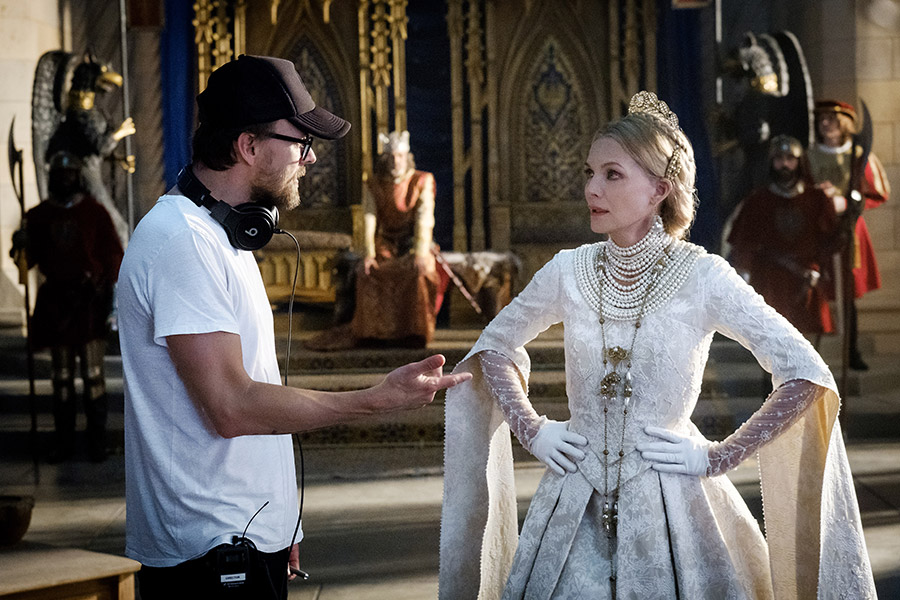 Michelle Pfeiffer and Joachim Ronning on the set of Disney's live-action MALEFICENT: MISTRESS OF EVIL.
The character of Maleficent is arguably Disney's most popular villain. The fascination with her began with her introduction in the animated classic Sleeping Beauty, when the dark fairy crashed a christening to curse the newborn Princess Aurora, then later transformed into a dragon to keep a prince from rescuing her from a death-like sleep. Since then, Maleficent's image has been one of Disney's most iconic, even co-starring with a host of other Disney villains in a battle between good and evil in Disneyland's most popular live show, Fantasmic.
Then, in 2014, the character was magnificently brought to life by Angelina Jolie, who seemed to have been born to play the role in Disney's live-action Maleficent. Her intense, spot-on portrayal of the dark fairy won her critical praise, and huge box office numbers reflected audience approval. Now, five years later, fans are finally being rewarded with the long-awaited sequel: Maleficent: Mistress of Evil.
Joachim Rønning (Kon Tiki) directs what appears to be a darker tale than its predecessor. Rønning directed Pirates of the Caribbean: Dead Men Tell No Tales, so he's no stranger to Disney films with extraordinary characters and eye-popping visual effects. If the trailers for Maleficent: Mistress of Evil are any indication, Rønning is going to take audiences on a powerful and bewitching journey that promises further exploration of Maleficent's world in ways we haven't seen before.
With tickets now on sale for Maleficent: Mistress of Evil here at Fandango, we sat down with Rønning for an exclusive chat about the film, its star, and the complicated nature of a Disney villain.
Fandango: I'm very excited to see your film. Since childhood, the character of Maleficent has been my favorite Disney villain.
Joachim Rønning: She is mine, too. I also think that a huge part of the success of the first film — the first live-action film — that came out five years ago, was Angelina Jolie and how she portrayed Maleficent and surprising the audience with such a strong emotional core.
And I think, for me, climbing on board and making this next chapter of Maleficent, I think that's very much what I related to, this kind of parent style. I'm a parent myself, I have two daughters, and I was so impressed by what they managed in the first movie to get that all in there in this fantastical universe and spectacle. It was such a strong emotional core. That's what I wanted to do again, to really continue the story of Maleficent and Aurora. And I think we've done that.
Fandango: In terms of the setting, how long after the events of the Maleficent film ends does Maleficent: Mistress of Evil begin?
Rønning: In the story world, maybe three years after. Our story starts with Prince Philip proposing to Aurora, you know, and then Aurora saying yes. She's becoming a woman, she's growing up now. She's going to move out and she's going to be on her own. So that's what starts the whole thing.
Fandango: As you said, in Maleficent, the prominent love story was the mother-daughter relationship between Aurora and Maleficent. There was so much chemistry between Jolie and Fanning, so it was a wonderful thing to watch. Now we have a young man coming into Aurora's life in a significant way, which creates tension. And you have a teenager, a headstrong teenager, now standing up to her mother figure. Since you and Jolie are both parents of teenagers, how did that color your direction, and how much of that did she bring to her portrayal of Maleficent in this film, now in this new experience as a mother of teenagers?
Rønning: Angelina is a very loving mother, of course. Her kids were on the set all the time, and I had my kids on the set the whole time. And I think what you're touching on now is any parent's biggest fear. It's the day that your kids move out and find someone and you're no longer the center of their universe. It's definitely a huge part of this story.
I think in Maleficent's case, and I think probably in every parent's case, you want what's best for your child, and you want to do anything you can do as a parent in order for your child to be happy. And, I think in the beginning of our story, Maleficent is going along with, in her case, trying to be more human, I guess — going against her own nature because she loves Aurora and she wants Aurora to be happy. And then that thing backfires and she feels betrayed, and she's catapulted into exile and away from Aurora, and it's the beginning of this huge conflict between them. And it's hard on the child. As a child, of course, you have to discover the world on your own. It's very hard as a child to just be content with what a grown-up will tell you, and, "Yeah, I'm telling you, this is how it is" — but you know, most children, they need to discover it for themselves.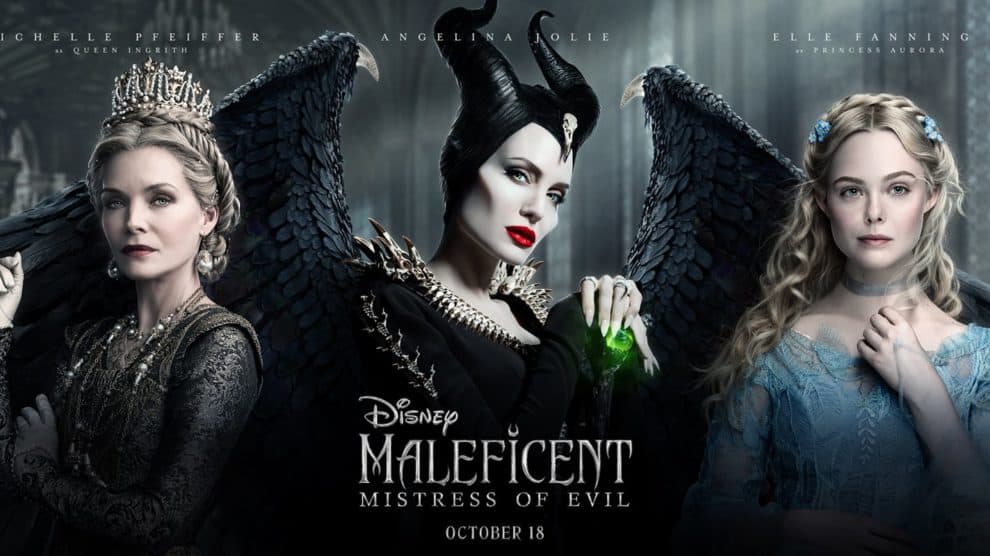 Fandango: The first film was dark, but there was also a lot of lightness and humor there. Would you say that Mistress of Evil is going to be a much darker film and in what ways?
Rønning: Well, yes, I think it is. It was always a dark fairy tale. And in this film, as I said, Maleficent is thrown into exile, but then she discovers that she's not the only dark fae in this universe. She's not the only Maleficent. So that's when we take this to the next level and really start telling the Maleficent 2.0 version.
Fandango: We only had a really brief look at Maleficent's life as a young fairy before we got into the story of she and Aurora. So you're saying we're going to actually get to see more about Maleficent's life, her past, and the fairy world?
Rønning: Yes, we're expanding the universe and telling the origin story of the dark fae.
Fandango: Maleficent is definitely an anti-hero as painted right now. So if she is a mistress of evil, as the title suggests, what are the challenges of making an "evil" or "bad" character like her family-friendly? How would you complete the sentence, "Yes, she's bad, but ..."?
Rønning: I think that's what we love about Maleficent is that she's unpredictable and she does things that we could only dream of, or she says things that are very blunt and direct and we would like to do that sometimes.
I felt the same when I directed Johnny Depp as Jack Sparrow in Pirates of the Caribbean: Dead Men Tell No Tales. Both Johnny Depp and Angelina Jolie have managed to create these very unique characters on film, and a huge part of the fascination from the audience when it comes to these characters is that they do things that we can only dream of. They say the opposite of what you would say and they get away with it somehow. In the case of Maleficent, she's a dark fae, but she's also a strong woman that does what she wants.
Fandango: And being strong doesn't necessarily make her evil or bad.
Rønning: Exactly. But we also love Maleficent because she loves Aurora. This love becomes her weakness. But it also turns out to be her strength.
Maleficent: Mistress of Evil hits theaters nationwide October 18, 2019, just in time for Halloween. Get your tickets here!
---
DaVette See is a freelance writer and filmmaker living in Los Angeles, CA. She loves movies, old TV shows, books, and music. She is also a wife, daughter, and mom to eight (yes, eight) cats. When not writing while covered in fur, she is working on her upcoming web-based talk show, Afro Bites! Follow her on Twitter and IG @mariavah.