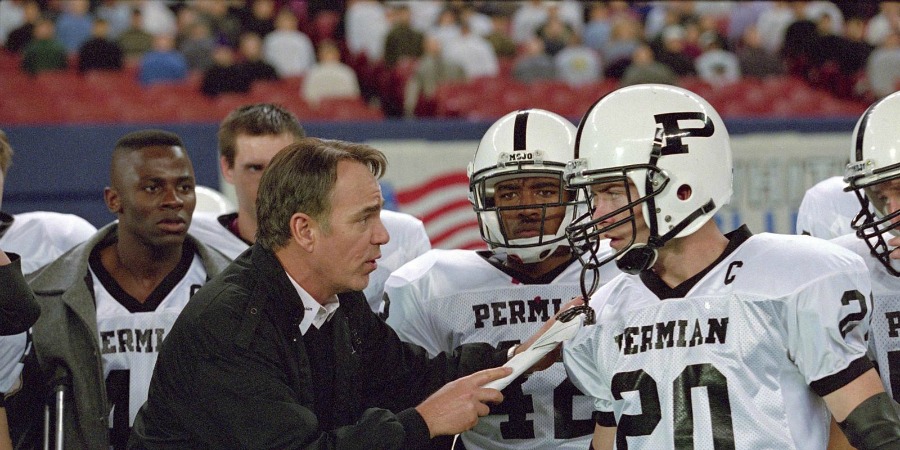 First Friday Night Lights was a 2004 movie starring Billy Bob Thornton, and then it became one of the few movies to successfully transition into a hit television show. The TV show, starring Kyle Chandler, aired for five seasons (from 2006 to 2011), and like its cinematic predecessor, tracked the trials and tribulations of a small Texas town obsessed with its high school football team. In Texas, football is a religion, especially at the high school level, and the stories told in both the film and TV series made for some excellent drama on and off the field.
Fans of Friday Night Lights have been clamoring for more ever since the beloved series went off the air, and a few months back we caught word that David Gordon Green had been hired to write and direct a new Friday Night Lights movie that was completely separate from the 2004 film and subsequent television series. Fandango caught up with Green recently to chat about his newest film, a sequel to John Carpenter's Halloween, and he provided us with an update as to where that project currently stands.
"I'm about to turn in the script, see what people think," he said. "I'm just working on it right now, trying to make something of the new town, new true story."
Green went on to talk about how growing up in Texas is influencing his take on the next Friday Night Lights. "Yeah. I'm from Texas, and Texas football was a big thing, certainly in my youth, he said." "It'd be fun to make kind of a portrait of that time and place. It'd be cool."
With Halloween and Friday Night Lights, Green seems to be looking for projects he believes in personally, but that also have a more universal appeal. "It's always been a struggle through my career to try to find something that makes me happy that an audience also responds to," he said. "I think of the 13 films I've made, only one of them has connected commercially with audiences. So, I was on the lookout. It's like, can my taste be not so fringe? And I do happen to really love the original Halloween. And when Jason Blum sent me an email that literally just said, "Halloween?", somehow I knew what he meant, I knew I was going to do it, and I was chomping at the bit."
We'll have much more with David Gordon Green on Halloween as we inch closer to its October 19 release. Meanwhile, the newest Friday Night Lights does not currently have a release date.