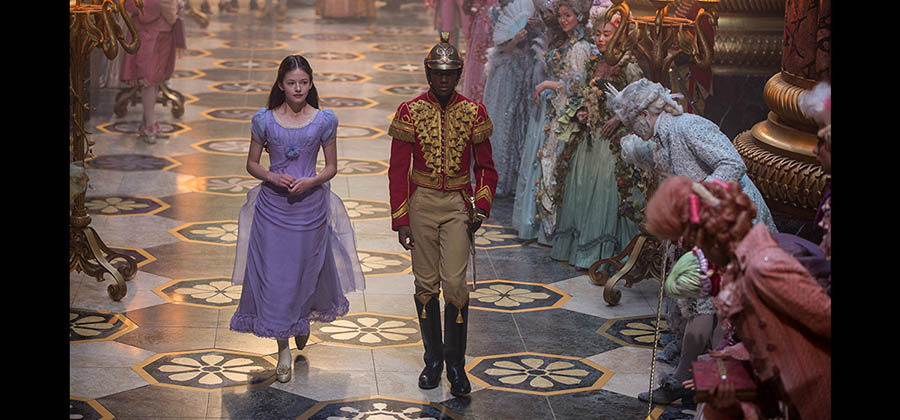 The story that inspired Disney's The Nutcracker and the Four Realms dates back to the early 19th century, adapted most famously into a ballet that became enormously popular in recent years. It tells of a toy that comes to life and engages in battle with an evil royal ruler; much of the story takes place in a magical world, filled with wondrous creations.
Now the story has been adapted into a new adventure that looks dazzling; it will open in theaters everywhere on November 2. Here's everything we know about the holiday film; watch the trailers, clips and other videos below.
What's the story?
Inspired by E.T.A. Hoffmann's classic tale, Disney describes the film thusly: "All Clara (Mackenzie Foy) wants is a key -- a one-of-a-kind key that will unlock a box that holds a priceless gift. A golden thread, presented to her at godfather Drosselmeyer's (Morgan Freeman) annual holiday party, leads her to the coveted key -- which promptly disappears into a strange and mysterious parallel world.
"It's there that Clara encounters a soldier named Phillip (Jayden Fowora-Knight), a gang of mice and the regents who preside over three Realms: Land of Snowflakes, Land of Flowers and Land of Sweets. Clara and Phillip must brave the ominous Fourth Realm, home to the tyrant Mother Ginger (Helen Mirren), to retrieve Clara's key and hopefully return harmony to the unstable world."
Who stars?
Keira Knightley stars as the Sugar Plum Fairy. As noted above, Mackenzie Foy, who made notable impressions in The Conjuring and Interstellar, stars as the adventuresome Clara.
She is accompanied by a soldier played by Jayden Fowora-Knight, whose only previous screen credit came earlier this year in Steven Spielberg's Ready Player One as "Boy Playing Tennis," so this role is a big opportunity for him. We can also look forward to seeing Helen Mirren turn toward the darker side, while Morgan Freeman looks like a kind, benevolent character. Misty Copeland, a former principal dancer of the American Ballet Theater, also has a featured role.
Who directed?
Lasse Hallström and Joe Johnston. Hallström is known for dramas such as What's Eating Gilbert Grape, The Cider House Rules and Chocolat, while Johnston's directing credits include Jurassic Park III and Captain America: The First Avenger. It is very unusual for two directors who are not part of an established team to receive credit, as pointed out by THR.
Watch clips and trailers below, beginning with the most recent.